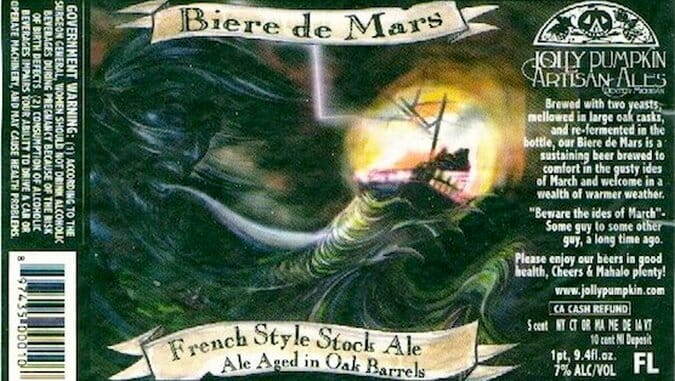 Biere de Mars takes half of its name from the beer's distinctive style, a Bière de Garde strong pale ale that originated in France (or, as the beer's pirate-stylized label pronounces, a "French-style stock ale"). The other half of the name echoes the month (in French) when this seasonal is released, March being the months of lions, lambs and ominous ides. And while it took 60 days for the bottle to travel from its home in Dexter, Michigan, to the shelves in my Washington, D.C.-area bottle shop, compared to the months it aged in oak barrels, punctuality shouldn't really apply to beer distribution.
Besides, as with all of Jolly Pumpkin's beer, the Biere de Mars is bottle-conditioned, and would likely be good for far longer than my patience would allow (which was…about four hours after I purchased the bottle).
The brewery specializes in open-air fermentation and oak aging, which exposes all of their fermenting beers to those pernicious little buggy bacteria that evoke sour, funky notes. And that character is wonderfully pronounced on the nose of the Biere de Mars, a tart and almost bright aroma of sour fruit with Brett barnyard funk that floats above the beer's dark amber, cloudy color. The sour elements come through on the first taste, but the woodiness from the aging hits like a barrel over the head. This woodiness becomes the cornerstone on subsequent sips, held aloft by tartness and hints of coffee and berries. The medium-to-high carbonation helps to keep the tannic wood notes from becoming too cloying, with an almost effervescent mouthfeel and a bit of grass, leather, and hay at the end.
If you're new to this style, expect a bit of sticker shock: at around $17 for a 750ML bottle, this ain't your daily sun-downer. But considering the level of craft (employing two yeast strains, aging the brew for months in oak casks, and taking full advantage of Jolly Pumpkin's long history of working with flavor-enticing bacteria), it's a beer that calls for a special occasion—or for when you find an unexpected $20 in your pocket.
Brewery: Jolly Pumpkin
City: Dexter, Michigan
Style: Bière de Garde
ABV: 7%
Availability: Limited release each March