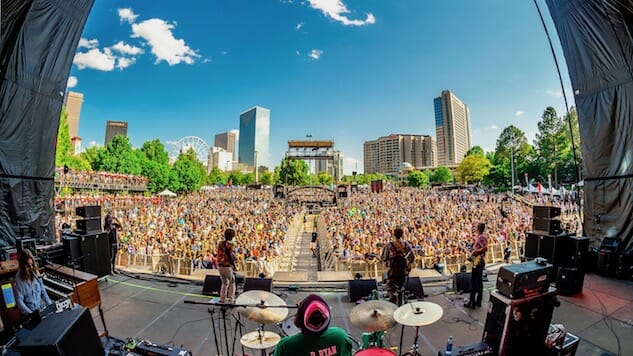 In times such as these, we could all use a brief respite from the daily madness of the real world, and there are few better vehicles for healthy(ish) escapism than a music festival—and if your chosen escapism vehicle serves goes the extra mile or two with their adult beverages, well then all the better. Today there are countless music festivals selling untold numbers of cheap booze, and while that has its place, when a festival goes above and beyond and puts together a unique, high-quality beverage program it can help elevate the experience from a good time to something you never forget. As the general public learns more and more about craft spirits and beer, music festivals are being continuously pushed to be innovative and improve their beverage programs, and we, the festival going public, get to be the beneficiaries of this one-upmanship.
Take the Treefort Music Festival in Boise, where this year in addition to a king's ransom of Pacific Northwest hoppy goodness, there were artists creating original, booze-inspired art live, tons of food pairings from local chefs and fresh-as-can be suds taken directly from nail-pull barrels.
From a festival where you can discuss the rare wine you're drinking with a master sommelier, to one where you can beat the Georgia heat with a Jack Daniels and Coke Slushie, these are the music festivals we'd most like to enjoy a libation or three at as spring melts into summer.
BottleRock
Napa Valley, CA
May 26-28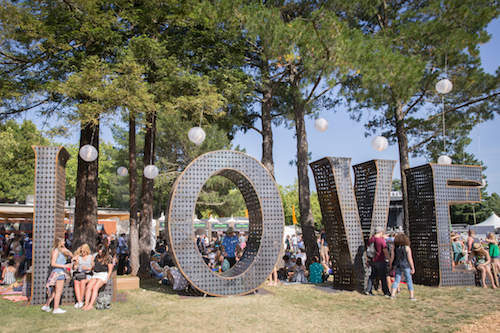 Photo credit: Sterling Munskgard/Shutterstock
Often what makes a festival experience truly special is the people putting on the fest's ability to capture the spirit of the area the party resides in, and having a music festival in California's Napa Valley is almost cheating as far as food and drink are concerned. Considering 3-4 million tourists annually flock to Napa Valley for its preposterously wonderful food and wine options already, one would think the only pressure facing festival partner and Napa native Jason Scoggins and his co-workers was making sure they lived up to the region's amazingly high standards. It's no small feat.
Although BottleRock boasts an electic lineup featuring an intriguing mixture of pop stars, soul singers and more indie bands than you could shake a Pitchfork at, Scoggins knows the festival could never stand out on music alone, so he and his team focused on making the festival look and feel like the Napa Valley itself—something he laughed and told me they called "Napatism." Scoogins and co.'s hard work has paid off, as I can say with a significant amount of confidence that there is not another music festival in North America (and probably the world) that could even come close to what BottleRock has put together in terms of booze.
JaM Cellars is the presenting wine sponsor for the second year running and is joined by about 30 other wineries for what amounts to the best wine tasting you've ever attended, and one that just happens to be soundtracked by the likes of Modest Mouse, Charles Bradley and Tom Petty. But this being BottleRock and Napa Valley, that info is merely prolouge. As you're enjoying wine from one of the finest apellations in the world, if one in particular strikes your fancy you'll be able to ask one of the master sommiliers on site for more information on the wine, which again, will have been cultivated within driving distance from the festival grounds. The luxourious onslaught aimed at your senses doesn't end there; While you're chatting with a sommilier about the world-class wine you're drinking, you'll be forgiven if you're distracted by smells so delectable you wander away mid-sentence in search of their source. BottleRock has managed to get the best of Napa's impressive food scene involved as well, with places like Bouchon and Morimoto dishing food—both of which are known internationally and have Michlen stars attached to their names for good reason. And having that level of food at a music festival is utter madness of the best kind. Not to be outdone, the beer program features 25+ breweries from up and down the craft beer-rich northern strech of the West Coast that have, like the wine, been selected in part to pair with the amazing culinary options. Under normal circumstances such a beer program would be a highlight of an article such as this, but nothing about BottleRock is normal.
If you have the means—and let's be honest, if you live in Napa Valley or take vacactions to music festivals taking place there, you probably have the means—you can push the experience into sensory overload terrority with a VIP experience that focuses on food and wine pairings that you'd be hard pressed to find replicated in the country's very best restaurants. And even if you don't make it to the VIP lounge, BottleRock has achieved something that's difficult to even concieve of—they've taken the experience of spoiling yourself in Napa Valley and reconstructed it inside of a music festival. Dionysus himself thinks this place is opulent. Daisy Buchanan would wander launguidly from West Egg to be on your arm for such an event.
Oh, they also serve Coors Light at BottleRock, but if you're surrounded by all this magical booze and order a Coors Light, you should really have your wristband cut off on the spot, be promptly escourted from the festival by security and possibly detained pending an intensive mental health evaluation.
---
Shaky Beats & Shaky Knees
Atlanta, Ga.
May 5-7 & May 12-14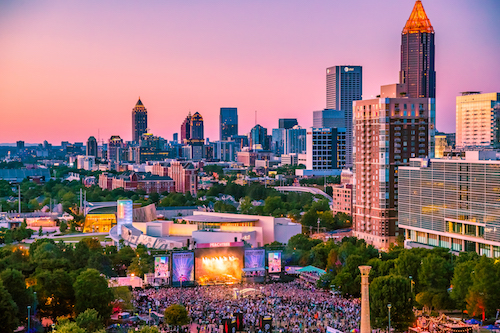 Photo credit: aLIVE Coverage
As a native ATLien, I can testify to the dark days when our fair city's music festivals were few and far between. Sure, there was Music Midtown and the Jazz Festival, but my fellow millennials and I missed out on those for the most part, and despite the ATL's extremely fertile music scene and temperate climate (well, at night at least), we were stuck with a barren festival landscape for years. That all changed when festival founder and producer Tim Sweetwood started the Shaky Knees festival at a local mid-sized rock club. A short five years down the road Shaky Knees has exploded into two massive and totally different festivals that take place in the middle of downtown Atlanta's gorgeous Centennial Olympic Park, and an event people in the region plan for year-round.
A large part of the two festivals' (Beats focuses on EDM and Knees focuses on rock) success has been keeping things direct, relatively simple and surprisingly affordable. Paying under $200 for a three-day pass to a festival that features the likes of LCD Soundsystem, Ryan Adams, Pixies, Wolf Parade and The XX is wonderfully nuts, and part of the reason the Shaky fests are able to keep their prices so low is their food and beverage programs are less extravagant and more straightforward than the other festivals on this list. What's not straightforward is what awaits you if you plan to ball out in the VIP sections, as they are among the most enjoyable and best valued festival VIP areas in the country.
As you may have heard, Atlanta can be rather warm. As such, there are of course, myriad refreshing drink options like the Shaky Mule (vodka, Tangerine Red Bull and ginger beer) that the general population can happily spend their time imbibing whilst getting crunk. But for those amongst us who like to get crunk in style, a Shaky VIP ticket will have you feeling cooler than a polar bear's toenails, both literally and metaphorically, while not having to sell your car to afford it. Be it the elevated and shaded VIP areas with premium sight lines (the main stage structure is a massive two story thing, ensuring plenty of room for all to boogie), or the free beverages and snacks of every stripe—if you brought an early bird VIP ticket for a mere $425 (!), you are going to be pretty pleased with yourself as you watch the sweaty proletariat writhe and sweat below you. But beyond the sight lines, amenities and air-conditioned bathrooms, the Shaky VIP experience can, for me, be defined by two simple things: Jack & Coke Shushies and free Fox Brothers BBQ. The glory of a Jack & Coke Slushie in the Atlanta heat should need no explanation—but believe me when I tell you, brothers and sisters not lucky enough to hail from Atlanta, that devouring a sandwich from Fox Bros. is akin to taking a bite out of a cloud in heaven. Bliss will wash over you like the kudzu that covers much of the South. For a few brief moments, there will be no pain or suffering in the world. Andre 3000 will want to be your new best friend. Future and Ciara will make up. Lisa "Left Eye" Lopes will still be alive, as will Andre Rison's mansion. The only thing General Sherman will have lit is a joint. All will be right and all will be true as you blissfully float on your cloud of brisket.
And hey, if that all doesn't happen, you've still got a mouth full of Jack and Coke Slushie and BBQ, an LCD Soundsystem set to look forward to and some change left in your pocket. Not a bad deal either way… but I'd still aim for BBQ and Slushie-related transcendence myself.
---
High Water Festival
Charleston, SC
April 22-24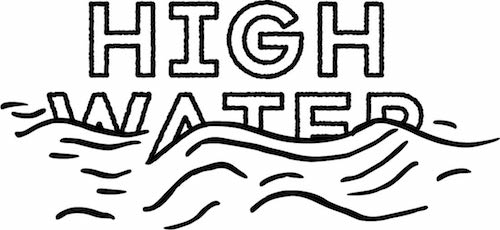 Charleston, South Carolina is having a moment. The city, long known to Southerners as a second-to-none cultural destination, is seeing praised heaped upon it from all angles—in large part due to the exposure Chucktown's exceptional food and drink scenes are receiving. The High Water Festival, which is curated by Charleston natives and husband-and-wife musical duo Shovels and Rope, seeks to capture and celebrate everything that has earned Charleston this moment in the sun—and by God y'all, I am here to testify that they have achieved it in spades.
Charleston is one of those cities that has an aura that envelops you like Southern humidity the moment you step onto her streets: the delectable smells of a low country boil, the sounds of exaggerated fishing stories and laughter, the clinking of glasses, the smiles stuck like plaster on the faces of passersby—each of whom asks, "How are y'all tonight?"—it all blends in such a way you start to think you've fallen under the spell of some of that ancient Gullah voodoo. It's truly a special place to experience, and one that High Water has gone above and beyond to replicate via their festival. Beyond a lineup that includes the likes of The Shins, The Avett Brothers, Charles Bradley and Margo Price, High Water has sought out the best food and drink in the region to truly make the weekend an experience, as opposed to just a music festival.
Getting a bit hot and craving shade and a cocktail in-between shows? Head over to The Refuge, where you can enjoy Southern, locally-inspired craft cocktails and a curated wine bar serving up several varietals from Ghost Pines, Dr. Loosen, and Pax Mahle Wines while you snack any number of delectable local choices. Too early for cocktails and wine? (Is that a thing, "too early"?) Then head over to The Porch where nine breweries (Coast Brewing Company, Cooper River, Frothy Beard and Palmetto among them) will not only be in attendance with multiple offerings, but will be ringing a bell each time a new, rare or special keg is tapped—alerting the type of people who opened this article that it's liver-attacking time and they should come running. Let's say you got excited by this embarrassment of riches and imbibed too much the night before and are now in need of something beyond Waffle House to curb your hangover a bit. Well first of all, shame on you—scattered, smothered and covered for life, but not to worry, you won't be missing out on Chucktown's exceptional food scene if you're at the festival early, as each morning from 10:30-12:30, three very talented local chefs will be hosting a family style brunch called Pass the Peas on the beyond-scenic waterfront. If that sounds cool, dig the fact that your Pass the Peas tickets get you into exclusive performances at the intimate Eternal Father of the Sea Chapel, which will be hosted by the crew from Saint Willie Nelson's Luck Reunion. (Coincidentally, Saint Willie is the only deity I pray to, so that works out.)
Oh but we're not done y'all, not by a sight. Kicking off all of this revelry is the Low Tide Social, an "evening of supper and song" the Friday before the festival proper featuring the aforementioned low country boil, a delectably-seasoned single pot mixture usually comprised of shrimp, red potatoes, corn, sausage and heaven that is poured onto tables, eaten family style and that pairs better with booze than any pizza ever will (yeah, I said it). And who will be soundtracking this glorious feast as you watch the sun dip into the Atlantic for her nightly swim? Lucinda freaking Williams, Langhorn Slim and local faves Ranky Tanky. So yeah, it should be pretty cool. Check out all the extracurricular details here, and mark Chucktown and High Water down for your next vacation.
---
What Sound Was
Portland, Or.
May 27th, Portland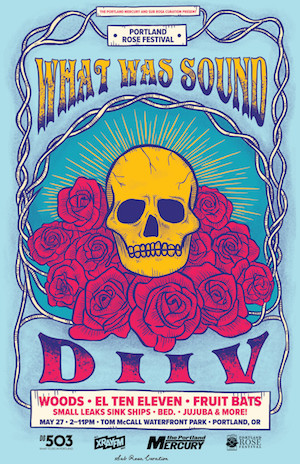 When writing a piece on the joy that results when fine spirits, fine music and fine weather combine to provide us with some of life's more memorable experiences, it's more or less impossible to leave out the craft beer capital of the world, Portland, Oregon. Severely turned off by the Sasquatch festival's rising prices and, to their minds, lesser quality acts, the Portland natives behind Subrosa Music Marketing began exploring the possibility of an alternative for Portlanders who shared their feelings about spending Memorial Day weekend with thousands of molly-fied frat boys. When the group connected with the 110-year-old Portland Rose Festival, the groundwork for a top-notch mini-fest was set, and the inaugural What Sound Was festival was born.
The Rose Festival has historically been seen as the city's flagship celebration of all things Portland, and since joining forces with Subrosa the festival has taken great pains to highlight a few of the attributes that make the City of Roses such a magical place: namely amazing, local booze combined with amazing, mostly local bands at an affordable price. (And roses, lots and lots of roses.) Local small-batch distillery Eastside Distilling will be providing the hard stuff in the form of spirits like their award-winning Burnside Bourbon and Portland Potato Vodka, both of which are created at Eastside's spot on SE Portland's Distillery Row, which is just a couple of miles from the festival grounds. Although small batch, award-winning and utterly delicious, Eastside has also kept their prices very reasonable, something very much in tune with the festival's goal of affordability (tickets are just $28). (Side note: if you find yourself thirsty and in the City of Roses, I highly recommend the Distillery Row tour, your liver will thank you.)
Choosing a beer sponsor for any Portland festival has to be a Herculean task, as the city is home to around 70 different breweries producing untold varieties of heavenly hoppiness—but the folks behind What Sound Was did well in choosing Portland Brewing Company, one of the city's oldest breweries. Founded in 1986, Portland Brewing Company was a pioneer in Portland's—and therefore America's—burgeoning craft beer scene and has managed to stay delicious throughout the years. The brewery created one of Portland's most iconic brews with its MacTarnahan's Amber Ale, has been awarded multiple gold medals over the years at competitions like The Great American Beer Festival and The World Beer Championships, won a silver medal at the 2016 World Beer Cup and has the added distinction of being the first beer I drank upon moving to Portland (I'm sure they're honored).
There are few things more gloriously Portland than sipping a top-notch, locally made libation while you watch some of indie rock's best acts (DIIV, Woods and Fruit Bats headline) at a rose-drenched carnival (literally, on both accounts) that's taking place in downtown Portland next to a body of water sparkling gloriously under the late May sun. For those seeking a respite from what the Subrosa folks called the "rampant extortion" of Sasquatch's massive party, it's hard to think of something more appealing.
---