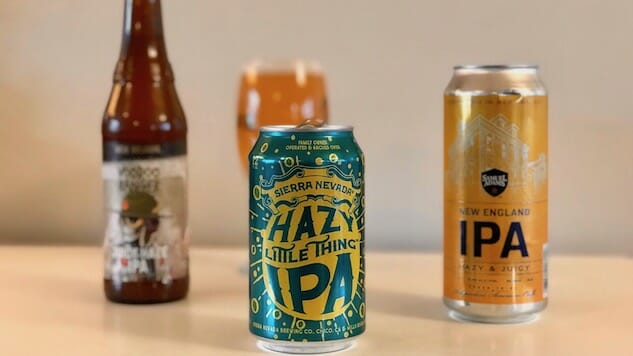 Well, it's official. New England IPAs are absolutely everywhere. It seems like only yesterday that people were following around delivery trucks in Vermont to get a taste of Heady Topper, the beer that introduced a generation to hazy, juice-forward IPAs. Since Alchemist pioneered the style, many other breweries have pushed its evolution. Today, New England IPAs are more than hazy, they're almost milky in appearance, and they're juicy without much of the bitterness that characterized the American IPA for so long. It's true that in the last few years, the fruit-forward, cloudy style has been adopted by craft breweries all over the country, regardless of their location, but this year, we're seeing the biggest craft breweries in the country embrace the hazy trend.
Boston Beer Company, makers of Sam Adams Boston Lager, will release their New England IPA in April. Sierra Nevada recently released their version of a hazy, New England IPA earlier this year, and New Belgium Brewing has added a hazy IPA to their Ranger portfolio as well. All of a sudden, New England IPAs aren't niche. They're everywhere. And I'm digging it.
Boston Beer, Sierra Nevada, and New Belgium are as big as craft breweries get, with a presence in all 50 states, and some might think that their adoption of the New England IPA is the beginning of the end for the style. The tipping point of the trend, if you will.
It's kind of like when you hear your favorite indie band get airtime on the radio. You know the band I'm talking about—the one with the blind guy who plays spoons and the girl who just knits scarves in the corner of the stage while beatboxing as her twin brother sings Willie Nelson covers over a Ska track. That band. As soon as their breakout hit actually breaks out and reaches the ears of "commoners," the band is over. Target will start carrying that band's t-shirts soon.
So, you could see Boston Beer's release of a New England IPA as a signal that the style is over. I know plenty of beer drinkers who eschew products from these three breweries, opting for beers from smaller outfits, and that's fine. You do you. But a massive operation like New Belgium can do something that a small hipster brand can't: they can introduce a once-niche beer style like the New England IPA to an entire population of would-be beer drinkers. New Belgium, and Sierra Nevada and Sam Adams can get this wild, fruity beer style into Applebee's. Personally, I think that's a good thing.
It actually pisses me off to think that there are people in the middle of Oklahoma, or the edge of Arizona or wherever who don't have access to good beer. Who haven't been able to try the latest evolution of the IPA. It's a silly thing to get pissed off about in 2017, when there are so many other things to be pissed off about, but I'm a silly person who thinks about silly things so there you go.
There are legitimate beer deserts in this country, places where there aren't small craft breweries decorated with wood pallet walls and Edison bulbs. Places where Sam Adams Boston Lager or New Belgium Fat Tire are the only craft beer options at the corner store.
I don't think beer should be precious or location dependent. You shouldn't have to "know somebody," or drive six hours and spend the night in a parking lot to get a certain style of beer. You shouldn't have to follow a delivery truck around town to pick up a six pack of fresh IPA. Now that some of the biggest craft breweries in the country have officially and whole-heartedly succumbed to the New England IPA trend, just about every beer drinker in this country will have a chance to get their hazy goodness in a glass.
And here's the deal: all three of these beers are good. Are they as good as the milky orange, New England IPA that your favorite underground brewery makes? I don't know. Maybe not. But they are decent representations of the style, and they are good beers.
But which of the new IPAs is best? If you find yourself in one of those beer deserts and need a hazy IPA fix, which one should you order? Here are my thoughts on these three new hazy IPAs, soon to be in an Applebee's near you.
Sierra Nevada Hazy Little Thing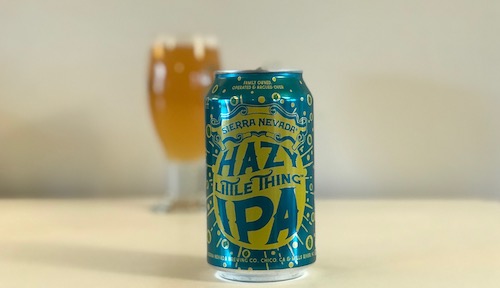 Without taking a sip from any of the three new beers, I would've expected Sierra Nevada's version of the New England IPA to be the best, simply because Sierra Nevada kills it. Yeah, they're a massive operation and probably have all of the problems that massive operations contend with, but they've managed to maintain their street cred while dominating the world. That's a hard thing to do. So, I came into Hazy Little Thing with expectations.
The beer is certainly opaque, pouring a light orange with a thin head, and it smells fruity, like a bowl of sweet mandarin oranges. The mouthfeel is creamy, but there's a layer of acidity that underscores that creaminess, and some lingering bitterness that you don't expect from the New England version of an IPA. It's more citrus rind than citrus flesh. It's also a little oily on the backend. All in all, this New England IPA still has a foot planted firmly in the sands of the West Coast. It's a fine beer, but it lacks that New England accent that the style is known for.
Sam Adams New England IPA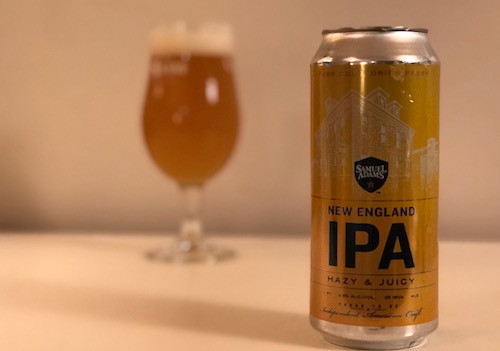 Boston Beer has been making this particular beer in their small, experimental brewery for a year. This April, they're going to release it nationwide in four packs of 16 ounce cans, which is exactly how God intended hazy IPAs to be released. I honestly had low expectations going into this beer. I have mad respect for Sam Adams—the brand got me through the early '90s. But I wasn't impressed with their series of Rebel IPAs. But this beer is damn good. It's plenty hazy and is loaded with sweet tangerine notes, coming off as a boozy version of Sunny Delight. There's a bit of zest on the back end, even a bit of spice as the sip disappears, but I think this is a better example of the New England IPA than Sierra Nevada's version. It'll be available in April nationwide. Everywhere. And you can get a four pack for a little under $10.
New Belgium Juicy Haze IPA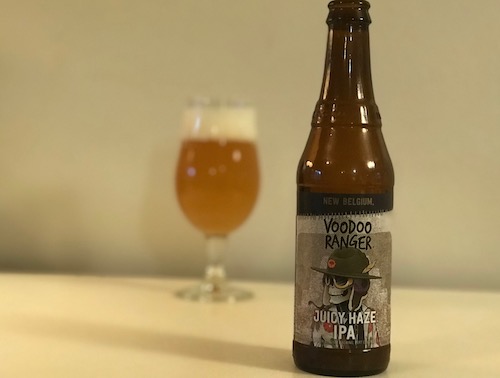 I almost cried when New Belgium started building their East Coast brewery about a mile from my house. The brewery will always have a special place in my heart, and I think their revamping of the Ranger series of IPAs has been an overwhelming success. I think it's one of the best IPAs that you can get at your local grocery store. And now, they've added a New England IPA to that Ranger line up, the Juicy Haze IPA. Of the three beers I tasted for this article, Juicy Haze is not only the best representation of the New England IPA, but the best beer of the bunch. It pours with a thick, milky complexion, looking almost identical to the New England IPAs that dominate my Instagram feed these days. It smells fruity as hell, a mix of orange and pineapple and delivers an incredibly smooth and milky mouthfeel. It's very soft and forgiving, full of grapefruit, pineapple and a layer of mellow papaya. And there's just a trace of bitterness in there, making it the perfect gateway IPA for newbies. And like I said, you can get this beer in your grocery store. Right now. No need to follow that delivery truck or bribe your buddy to bring you back a four pack from his business trip in Vermont. It's available to everyone.