The Haze Craze: 11 Breweries Outside of New England Making NE IPAs
Photo by Eddie Hernandez/Shutterstock
Drink
Lists
northeastern IPA
I remember it like it was just yesterday. It was 2014 and I was just pulling up to Hill Farmstead, after crossing my fingers that my friend's car would make it through the snow the last 15 miles of our trip. Among the growlers I walked away with that day was one of Society and Solitude #6, an Imperial Pale Ale brewed with Mosaic hops. When I got home, I remember pouring the growler with my friends into our glasses and being blown away by this juicy, yet restrained offering with light bitterness. It was something I hadn't seen before in the hoppy beers I was accustomed to.
I had to have more, but being in New York City at the time, there was nothing like that. Little did I know, I wasn't the only one marveling over the hoppy offerings being put out by New England-based breweries like Hill Farmstead, The Alchemist, Trillium and Tree House, to name a few, as the beer world was about to jump into a revolution of these unfiltered, hazy and hoppy brews.
Today, breweries throughout the country embrace the haze, however many choose not to market their offerings as "Northeast IPAs." While most have been inspired by breweries from the Northeast, their hazy offerings are merely a rendition of the beers they like to drink. With so many choices out there, I've had narrowed down eleven breweries outside the Northeastern United States that are brewing unfiltered hoppy beers you should check out.
Photos by Jason Stein
The Answer Brewpub – Richmond, VA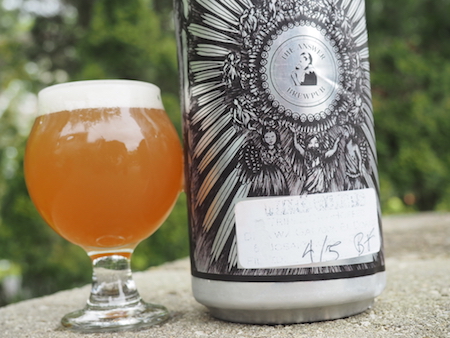 To kick off this list, we start with a trio of breweries in the state of Virginia that have made a name for themselves with their hazy offerings. First up is The Answer Brewpub, a brewery we included on our list of "Best Up and Coming Breweries" for 2016. Since opening almost three years ago, The Answer has been focusing mainly on these hazy styles. Head brewer Brandon Tolbert likes to think he's been able to "find a balance between Northeast IPAs and traditional hoppy beers" even though he doesn't like to label his beers as being Northeast IPAs. While he's been influenced by some of his favorites, such as Susan from Hill Farmstead and Heady Topper from The Alchemist, his recipes at the Answer are a reflection of what he likes to drink.
Beer to Try – Triple Dry Hopped Mind Games (8.0% abv): While it seems like the Answer is pumping out a new hoppy offering almost every week, my favorite is their Double IPA Mind Games, which is triple dry hopped with Mosaic, El Dorado and Galaxy hops. The idea for the beer actually came from a collaboration they did with Other Half called Pump Fake. Brandon liked how it turned out so much, he decided to make several tweaks to the recipe and make it a regular offering at The Answer.
---
Aslin Beer Company – Herndon, VA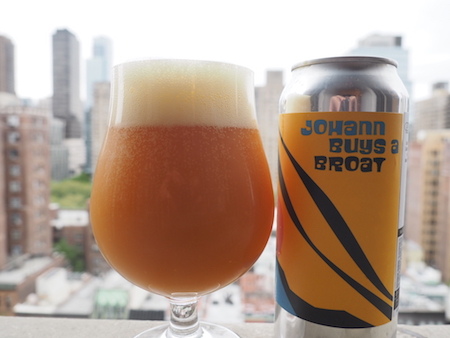 Family members and co-founders Richard Thompson, Kai Leszkowicz and Andrew Kelly have recently garnered attention due to their unfiltered brews. The name Aslin actually comes from their wives' maiden names (yes, all three of them). Kai and Andrew married sisters, and Richard is the brother of the third Aslin sister's husband. While all three had no prior professional brewing experience, they were prolific homebrewers for over eight years before opening Aslin. When friends and family began to put in requests for their beers for events, the three decided to test the waters on a professional level, and opened Aslin in 2015. Instead of going the route of a flagship portfolio, they decided to brew beers that they, as well as the public, wanted to drink. Having been influenced by breweries such as Hill Farmstead, Tree House and Trillium, the three set out to brew beers with a larger mouthfeel that would lend to a smoother bitterness and juicy flavors.
Beer to Try – Johann Buys a Boat (9.4% abv): With a beer name like this, you know there has to be a good story behind it. Well before Aslin, Kai worked as a police officer. One day his co-worker received a 911 call from a man who was convinced that his cousin Johann was breaking into his house, stealing his mangoes and replacing them with rotten mangoes. The trio thought the story was so hilarious that they had to develop a series of Johann beers. This beer in particular, though, is almost as absurd as the story, and I mean that in a good way with one of the most in-your-face citrus aromas I've ever experienced on a beer, a wave of hops attacking the palate on the front end that's rounded out with a vanilla/orange combo.
---
The Veil – Richmond, VA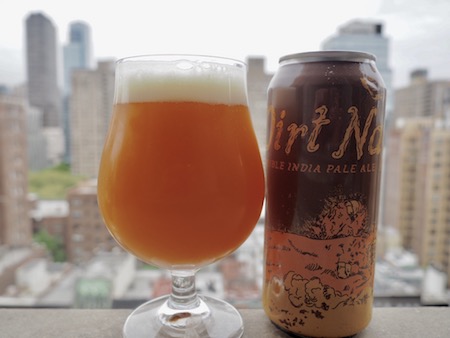 Just last month, The Veil celebrated their first anniversary. Yes, you heard correct, they have only been open a year. With the buzz around this brewery since before they even opened their doors, The Veil has already become a household name for craft beer enthusiasts; I mean, they were on our list of "Best Breweries" for 2016, and they weren't even open for all of 2016! A lot of that buzz has been due to their hoppy offerings, which was expected due to head brewer/co-founder Matt Tarpy's experience up in Vermont at Hill Farmstead and The Alchemist. In reality though, like many others on the list, The Veil has focused on hazy hoppy offerings because it's the beer they love to drink as they continue to work on "dialing in the unattainable perfect hoppy beer," according to Tarpy, who also notes that there is a fine line between inspiration and imitation. "We do our best at The Veil to do what we love and make our hoppy beers have somewhat of an identity. Influence is driven by experience, respect and enjoyment of many great hoppy beer producers' passion."
Beer to Try – Dirt Nap (8.8% abv): With so many variations to choose from, I had planned on going with an obvious choice like Whiteferrari, but I am going to go with a beer that doesn't get enough love, and that's Dirt Nap. The nose provides that textbook floral aroma you get with Tarpy's best hoppy offerings, with a restrained hoppy bite on the front end. The backend rounds out with lingering citrus and tropical fruit notes.
---
Narrow Gauge – Saint Louis, MO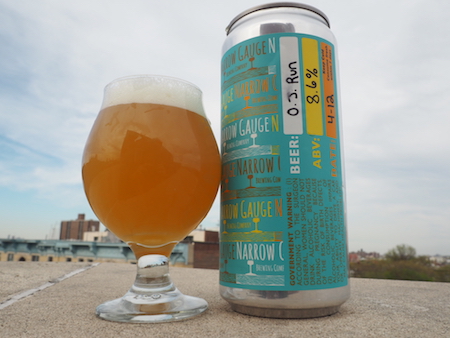 A long time homebrewer, Jeff Hardesty had all but given up on brewing hoppy beers until his wife temporarily relocated to Maine back in 2013. During his trips there, he had time to visit breweries like The Alchemist and Hill Farmstead and began to fall in love with IPAs again. Since opening Narrow Gauge this past year, Jeff has been pumping out his own hoppy offerings for beer drinkers in the show-me-state. Branching away from yeast strains such as Conan and London Ale III, Jeff has been able to put his own spin on some of the beers that have influenced the offerings at Narrow Gauge.
Beer to Try – O.J. Run (8.6% abv): Since we're talking about juicy IPAs, I had to go with the obvious choice from Jeff, and that's OJ Run, the first Double IPA he released.  When Jeff was developing the recipe for this brew he drew his inspiration from one of his favorite beers from Tree House, Juice Machine. As expected this brew is bursting with orange aromas, however the beer itself is not overly hoppy, with notes of grapefruit and pine on the taste.
---
Transient Artisan Ales – Bridgman, MI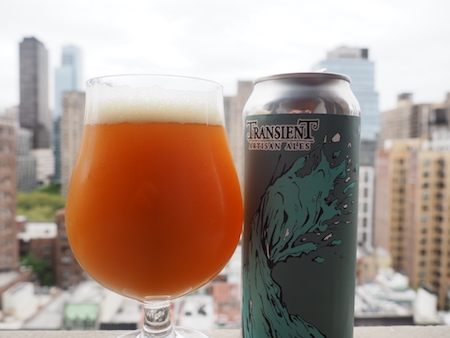 Founder and brewer of Transient Ales, Chris Betts first got his start brewing at Witch's Hat in South Lyon, Michigan. After putting together a business plan to open his own brewery, Chris realized he would have to go the gypsy brewing route to get his dream off the ground. "The hazy look was never the goal," notes Chris. "I loved Hill Farmstead's take on IPAs and when we finally opened a taproom I knew we needed a pale on tap at all times, so people coming in for our sours and saisons could bring their friends who maybe don't like those unique styles," Chris mentions. After experimenting with some English yeast strains that tended to leave a hazy appearance, Chris realized he had the flavors he wanted for his hoppy beers. He wasn't the only one enjoying these flavors though, as people were coming in to fill 10-20 growlers at a time forcing him to realize cans would have to be the next step.
Beer to Try: The Juice is Loose (8.0% abv): This beer is the big-brother of Transient's Obligatory IPA. "The name should give away our thoughts behind needing a hoppy beer on tap in our tasting room," mentions Chris. The big difference between the two is that for this beer, they subbed out Columbus for a 50:50 mix of Simcoe and Citra hops. When Transient first posted a description of the beer, stating that it had little to no bitterness, they immediately received backlash. That however quickly changed once they put the beer on-tap as it sold out quicker than anything they brewed before. This beer was the biggest surprise for me on this list, it's incredibly balanced and restrained with notes of orange zest on the nose, tropical fruit taste and as advertised, a soft / pillowy mouthfeel.
---
WeldWerks Brewing – Greeley, CO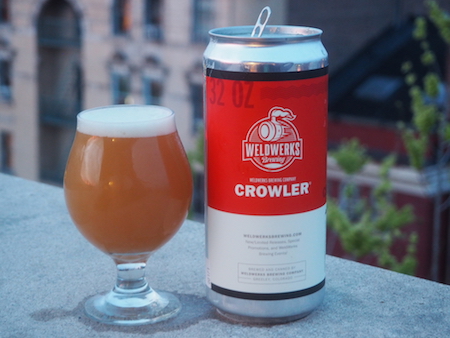 Back in 2014, co-founder Neil Fisher was brewing out of his garage when he made a bet that if he started to win a few homebrew competitions, he would start a brewery. Well lucky for beer lovers in Colorado, co-founder Colin Jones held Neil to his word and in 2015 WeldWerks opened their doors. Neil notes, "that as craft beer enthusiasts ourselves, we were completely enamored with the style [hazy hoppy beers coming out of the Northeast], especially because of how much it differed from most of the American IPAs being served across the country." Deciding to make it their goal to try as many of these beers as possible, the duo was able to create what has become their most well-known offering now, Juicy Bits. Their ultimate decision to brew a beer like Juicy Bits actually came from trying beers from Tree House. "Beers like Julius, Alter Ego, and Green completely changed the way I thought about IPAs, and the level of quality and consistency they are able to achieve with each batch is amazing," Neil gushes.
Beer to Try – Juicy Bits Double Dry Hopped with Galaxy (7.1% abv): For WeldWerk's 2nd anniversary, Neil and Colin knew that they needed to do something special to honor the beer that has defined their hoppy beer portfolio. Having just done two batches of Double Dry Hopped Juicy Bits, in which they doubled the dry hop additions compared to regular Juicy Bits (all Citra, Mosaic and El Dorado), they decided to get their hands on some Galaxy Hops, dry hopping with more than 3 lbs. per barrel, in addition to the normal dry hop schedule, bringing the total hop rate up to nearly 7 lbs. per barrel.
---
Monkish Brewing Co. –  Torrance, CA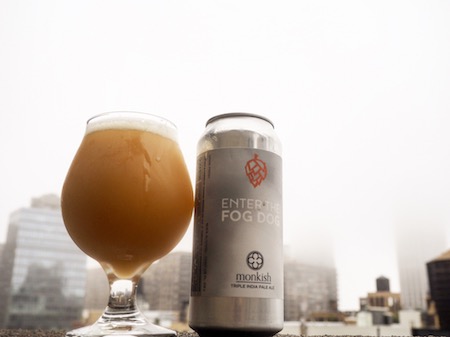 For their first four years open, Monkish Brewing did not produce a single IPA. They even had the infamous sign "No MSG, No IPA" that hung in the brewery for years, which was a little tongue and cheek. In a post on Monkish's blog, co-owner Henry Nguyen noted, "that sign was put up at a time when we, as a young brewery, wanted to focus on making Belgian-inspired beers and to push that limit. We didn't have anything against IPAs, porters, stouts etc. We were just intentional about being focused." That all changed in April 2016 after Monkish finally jumped into the hoppy scene of the beer world, when they collaborated with Other Half Brewing. After trying beers from breweries such as Trillium, Tree House, and Tired Hands to name a few, Henry noticed that he found himself "preferring the soft flavor profile over West Coast IPAs." While Henry certainly draws his inspiration from friends in the Northeast, he doesn't like to label his brews as hazy or Northeast, but instead simply as "Monkish IPAs." Henry notes that, "we feel that our IPAs are slightly different from others in being a bit more hoppy in aroma and flavor with a noticeable hop bite on the finish. We love hops and we use a lot of it in our IPAs."
Beer to Try – Enter the Fog Dog (10.0% abv): For me, Monkish does one thing better than perhaps anyone, and that's the Triple/Imperial IPA. Enter the Fog Dog might be one of the best, if not the best Imperial IPA I've had. I actually forgot to look at the alcohol content when I first tried this, and found myself doing a double take, as you would never know from the taste that this is a 10% beer. The beer gives off aromas of tropical fruit, there's a big clean hoppy bite on the front end, followed by waves of citrus, and a medium bitterness on the backend that lingers on the palate.
---
Alvarado Street Brewery – Monterey, CA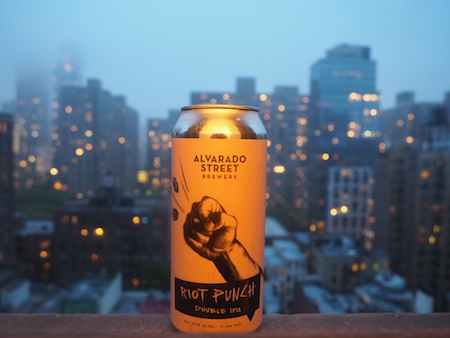 Since opening Alvarado Street Brewery in May of 2014 with his father, J.C. Hill has been making beers with significant hop haze, however about a year and a half ago, he began brewing what he likes to call "yeast-driven" IPAs. "Before then, we would have trouble clearing up our IPAs due to significant dry hopping, and our customers didn't seem to mind and beers were being consumed fresh, so clarity wasn't something we focused on," mentions J.C.  He notes that while the term Northeast or New England-style is a great way to honor some of the pioneers of these beers, he's brewing his beers on the opposite side of the country. By labeling his beers as being "yeast-driven," he's able to let his consumers know that he relies on flavors and aromas produced in fermentation to complement the hop character.
As for inspiration, J.C. has relied on breweries from both coasts including Alpine, Cellarmaker, Sante Adairius, Hill Farmstead, and the Alchemist. After having brews from Treehouse and Trillium, it pushed him to experiment with new yeast strains to ferment hoppy beers instead of solely relying on his more neutral house ale yeast.
Beer to Try: Riot Punch (8.5% abv): This yeast driven Double IPA with 100% Citra is certainly different than the rest of the beers on this list, as you can clearly tell the influence breweries on both coasts had on J.C. It pours the same hazy straw color with faint notes of stone fruit, however there is a little bit of a sticky malt character as well. The taste provides that similar tropical fruit character, but with a bit of pine and resin to round the beer out, making for quite the hybrid.
---
Old Nation Brewery – Williamston, MI
One of the sleepers on this list is Old Nation. While you might not have heard of the brewery, you might have seen their beer "M-43" and if you're still out of the loop, I suggest you look into it.  Travis Fritts started Old Nation back in June of 2015 with a focus on brewing new styles that fall under 6% ABV. Travis notes, "we thought the market was ready…. it wasn't." When Travis soon realized Old Nation had six months left before he would be forced to close down, he began reaching out to local groups on social media to figure out what he had to brew to get noticed. "I wasn't throwing bubblegum into my wheat beer, I was trying to hit technical specs that made perfect session beer, but folks didn't want a local version of a beer they could buy in any store from a foreign company, and no one was interested in the styles anyway," Travis says. Finally, this past fall, a group in Detroit called the DACBE (Detroit Area Craft Beer Enthusiasts) posted a thread about the New England IPA style. Travis, and his brewing partner Nate Rykse, decided to give it a shot and invited the DACBE out to brew a test batch on their 7 bbl system. While the test batch turned out "okay" notes Travis, it wasn't until a local brought back cans from breweries including Tree House, Bissell Brothers, and Trillium that Old Nation knew what to change. Since then, Old Nation has learned to dial-in their recipes for their unfiltered hoppy brews.
Beer to Try – M-43 (6.8% abv): Obviously I am going to go with M-43 here, the beer that brought Old Nation back from the dead.  With IPAs like M-43, Travis notes that "restraint is key, which sounds funny about such a weird style," however this concept is clear when you try the brew. It's incredibly soft with a light crispy bite on the front end with a lingering citrus taste on the backend.  
---
Great Notion Brewery – Portland, Oregon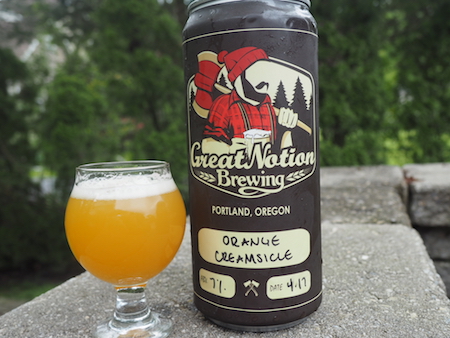 The last brewery on this list from within the U.S. was also on our 2016 list of "Best Up and Coming Breweries." Great Notion has learned to embrace the haze literally. Back in 2012, when brewer James Dugan was still a home brewer, he actually attempted to culture yeast from cans of The Alchemist's Heady Topper. Dugan recalls "the beer was a game changer for me… the soft mouth feel and restrained bitterness was unique, very drinkable, and quite different than the Northwest IPA's I was drinking. At this time, the yeast was not commercially available, so I attempted to culture yeast from cans acquired in a trade. The first attempt didn't work out, so I bought a stir plate, made a starter, and improved my process." While that process has continued to evolve over the years, both Dugan, as well as co-brewer Andy Miller, continue to be influenced by the hoppy offerings from breweries around the country. The two were influenced by Yellow Rose from the Lone Pint and Cutting Tiles from Trillium when developing their recipe for their beer Juice Box, while Psuedo Sue from Toppling Goliath and Fuzzy Baby Ducks from New England Brewing helped to shape the IPA known as RIPE.
Beer to Try – Orange Creamsicle IPA (7.0% abv): For those familiar with Great Notion's hoppy stuff, or simply their beers in general, what always separates a Great Notion beer is the amazing aroma. Whether it's Double Stack (maple coffee beer) or Blueberry Muffin (blueberry sour), the nose is always spot-on, and Orange Creamsicle is no different. Using their beer Juice Jr. as the base, they added orange concentrate, vanilla, and lactose to develop an offering that will take you back to the hot summer days when you were a kid, ordering a Creamsicle from the ice cream truck.
---
Omnipollo – Stockholm, Sweden
Our last brewery actually hails from the other side of the pond in Sweden. Since opening in 2011, Omnipollo has been anything but your typical brewery pumping out one creative brew after another. They actually started brewing hazy beers by accident, but I'll get to that later. Since that lucky accident, head brewer Henok Fentie has brewed a number of hazy offerings including a series that many beer enthusiasts (or line chair waiters) on the Northeast have become familiar with, the Milkshake IPA series at Tired Hands. "I was mesmerized by what Jean (Jean Broillet IV – Tired Hands founder) and the guys at Tired Hands were doing and sent them a bottle of Fatamorgana actually," Henok recalls. The two decided to come together on the concept of a Milkshake IPA. Henok notes the series was to be "based on the culinary IPAs Omnipollo had been working on [Smoothie IPA series] and the culinary IPAs and incredible progressive beers that Jean had been putting out. We'd both been criticized by purists over the appearance of our beers with reference to Milkshakes, which also made it a bit tongue in cheek." With variants such as mango, guava, and blackberry to name a few, the Milkshake series is certainly something all beer lovers should try at least once.
Beer to Try Fatamorgana (8.0% abv): Now back to how Omnipollo got into brewing hazy IPAs. Henok recalls brewing at Dog Brewing (just outside Baltimore) in 2013. "I brought a recipe for what I thought was a pretty straight forward Double IPA but after dry-hopping heavily with Citra, and extensive conditioning, the beer looked like pea soup. It had an incredible nose and a soft mouthfeel and Omnipollo Fatamorgana had been born. The brewery was devastated at the appearance of the beer and I admit I was a little bit worried over how it would be received as we were a young company with little track record in the US. However, with the meager funds we had and the small fortune we put into screen printing bottles, we decided to run with it." Henok remembers that after brewing the beer, he actually took a photo holding his opaque yellow beer against a clear blue sky, mumbling something about "embrace the haze."  
---
Jason Stein is a New York-based beer nerd. You can find more of his writing on NYC Beer Society.