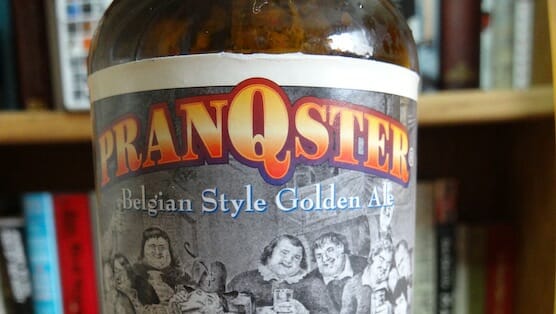 Fort Bragg, California is a coastal town about 200 miles north of San Francisco. It's a beautiful spot with working class roots and a population under 10,000. It's also home to The North Coast Brewing Company, now in its 26th year of manufacturing some of Mendocino County's finest craft beers.
The company's offerings range from the light Scrimshaw pilsner to the hairy and stout Old Rasputin, but the pick of the litter is the double award winning Pranqster, a Belgian-style golden ale. Pranqster is an effervescent beer that pours a beautiful yellow gold with minimal head. With its bright, yeasty nose and its orange undertones, this is a beer as delightful in the glass as it is in the mouth.
And it really is a delight, with a yeasty tang that establishes it as a Belgian yet a lightness that belies its high alcohol content (7.6% ABV). Pranqster feels almost pilsner-like on the tongue and provides a fruity finish.
If you are looking for an unpretentious upgrade for your high carbonation, light-bodied, golden domestic beer, give Pranqster a go. And if you find yourself on the Northern California coast, drop by the brewery for dinner and a sampler tray. You won't be disappointed.
Brewery: North Coast Brewing Co.
City: Fort Bragg, California
Style: Belgian ale
ABV: 7.6
Availability: Year round