The Red Wines You Should Be Sipping This Summer
Photo by Marina Abrosimova/Unsplash
Drink
Lists
Red Wine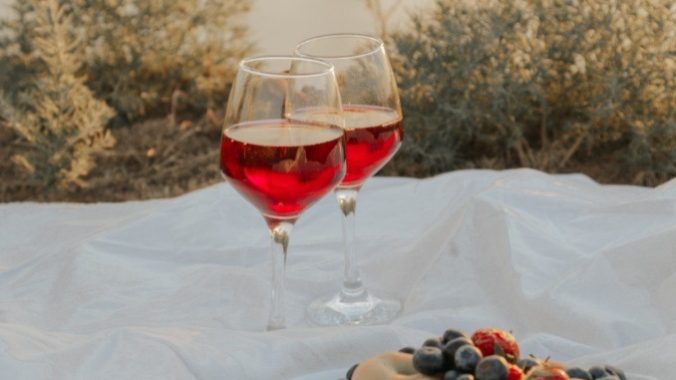 Once the warmer weather hits, many wine lovers turn to rosés and whites almost exclusively, largely leaving the reds in the dust until the temps start to drop again. But I'm here to preach the gospel of the summer red, with its bracing acidity, juiciness and light body. And while you may have dipped your toe into the pond of a mid-summer Beaujolais Nouveau or Pinot Noir, there are so many more amazing red wines to explore during the hottest season of the year. I've composed a list of some of my favorite summer reds, but don't be afraid to ask your local wine store employee what reds they'd recommend for sipping on a porch or in the park on a steamy summer night. We all love a good rosé, but there's so much more to summer wine than the pink stuff.
---
1. Grignolino
Grignolino grapes hail from Piedmont in Italy, and it's one of my all-time favorite summer wines because of its high acidity and bright, fresh berry flavors. That doesn't meant the tannins are going to leave you hanging, though; despite the wine's light color, it's actually quite high in tannins, which is what gives red wines that mouth-drying effect. Decanter compares Grignolino to a summery Nebbiolo, so if you like the latter, this light red may be what you're after.
---
2. Blaufränkisch
There are few red wines as perfect for summer as Blaufränkisch, an Austrian grape variety that boasts marked acidity, which will ensure your red wine is refreshing, not overwhelming, when it's hot out. It's one of the parent grapes of Gamay, the grape that's used to make the massively popular Beaujolais. Juicy cherry notes make this a solid summer contender, and even the oaked and aged versions are a lovely accompaniment to a summertime patio meal.
---
3. Gamay
Beaujolais Nouveau is among the most popular summertime reds, but France's Beaujolais region is just one location that grows the grape Gamay. Reach for a Beaujolais if that's what you're craving, but you can (and should!) also seek out Gamay from Oregon, Australia and beyond.
---
4. Frappato
Sicily is home to the summery Frappato, a quintessential warm-weather wine. This is the kind of red wine you're going to want to chill, as a short time in the fridge will highlight the mineral flavors Frappato lovers adore. Just make sure you don't get the wine too cold, or it'll be hard to pick out the lovely berry notes that keep things fresh and fruity. Check out Frappatos from Mt. Etna, and pour glass after glass, basking in the relatively low ABV.
---
5. Xinomavro
Now we take a jaunt to Greece, specifically Naoussa, to taste some Xinomavro, one of Greece's most celebrated grape varieties. These wines can be incredibly tannic, which might give some summer drinkers pause, but the bright acidity makes them enjoyable even during the hottest months of the year.
---
6. Nerello Mascalese
Nerello Mascalese, another wine that's mostly produced in Sicily, is a serious summer contender for red wine lovers. It's often compared to Pinot Noir but with a sourness and florality that make this wine its own. Sometimes, it also mimics the more well-known Nebbiolo, so if you're already a fan of this iconic Italian grape, you're likely to love Nerello Mascalese as well.
---
7. Lambrusco
Lambrusco, a sparkling red, comes from Italy's Emilia-Romagna region, and it's quickly becoming more popular. Fizzy reds are relatively rare in the wine world, which is why this somewhat novel wine is such a hit among those who love bubbles. Some Lambrusco can be quite sweet, so if you prefer a drier version, you should ask for Lambrusco "secco."
---
8. St. Laurent
If you like Pinot Noir, there's a good chance that you'll be a fan of St. Laurent as well. This wine, which hails from Austria, actually tends to be a bit bigger and more full-bodied than Pinot, but it's a lovely wine to enjoy on summer evenings. I personally prefer unoaked St. Laurent during the summer, but a hint of old oak can provide some structure and notes of cinnamon.
---
9. Schiava
Schiava comes from Italy's Alto-Adige region, which is home to some of the country's most famous whites. But this red wine is light-bodied, refreshing and perfect for pairing with grilled meats. Pull out a bottle of this stuff during your next BBQ, and it's sure to be a hit.
---
10. Zweigelt
Zweigelt also comes from Austria, and since World War II, it's become the most widely planted black grape in the country. It's a crossing between Blaufränkisch and St. Laurent, which means you get that light-bodied, red cherry, chillable quality that makes a red ideal for summertime sipping. It's frequently compared to Pinot Noir, so this is a great option if you're trying to expand your wine horizons.
---
Samantha Maxwell is a food writer and editor based in Boston. Follow her on Twitter at @samseating.