Sam Adams Is Replacing Budweiser as the Official Beer of the Boston Red Sox
Photo via Billie Weiss/Boston Red Sox
Drink
News
Sam Adams Red Sox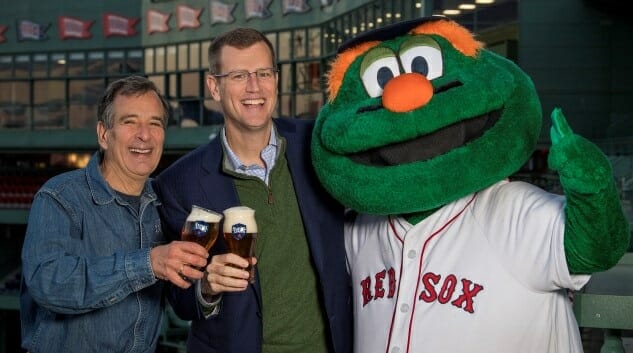 In a move that is equal parts symbolic and practical, the Boston Red Sox have ditched Anheuser-Busch InBev as the team's official beer sponsor. The park, previously bedecked in an array of Budweiser signage and merchandise, will be rechristened with beer from a hometown source: Boston Beer Co., the makers of Samuel Adams and second largest U.S. craft brewery (after Yuengling).
In hindsight, the move seems obvious, or even assumed—if you had told me yesterday that Sam Adams was the beer sponsor of the Red Sox, I would have said "Yeah, that makes sense." But there's actually a fairly large precedent being set here, as Boston Beer Co. becomes the first craft brewery to ever become the official sponsor of a Major League Baseball team—a position usually reserved for either ABI or MillerCoors. It would be the equivalent of Brooklyn Beer Co. sponsoring the Yankees, or SweetWater being the official beer of the Braves, or Revolution Beer Co. being the official beer of my own Chicago White Sox. Can we make all of those things happen, by the way?
Of course, whether Boston Beer Co. should be considered "craft" is also the subject of debate in this space. The company has come perilously close to losing that designation as of late by producing more non-beer products, such as cider, hard iced tea and "spiked sparkling water" than they are beer. According to the Brewers Association definition of "craft," they would need to continue producing "a majority" of beer to hold the distinction.
Still, it's a symbolic move that shows the growth of the American craft beer industry in a clear and very visible way. According to the Boston Globe, the team was enticed by meetings with Boston Beer Co. founder and industry icon Jim Koch, who sold them on the fact that "both brands had a strong regional identity."
"It's a completely natural fit," Koch said. "You think of New England's baseball team, and it's the Red Sox. What beer is more New England than Sam Adams?"
The partnership could be big for Boston Beer Co., as it will allow them to use the Red Sox brand as part of their advertising in New England. There will also be a series of changes to the park, including the dismantling of the giant Budweiser sign over the right field deck—a deck that Anheuser-Busch helped the Red Sox build as the official beer sponsor since 2004. That sign will be replaced with a Sam Adams marquee. The brewery will also be building an "experiential bar," whatever that is, in the concession area on the third base side, called "Sammy's on 3rd."
"I'd like to do something as cool as we're allowed to," Koch said, "but it's Fenway — we can't, like, turn it into Las Vegas."