The Glen Grant Reveals Equally Absurd and Beautiful 70-Year-Old Devotion Scotch Whisky
Photos via Glen Grant, Campari
Drink
News
scotch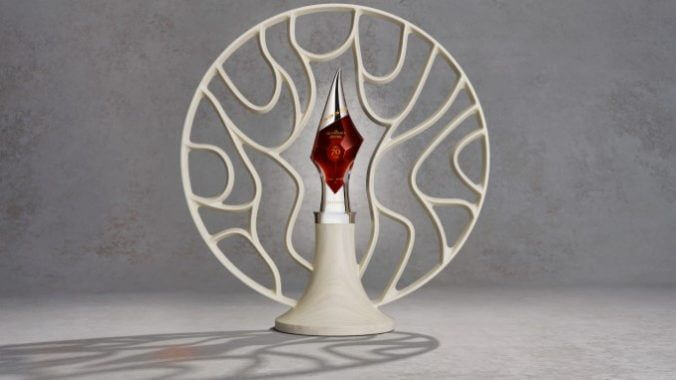 When you cover the whiskey world, it often seems like every week brings the announcement of some absurdly expensive, luxe bottle of scotch from one of the storied single malt whisky distilleries of Scotland. These announcements can't all be "news," not when there's always another 50-year-old bottle being rolled out that will retail for tens of thousands of dollars. We've seen all manner of swanky glass and crystal decanters and gimmickry for these kinds of releases, but every now and then there still comes one where the design and concept are so over-the-top, it can elicit a smile or a guffaw. And when you take a look at The Glen Grant's newly announced, 70-year-old "Devotion" release seen above, it's hard not to chuckle. There are ultra-limited, swanky releases, and then there's this thing, which comes with its own carved wooden pedestal or dais just to raise it up in perpetual veneration. Yes, for the cost of several new cars, one of these babies could be yours!
The concept of this series, of which there are only 7 total bottles, revolves entirely around "the remarkable reign of Her Majesty Queen Elizabeth II." Each hand-blown decanter will be unique, an "objet d'art" according to the Campari company's press release, "with seven facets celebrating each decade of Her Majesty Queen Elizabeth II's reign. Each features a silver capsule, adorned with its own individually meaningful floral engraving as a celebration of her inspiring life." Each release is named for one of the Queen's favorite flowers, such as the Orchid, Daffodil or Begonia, with the first release being the Queen Elizabeth Rose. That bottle comes perched upon a unique wooden carving, "handcrafted from a fallen elm tree discovered within the distillery gardens." Taken together, the entire effect looks like some kind of futuristic trophy, like something that the United Federation of Planets might award to the plucky starship captain who manages to avert a war between the Klingons and Romulans.
Perhaps you're wondering what is actually inside the bottle? That would be single malt scotch whisky from The Glen Grant, "sourced from a single French oak butter seasoned with oloroso sherry filled in 1953 at The Glen Grant Distillery." Amusingly, the company describes its profile as having "deep chestnut hues combine with a definitive floral aroma of intense barley sugar, ripe peach, giving way to honey sweetness. The palate is captivated with rich dried fruits, raisins, sultana, dry spice with just a hint of oak." It's just sort of funny to imagine someone purchasing this bottle with the intent to, you know … drink it, rather than place it behind glass in an office somewhere.
The sale of this first Glen Grant Devotion decanter will take place via auction at Sotheby's, in an online sale running from Sept. 11-22, 2023. All of the proceeds–current estimate is between £70,000 and £110,000–are to be donated to the Royal Scottish Forestry Society, of which Her Majesty Queen Elizabeth II was the Patron. Says the distillery: "Following the auction of decanter Number One, the remaining six decanters will be made available for sale in select global markets in the United States and Asia with price available upon request, starting in October of 2023."
We'll look forward to seeing what kinds of ridiculous flourishes those bottles might feature. Meanwhile, you can check out more detail on the first release in the photo below. And who knows, if you've got a spare $100,000 or so lying around, perhaps you'd like to throw a bid this way?