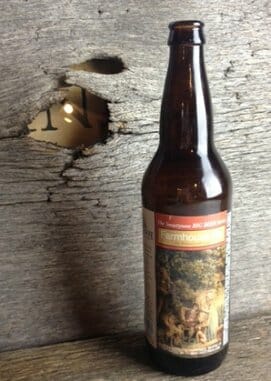 I don't know our UPS guy's name. I know that our FedEx guy's name is Joe, because I asked him eight or 10 years ago, and Joe has been delivering packages to four different Paste offices now. But the UPS man or woman might be someone completely new every time, to the point that I'm starting to wonder how we could be a part of so many different changing routes. But even if I don't recognize the person wearing it, the arrival of that brown uniform carrying a box has started to create a Pavlovian response in me. "Please be beer. Please be beer. Please be beer."
Today it was beer.
Not all deliveries are welcomed with quite that winning feeling. When a package came from Jack Link's containing Buffalo Style Chicken Big Dippers with Buffalo and Ranch Dipping sauce, I thought, "Wow, gross." But today was deadline day, and I never grabbed lunch, and they were still sitting in my desk drawer, and I was hungry, and so I opened the package, but they were really gross, and like I said I was hungry and… I'm not proud what happened next.
Fortunately by this time, the Smuttynose Farmhouse Ale had been chilling long enough in the fridge.
In addition to wiping clean the taste (if not the memory—shudder) of those frech-fry-looking strips of ChikN, the ale brewed with sage had commendable qualities all its own. The Farmhouse tartness was balanced by a sweetness stemming from the Belgian Saison yeast.
During fermentation, an enzyme in the yeast causes some of the alcohol to combine with fatty acids to produce esters (ethyl acetate), giving the beer a light fruity flavor. The esters in Smuttynose Farmhouse Ale give the beer a delicious banana-bread flavor. The sage gives the fruit flavor a subtle twist and keeps the beer from becoming too sweet.
The ABV on this annual release has ranged from 7% to 9.3%, and the 2013 is unlisted. But for a style of beer that was originally created to help quench the thirst of Belgian and French farmworkers, it's boozy enough that you might end up sleeping in the barn.
Thanks, UPS man, whoever you are.