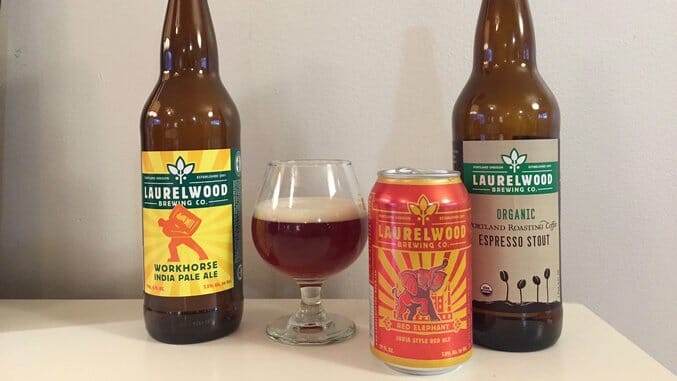 Laurelwood isn't a new brewery by any means; they've been around for more than 15 years, starting with a small seven-barrel brewpub in Portland's Hollywood district, and growing to the point where they now have several locations in Oregon. Along the way, they've won some snazzy hardware, most notably earning World Champion Small Brewpub at the World Beer Cup in 2003. And yet, I haven't had much of an opportunity to taste Laurelwood's brews. It's simply a matter of geography. I live on the East Coast, Laurelwood distributes on the West Coast. Thank goodness for the US Mail, Fed Ex, UPS and whoever else carries beer in protected boxes from one side of the country to the other. To the package carriers of the world, I thank you. You're doing God's work. And because of these fine men and women, fast planes and plastic bubble wrap, I had the chance to try a few different beers from Laurelwood recently—a couple of IPAs and a seasonal stout. Here's what I think.
Organic Portland Roasting Coffee Espresso Stout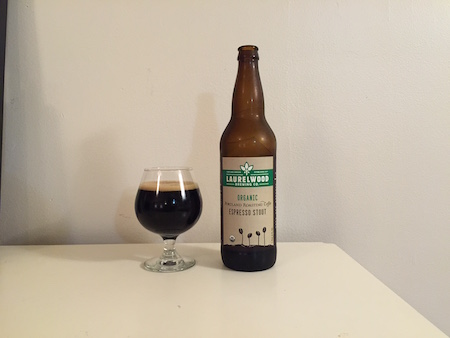 Every year Laurelwood partners with Portland Roasting to get a blend of beans for their Espresso Stout, and this year's version includes coffee from Mexico, Peru and Sumatra. This is probably the point where I should admit that I'm not a coffee guy, so those locals don't mean as much to me as they probably should, but I wholeheartedly agree with Portland Roasting's choice, because the coffee does wonders in this stout. It dominates the aroma, giving the beer enough roasted character to make you check the batteries in your fire alarms, and takes control of the sip in a black and strong kind of way. Like, well hell, like espresso. This is the way old men drink their coffee—thin and strong and with a layer of bitterness on the finish.
Style: Coffee stout
ABV: 6.3%
Availability: Limited, seasonal, in 22-ounce bottles
Rating: 84
---
Workhorse IPA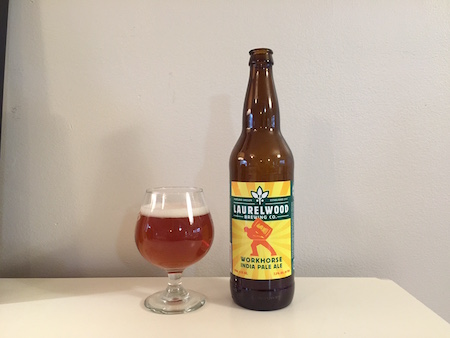 This IPA is the foundation that Laurelwood was built upon, and it's not to be trifled with. The beer comes in a big-ass bottle and has a hefty 7.5% ABV, so it carries a certain gravitas, just in size alone. It pours a beautiful copper orange with a thick head that emits big, pungent notes of citrus and something zesty, like ginger. That zestiness is in the sip too, and while there are certainly fruit notes, there's also plenty of bitterness. Think, more orange rind than straight up orange. There is some sweetness in the sip (a bit of mango), and a fairly round body to help balance that zesty character. But the bitterness lingers long after the sweetness disappears, so that's the dominant impression you get. Again, like getting ahold of a sliver of orange peel, that taste sticks with you and colors the rest of your snack. This beer isn't about flash, it isn't about gimmicks, it's just solid. A work horse if you will.
Style: IPA
ABV:7.5%
Availability: Year round
Rating: 81
---
Red Elephant IRA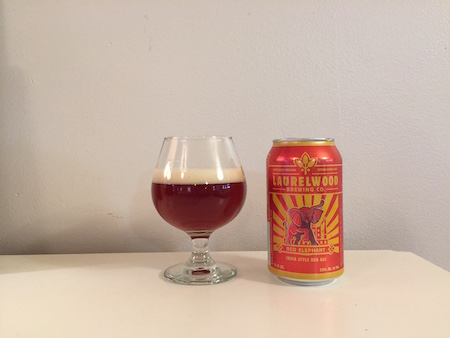 This is a mash up of two different beers, where Laurelwood uses the hop bill of their Green Elephant IPA and the malt bill of their Free Range Red. It pours dark red, but without any haze. There's not much on the nose—just a little pine, something vaguely evergreen. Even though it's a mashup of two solid beers, I feel like the hops steal the show. The malt bill obviously contributes to the color, and yeah, there's an element of caramel in there, and a relatively robust body, but man, the pine is undeniable. Ditto the citrus. It all works, I dig it, I'm just saying don't expect a balancing act here. It might have It's still a hop forward IPA.
Style: Red IPA
ABV: 7%
Availability: Year round in cans
Rating: 79
---