After a few years off, Activision's Guitar Hero is back with Guitar Hero Live ($150 bundle includes game and two guitar controllers; available for PlayStation 4, Xbox One, Wii U, PlayStation 3, iOS, Xbox 360), complete with new songs, new settings including one that lets you live vicariously through the eyes of a rockstar, and a kickass new controller that creates an experience that is much closer to actually playing a guitar.
"I don't see what's so hard about playing a guitar. I just started and I'm already on the Advanced [difficulty] setting."
The Live Mode is basically the game's story mode, where you play to live audiences in real venues and with actual band-mates who get ACTUALLY pissed off when you start missing notes. The live crowd is especially fun – you really get the sense that you're playing to an arena full of crazed fans, which is exhilarating…until you start to screw up. If you have any measure of performance anxiety at all, Guitar Hero Live would be excellent exposure therapy. Until you put your controller through your TV screen.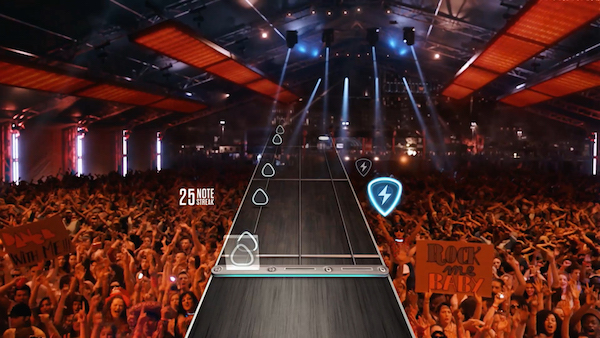 "Don't give me that look! You're a goddamn rhythm guitarist! You think this is easy?"
If you just want to pick up and play for a few minutes (or if you don't have the confidence to play in front of a screaming crowd), TV Mode is a great option as well – you can choose from an expanding playlist of music videos with which you can play along, from fun current hits to songs from your youth that will make you morose and sullen as you drink too much and think about the good old days…
"I can't focus with Stacy's Mom writhing behind the notes."
Since success in Guitar Hero Live is dependent on precision and reaction time, we were going to pair this with a low-ABV beer so you could play for a longer duration without your gameplay suffering. But you're a rockstar, son. You're drinking tequila. And none of that Sammy Hagar stuff: we're classing it up with the Extra Anejo from Arta Tequila ($100). The company is based in Colorado, but the tequila is handcrafted in Arenal, Mexico, a few minutes away from the town of Tequila. As in, tequila, Tequila.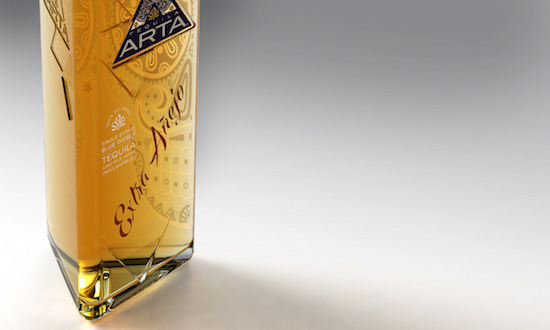 Aged five years and triple-barreled in white oak barrels, French Cognac barrels, and Spanish Sherry barrels, Extra Anejo tastes like tequila's platonic ideal. Smooth and rich, Extra Anejo lacks the bite that makes you wince and reach for a lime, instead presenting vanilla and almond that fades into an intense cinnamon finish.
The most important thing to know about Extra Anejo is that you do NOT shoot this stuff. Shots are for tequilas that you don't want to taste. Extra Anejo is a tequila to be savored, sipped slowly, and enjoyed thoroughly. Which works out well, because the slower you drink, the longer you can play.
Turns out, drinking fine tequila while playing Guitar Hero Live is a much more realistic simulation of the rock star life than we'd anticipated – a few glasses in and we were loosened up and playing to legions of adoring fans, but after for our five tumblers, we were at the end of our careers: swaying on our feet in a drunken stupor, watching the notes fly by and the crowd get ugly as we tunelessly banged away at our guitars.
Can't wait to see our episode of Behind the Music.