I write a lot about fancy cocktails here at Paste. Drinks that require a decent amount of skill (and a pretty stocked bar) to pull off, but when you do, are bound to dazzle and impress even the most curmudgeonly of dinner guests.
While those types of cocktails are great, sometimes you just want, nay need, a drink. You don't want to drink a glass of straight liquor over ice, but as far as mixing goes, you just want something easy. Enter mixers. All you have to do is measure out the appropriate amount of liquor, add the mixer, and give it a little stir, and you're done.
This New Year's I tried out a new mixer: Owl's Brew. I've actually had these on my shelf for a few months waiting to give them a try, but never really had the perfect occasion to. On New Year's I went to a party at a friend's house, and threw a few bottles of the mixer in my bag along with a few different liquors.
Owl Tree's mixers are unique for a number of reasons: First, they're made from tea. Yes, tea, like you might sip on over ice on your front porch in the summer. There's some other stuff in there too, but tea is the main base. Another interesting feature: you can mix them with almost any liquor you have around. The standard ratio of two parts tea and one part liquor works with a huge assortment of spirits, and Owl's Brew has some more complex cocktail recipes on their website as well.
2px); width:calc(100% 2px);">
I'd previously only had tea in Hot Toddies, but the prospect of a cold tea-based cocktail certainly was intriguing.
For my New Year's party atmosphere, this was perfect. My boyfriend and I spent the evening drinking mixed drinks made with Owl's Original blend "The Classic" and tequila. Another friend used the same mixer with vodka. Across the board everyone really enjoyed it, and each liquor gave it a slightly different flavor customized for the drinker.
Described as "English Breakfast with a tart twist," it was just that, and was pleasant with every spirit we tried with it. At one point, we also tried it in Champagne, one of the suggestions on the bottle, and were equally impressed.
Owl's Brew is brewed in Vermont in large kettles, where it is handcrafted in small batches, and then sweetened, packed, and bottled. There are actually a few different versions available beyond The Classic: Salted Caramel Toddy (white and black tea with sea salt and caramel), Mulling Spices (mulling spices with cranberry and apple), Wicked Green (a bright and clean green tea with a lot of heat), White and Vine (white tea with watermelon and tart pomegranate), and Pink & Black (darjeeling tea with a hint of hibiscus).
A few weeks after New Years, my boyfriend and I also tried Coco-Lada, described as a "a blend of black tea, coconut, chai spices, and pineapple. Mixed with some dark rum and served over ice, it was absolutely divine and reminiscent of a complex tropical cocktail one might order at a tiki bar.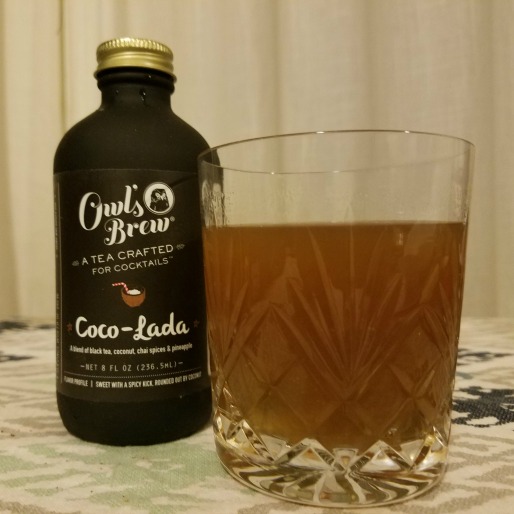 Tea cocktails are certainly something I would have never considered when I wasn't suffering from a cold and begging for a Hot Toddy, but are now definitely on my radar.
You can pick up Owl's Brew at places like The Fresh Market, BevMo, Total Wine & More, Whole foods, and Williams-Sonoma. You can also order bottles of their stuff (and some nifty triple packs so you can try a few) on the company's website.