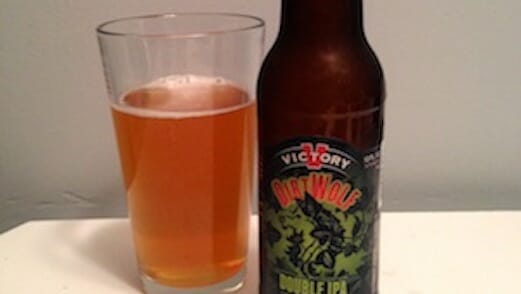 At some point during your journey through life, you'll sit down at a beer pub (some place with like, 867 beers on tap) and you'll decide you're tired of the run of the mill IPAs that typically quench your thirst. "Tonight," you'll say to yourself, "I want something stronger. Hoppier. Tonight, I want something with balls."
Metaphorically speaking, of course.
If you're lucky, that thing with balls will be the new DirtWolf Double IPA, a brute of a beer Victory Brewing released in October specifically to satiate the "beer with balls" demographic.
If you don't know what a double IPA is, just use your imagination. It's like the IPA's older, hotter sister. The one with the dragon tattooed on her hip.
DirtWolf pours a clear, bright golden without much head and smells like grapefruit. Scratch that—it smells like a bushel of grapefruit. I'm gonna say the beer is hop forward, but that phrase doesn't do this beer justice. It's hop aggressive. Victory used whole flower, American grown hops, so the IBU's on this puppy float between 60 and 70.
It's a lot like drinking a pine tree soaked in grapefruit—incredibly floral with a dry, spiciness to it. The more you sip, the crazier the fruit gets—orange, melon, mango (did I get a hint of ugly fruit in there?).
There's nothing balanced here, but this beer isn't for people looking for balance in their lives. Forget yin and yang. DirtWolf is for people who love themselves a lot of yang. Who think yin is for wankers. But look, you know that going in. It says "Double IPA" right on the bottle. And that's what you were looking for anyway. Something with balls.
Brewery: Victory Brewing Company
Style: Double IPA
ABV: 8.7%
Availability: Four-packs, nationwide