Buffalo Trace Announces London Location, Opening Late 2023
Photos via Buffalo Trace, Sazerac Co.
Drink
News
whiskey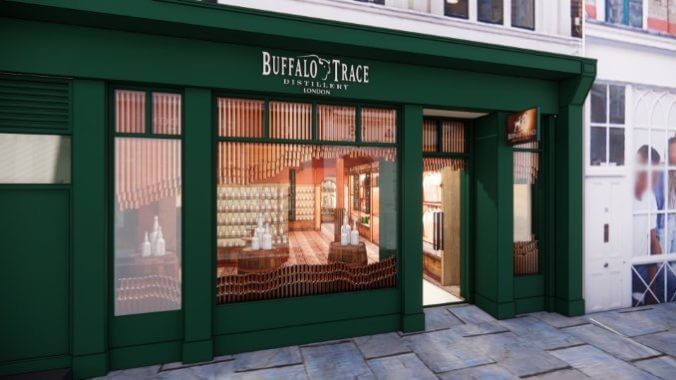 Buffalo Trace Distillery, the unofficial arbiter of American bourbon whiskey hype, announced today that it will take its precious amber treasure across the sea, opening a first-of-its-kind American whiskey experience at 32-33 Long Acre, in the "highly coveted Covent Garden area" of London in late 2023. It will be the first Buffalo Trace outpost the company has established outside of Kentucky, and likely a major point of tourist interest for American whiskey/bourbon geeks in the U.K. and Europe. Indeed, it seems likely that people will travel from far and wide to try Buffalo Trace brands they've read about for years online.
"Buffalo Trace Distillery's relentless commitment to quality aging and distilling has cultivated fans around the globe," said Jake Wenz, CEO and President at Buffalo Trace Distillery in a statement. "Buffalo Trace Distillery London is the first home for our American whiskeys outside of Kentucky, USA, and we are honored to put down roots in the United Kingdom. Many spirits consumers are more familiar with bourbon's global whiskey counterparts, and Buffalo Trace Distillery London aims to offer a space to learn more about–and hopefully, fall in love with–our bourbon whiskey. We are excited to share our pursuit of the world's best whiskey with all those interested in London and beyond."
The space at 32-33 Long Acre essentially looks to be a tasting room, with specific tasting lineups that will need to be reserved in advance. One thing there's no mention of is an actual distillery on site, suggesting that Buffalo Trace isn't going to be doing any experimental distilling operations in the U.K. Instead, the site will reportedly focus on offering "an immersive, sensorial experience that brings a taste of Kentucky to London." Specifically, they'll be offering two structured tastings, which they describe as the following:
Guests visiting Buffalo Trace Distillery London can select from one of two tasting experiences. The first offering – Taste of the Trace– will feature a guided tasting of three outstanding expressions from Buffalo Trace Distillery's core product lineup: Buffalo Trace Bourbon, Sazerac Rye, Bourbon Cream and the option of a Buffalo and Ginger Ale cocktail sample. The second tasting experience – Tradition & Change: Crafting the Most Awarded American Whiskey – will feature a selection of Buffalo Trace Distillery's premium expression lineup, including: White Dog Mash #1, Buffalo Trace Bourbon, Eagle Rare 10-Year-Old, E.H. Taylor Small Batch, and a small pour of a Buffalo Trace Old Fashioned. Tastings will range in price depending on selection, up to £29.99.
U.K. whiskey geeks will no doubt take note that a lot of big brands–the ones that drive so much of the Buffalo Trace hype and subsequent price gouging in the U.S.–are not present in the mentioned tastings. This should hardly be surprising, as the company has faced persistent shortages of brands such as W.L. Weller, Stagg or many E.H. Taylor bottlings. And that's not even mentioning the likes of the Buffalo Trace Antique Collection (William Larue Weller, George T. Stagg, etc.) or Pappy Van Winkle. U.K. fans probably shouldn't be expecting to see those bottles appear at the London location, except on very rare or special occasions, which will no doubt be monetized quite efficiently by Buffalo Trace.
Just look at the language surrounding the reservation system, and you get a feel for the kind of attention the company is expecting the London tasting room to generate:
Reservations are required to secure a tasting appointment at Buffalo Trace Distillery London. Prebooking is highly encouraged and can be arranged via BuffaloTraceDistillery.co.uk. Reservation appointments will open up in the next few weeks. In the meantime, fans can join the waitlist via the website to be the first to know once bookings are available. Guests will also have the option of 'walking in' and inquiring about availability in-person, appointments of which will be granted on a first come, first served basis. Buffalo Trace Distillery London looks forward to welcoming guests from the UK and around the globe beginning later this year.
Yeah, that sounds like a familiar brand of American bourbon mania. Time will tell if the U.K. crowds get swept up in it quite as strongly as we have.