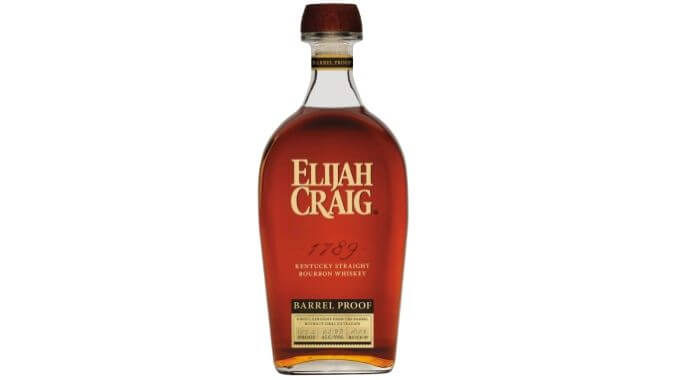 At this point, I've introduced Elijah Craig Barrel Proof reviews or tastings at Paste often enough that almost anything general I'd say about the product will simply be me repeating myself. Suffice to say, here's the short, short version.
ECBP is the cask strength, 12-year-old version of Heaven Hill's classic mid-shelf champion Elijah Craig Small Batch, a whiskey that made our list of the best bourbons for under $30. ECBP is beloved in the whiskey sphere for its potent flavors, often soaring proof point and bang-for-your-buck. Unlike so many well-aged, high-proof bourbons that draw rave reviews, it's fairly accessible thanks to its trio of yearly releases, and its MSRP of around $70 is hard to beat when you compare it with almost all of its direct competition. There's a reason why so many list it as a perennial favorite, especially if you enjoy Heaven Hill's distillery house style.
A quick primer on any given ECBP label: This release is "A123," which simply means the following. "A" means this is the first of three releases for 2023, typically to be followed by "B" in May. The "1" means that this is a January release. And the "23" just stands for 2023. The next release will likely be B523, assuming the usual schedule holds.
As for this release, its 62.8% ABV (125.6 proof) is actually the highest for the ECBP series in a few years—not since C920 has the series broken the 130 proof mark. This has been a topic of concern for some whiskey geeks and "proof hounds," who have worried that proof points under 120 might become normal for the ECBP series after it first dipped below that mark in 2021. Earlier batches from 2020 and prior could often be found in the 130s or even above 140 proof, which does call into question whether this more consistent push into the 120 range has been by Heaven Hill's design. Personally, I'm fine with this, as my own favorite ECBP releases are often in the 120s anyway, but I know there's definitely a breed of bourbon geeks out there waiting to see if ECBP will ever return to its high-octane roots. It looks like they'll have to keep waiting.
So with that said, let's get right to tasting the latest A123 expression of Elijah Craig Barrel Proof Bourbon.
On the nose, the A123 batch presents up front with big, rich molasses notes that suggest deeply caramelized sugars, along with fudge-like chocolate and distinctly wet oak, like a rickhouse after a thunderstorm. I'm getting vanilla cream as well, along with hints of peanut funk and dark fruit jam. After sitting in the glass for a while, there's a distinct honey note coming out as well. Surprisingly, for the pretty elevated proof, I'm not getting a whole lot of ethanol sting on the nose.
On the palate, however, the heat of this ECBP expression definitely cannot be ignored. This feels like a bigger batch than we've tasted in recent memory—not necessarily the most distinctive in terms of its flavor profile, but a little more aggressive in its delivery. I'm getting dark fruit again, something like blackberry jam, along with plenty of baking spice and spicy oak. Molasses is there, and its fairly sweet up front, but that transitions into more of a bitter balance of oak and char. There's a suggestion of candied nuts, but it's the hot, prickly, chile-like spice that really makes itself felt. This batch simultaneously shows of its age statement and also its proof point, bringing the heat more assertively than something like last year's B522.
All in all, this is a batch that will definitely be appreciated by those who like their ECBP bottles big and bold. The flavor profile doesn't necessarily have a lot of exotic or distinctive character to it, just the usual quality drinkers expect from the brand. And when the baseline of quality is as high as it is for this series, that's more than enough to capture the interest of bourbon drinkers.
Distillery: Heaven Hill
City: Bardstown, KY
Style: Kentucky straight bourbon whiskey
ABV: 62.8% (125.6 proof)
Availability: Limited, 750 ml bottles, $70 MSRP
---
Jim Vorel is a Paste staff writer and resident liquor geek. You can follow him on Twitter for more drink writing.