Old Forester Unveils Rarest Bourbon Expression Ever, 150th Anniversary Decanters
Photos via Old Forester, Brown-Forman
Drink
News
whiskey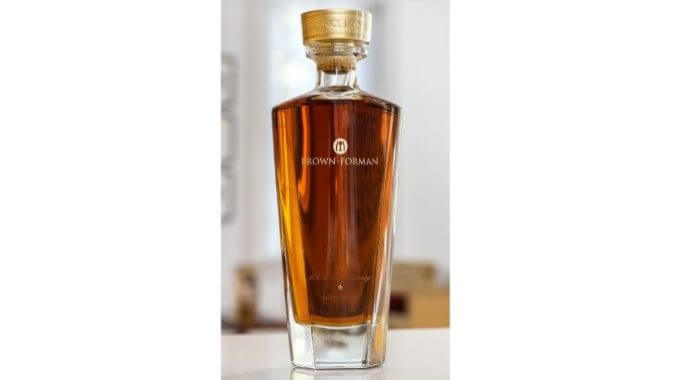 Even some 3.5 years after the beginning of the COVID-19 pandemic in the United States, we're still getting reminders of how many long-term plans were ultimately scrapped or disrupted in the American whiskey industry. The virus obviously destabilized American life as we knew it in 2020, but for some specific brands it fell during a particular disadvantageous period. One of those brands? Brown-Forman's Old Forester, which was in the midst of celebrating its 150th anniversary in 2020, with a wide array of planned events and activities. That included the delicious release of a series of 150th Anniversary cask strength bourbons, which we reviewed here at Paste, but it was always clear that the brand had planned far more for such a large milestone. Today, we finally have a glimpse at a particularly special piece of that postponed celebration: The Old Forester 150th Anniversary bourbon decanter.
This ultra-limited decanter series, filled with "extraordinarily exquisite 12.5 year old bourbon," was produced with only 650 initial bottles. Of those, 500 bottles "were originally crafted for members of the Brown family, who own Brown-Forman, and key partners of the company." The remaining 150 decanters "were set aside for special tastings and events at the company," but the pandemic ultimately scuttled those plans, and the decanters were never opened, remaining in storage. Now, a few years later, Brown-Forman and Old Forester have decided to instead release them to the public in an online sale starting immediately today at oldforester.com.
Granted, most consumers won't exactly be in a position to purchase one of these 150 bottles, given that they're carrying a whopping sticker price of $2,500. With that said, the purchase comes with some nifty benefits: Those who buy a decanter can pick it up in person at the distillery on Dec. 5, 2024, the anniversary of the repeal of Prohibition. There, they'll have a private VIP tour of the Old Forester distillery, along with cocktails and appetizers with members of the Brown family. The decanter, meanwhile, comes in a custom wooden handmade box, crafted from wood that was recovered from the fire that broke out at Old Forester on Whiskey Row in 2015. Firefighters narrowly managed to save the resurgent distilling operation on Whiskey Row from being consumed in a blaze. These decanters also have a historic inspiration, being based on the company's well-loved Old Forester holiday decanters of the 1950s and 1960s, designed by Raymond Loewey. A year-long exhibit featuring these decanters has recently opened at the nearby Frazier Museum on Whiskey Row, the official start of the Kentucky Bourbon Trail.
For the bourbon geeks in the audience: A mere six barrels comprise this batch, having been hand-selected by Master Distiller Chris Morris back in April of 2008. These barrels, bottled 150 months later, were matured in Brown-Forman's Warehouse J, top floor 8, Rick 44, tier 1. That's about the level of detail we expect with a $2,500 price tag.
If you're feeling spendy, you can check out the online release of the Old Forester 150th Anniversary bourbon decanters here.