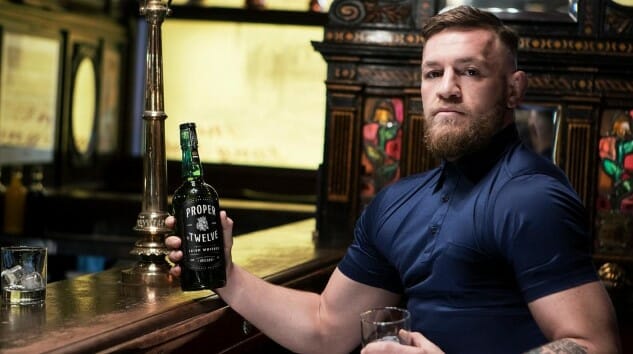 If there's one thing that you can be sure of, in terms of celebrity-endorsed liquor products, it's that a reviewer will almost invariably lead with some kind of short discussion of that individual.
I'd love to buck that trend, but then how would you know that Proper No. 12 is the new Irish whiskey brand owned and marketed by "The Notorious" Conor McGregor, former UFC featherweight and lightweight champion? You can see the bind I'm in.
So let's get it out of the way: Yes, this is a celebrity owned and endorsed spirit. McGregor is the owner of "Eire Born Spirits," which some of the marketing tries to pass off as a full-on distillery, but nothing in Proper No. 12 is liquid distilled by McGregor's own company. Rather, this is a pretty standard Irish blended whiskey: Sourced from elsewhere (partially from Bushmills stock); a blend of malt and grain whiskeys aged in used American bourbon barrels for what is presumably a relatively short span. Which is to say, very much standard for your basic blended Irish whiskeys. McGregor's marketing may try to position this stuff as being some kind of "premium" product, but it has much more in common with the likes of recognizable names such as Jameson, Bushmills or Tullamore Dew. That's not a bad thing; it's just the more accurate way of framing what this product actually is. It's a whiskey for mixed drinks, albeit priced a bit more expensive than most.
Now, onto the stuff we're more interested in at Paste—how does it actually taste? Well, to sum up in a word: Basic. Very basic, although that's not necessarily a negative. The advance press from whiskey geeks on this stuff has not exactly been glowing, but I can't help but feel like some of those writers aren't exactly appraising the liquid in the glass fairly, and are instead holding Proper No. 12 to a harder standard because the distillery's contentious prizefighter of an owner is a guy who tends to rub people the wrong way. I don't care for that kind of opportunistic cherry picking, and will instead just say this: Proper No. 12 is a very average example of Irish blended whiskey.
On the nose, Proper No. 12 presents with mild impressions of honey, green apple and a bit more caramel (or caramel additive) than you might expect, although some of those notes are washed away by raw booziness. It's rather hot for the average proof (40% ABV), but the alcohol notes dissipate a bit as it sits in the glass, revealing mild notes of grass and pine as well. All in all though, this is on the mild and neutral side—none of the notes, save for the alcohol, are particularly assertive.
On the palate, Proper No. 12 is actually less booze dominated, which is to its credit. Thin of body and very easy drinking, I get notes of honey and Grape-Nuts cereal maltiness, with mild to moderate sweetness and a finish that is decently dry, with a slightly medicinal aftertaste. There's honestly not that much else to write in terms of tasting notes, because this stuff is purposefully uncomplicated. It is by no means complex, but it's largely free of serious flaws, except for being a bit more rough-and-tumble in terms of its alcohol presentation than you might want. It's been a while since I've consumed the likes of Jameson, Bushmills or Tullamore Dew, but I honestly don't think this is too far off from any of them.
With that said, at an MSRP of $25 (the press release says "up to $30"), Proper No. 12 would seemingly be aimed at an ever-so slightly higher segment of the whiskey market, making it a toss-up in terms of picking it over a similar $20 bottle, unless you really wanted the proper branded spirit to watch McGregor fight Khabib Nurmagomedov (here I go again) this coming Saturday. For what it's worth, I'd splurge on the $50 you'd need to buy something like Redbreast 12-Year or Egan's 10-Year, but hey, that's just me.
In short: If you're using Proper No. 12 as a mixer, you're doing it right. If someone's trying to convince you to drink a glass of it, you might as well either save a few bucks and go with Jameson, or reach into your wallet to buy a single malt with infinitely more going on, flavor-wise.
Distillery: Eire Born Spirits
Style: Irish blended whiskey
ABV: 40% (80 proof)
Availability: 750 ml bottles, $24.99 MSRP ("up to $30")
---
Jim Vorel is a Paste staff writer and resident brown liquor geek, who occasionally can be persuaded to watch MMA. You can follow him on Twitter for more drink writing, and less MMA writing.