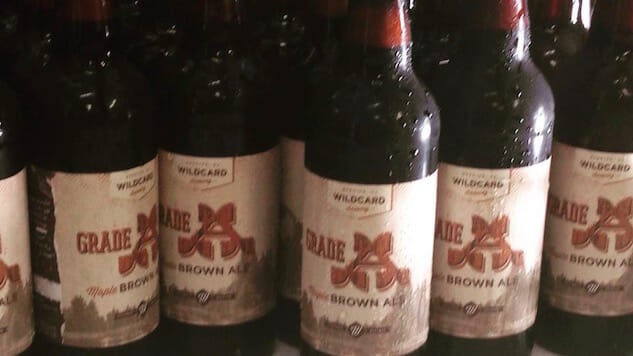 Founded in 2012, Wildcard Brewing Company is one of Redding, California's first craft breweries. Their brewing operation and cozy tasting room are currently tucked away in an industrial section on the eastern outskirts of town. It's a little tough to find, but locals and beer lovers inevitably sniff out the place due to its warm, rustic feel and delicious suds. Standing shoulder to shoulder with folks doesn't always happen in California's north state, but people will crowd in for a taste of co-owners Jeff and Jenny Hansen's finest. By the beginning of 2016, the couple plans to open a tap house near the city's revitalized downtown mall.
One of their best is the fall seasonal, Grade A Maple Brown ale. Jeff, the founder and head brewer, learned his trade near Newcastle, England and therefore Wildcard's dark offerings are consistently velvety, smooth, and full of rich, nutty flavor. Maple Brown delivers on that promise, with interest. It's a "Grade A" comfort beer that fills the glass with a mahogany color reminiscent of the bottom of a red sunset. Mellow notes of toasted brown sugar waft from the glass. One of my favorite watering holes offers a 'cowboy' size 25-oz. mug, and it's so satisfyingly big that I could just dive in. On a related note, the tasting room at Wildcard pours proper 20-oz. British Pints or 10-oz. nightcaps and has great merchandise. You can usually get a game of Cornhole going in the brewing room; they have a spacious area set up for it near the fermenters. There used to be a board with metal darts, but I think they decided it was a bad idea.
Anyway, the Maple Brown gets inside my mouth and it wraps around like some kind of cozy throw blanket. It's mildly roasted caramel with a hint of bitter counterbalance. t's evocative of changing leaves and chimney smoke and drizzle on the pavement. There's something deep in the bottom of the pints and the cowboys that makes me anticipate the season; late in the summer I start to scan for the tap handle to appear. This is more than a beer, it's a companion while marking the time between appointment and obligation, and in this town it signals relief from the dog days of August.
Brewery: Wildcard Brewing Company
City: Redding, California
Style: English Brown Ale
ABV: 6.5%
Availability: Limited, 22 oz. bottles, through December