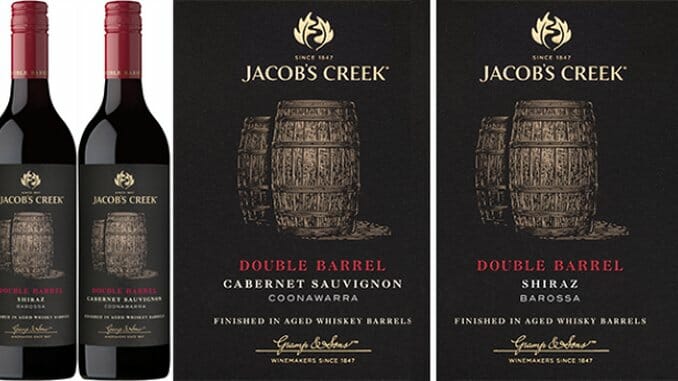 There are a lot of ways to pull off a barrel-aged gimmick in the liquor market. Just look at the current American whiskey industry, with a proliferation of bourbon and rye finished in spirit and wine barrels of every description, be it port, Madeira, sauternes, brandy, muscat, etc, etc. It's something that reviewers have gotten used to seeing in top-shelf spirits.
But wine, finished in whiskey barrels? That was a new one to me, when I heard about the Double Barrel series from Jacob's Creek. The Australian winery is offering two separate wines finished this way—a Coonawarra cabernet and a Barossa shiraz. The cab is finished in used Irish whiskey barrels. The shiraz? Scotch barrels. Curious as a red wine drinker but primarily as a lover of whiskey, I couldn't help but wonder how the barrels would express themselves in each bottle. What I received were two fairly different, enjoyable experiences.
Double Barrel Shiraz
Shiraz/Syrah is typically among my favorite red wine varietals, so this was the bottle I started with. The barrel influence presents itself most prominently on the nose, although it's hard to tell where exactly the toasted oak of the wine barrel ends and the whiskey barrel begins. Regardless, and to answer the most pertinent question—no, these wines don't simply smell and taste of whiskey in the way that craft beer fans would expect their bourbon barrel imperial stout to reek of it. Here, we're talking about much more subtle additions to the product.
On the nose you're getting lots of oak first and foremost, which is hardly surprising, with aromatics of vanilla, caramel and fruit that leans dark and intense—like blackberry jam. It's likewise very dark fruity in flavor, with a smooth, silky texture. It's a berry melange somewhere between raspberry, blackberry and black currant, with light vanilla and oak, and not much spice to speak of, which is a bit disappointing considering that this spent time in a scotch barrel. Wood and jam are the takeaways, with little tannin and a fairly dry finish, which makes for a drinkable but not particularly complex wine. It's all quite "rounded out"—no rough edges anywhere, and very approachable, fruit-forward flavors that would likely be crowd pleasers among those who simply want their red wine to be fruity.
Rating: 7.5
Double Barrel Cabernet Sauvignon
The cabernet, on the other hand, delivers more complexity and proves a bit more interesting than the shiraz. It's quite different and distinct on the nose, with notes of leather, oak, vanilla, cola-like spice and a certain mustiness.
On the palate, fruit flavors are of cherry and raspberry, and they're significantly lighter in tone than the shiraz, while also being brighter and more lively. The wine is overall less fruit-dominant, though, with tobacco-like notes and spice complementing the fruit and a more assertive tannic structure that lingers through each sip. I confess, I have no idea what, if any of these notes I can actually tie to the fact that the wine spent time in an Irish whiskey barrel, or if what I'm perceiving is simply the cabernet as it already would have been. Regardless, I can appreciate the greater degree of complexity on display in this one.
Rating: 8.1
In the end, neither of these wines are the sort of thing that you need to rush out and find for your brown liquor-savoring friends. Rather, they're appropriate to red wine drinkers in general. The "whiskey barrel" gimmick is used to subtly enhance particular flavors rather than being a star attraction in and of itself. Those who enjoy it will be drinkers who reach for the bottle without an incorrect assumption that they're about to drink some kind of wine cocktail.
Winery: Jacob's Creek
City: Barossa, Australia
ABV: 14.4%
Availability: 750 ml bottles
---
Jim Vorel is Paste's news editor. You can follow him on Twitter.