The good news for today's home cook: Delicious recipes have never been so easy to find and share. You can easily and quickly find a recipe for just about any dish and for just about any dietary restriction or preference, usually with reviews and/or comments to give you even more context about each recipe.
The not-so-good news for today's home cook: Those digital recipes don't fit in the trusty 'ole recipe card organizer everyone's mom used a generation ago. Not to worry — there are several online platforms that were designed specifically for the purpose of housing and organizing your favorite recipes in digital format. Think of it as your version of that recipe card box — it just has a much bigger storage capacity and the recipes are easier to read than Aunt Ruth's handwriting on her famous pound cake recipe.
Here are some of our top picks for digital recipe storage:
1. PepperPlate
Free
PepperPlate — available on any device — not only lets users manage their digital recipes by allowing for customized organization, but also has tools that allow for ease of use while cooking (for example, "cook mode" keeps your device's screen from dimming while you're busy whipping up a recipe). Plus, plan and share meals and even make shopping lists arranged by how you shop at the grocery store.
2. ChefTap (both a free and a paid version)
Free or paid, iOS and Android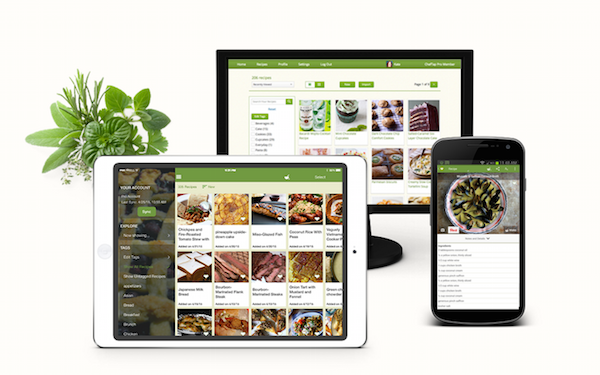 ChefTap's biggest asset is its ability to import recipes from just about any place on the internet (website, blog, etc.), while many other recipe storage platforms have only pull from certain URLs. This platform also makes personalizing, sharing and sorting your recipes super user-friendly. Upgrade to the paid subscription version ($15.99/year) for features like unlimited syncing and more recipe storage.
3. Basil
$4.99, iOS
For tablet-using chefs, Basil is a wonderful tool to use to organize your recipes. It catalogs recipes by ingredient, tags them for you and makes them easy to find later (kind of building you a digital cookbook). It's compatible for phone and tablet usage.
4. Paprika
$4.99, iOS, Android, Mac and Windows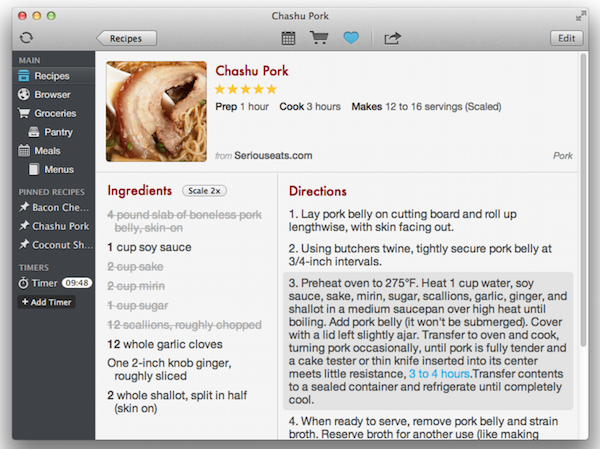 The Paprika app has a built-in web browser, letting users search for recipes on the web and then easily download and save a recipe to your device with the tap of a button. Other features include seamless syncing between devices (so you can use your phone to shop at the grocery store and your tablet to cook once you're home), automatic scaling of ingredients based on the serving size you select and monthly or weekly meal planning capabilities.
5. BigOven
Free, iOS/Android
BigOven (pictured at top) allows its users to import printed recipes, making it a great option for folks who have lots of family recipes in cookbook or recipe card form that they want to catalog digitally. Plus, they have a database of more than 350,000 recipes to search from — all uploaded by home cooks. You can follow other users on BigOven to see what they've been cooking lately.
Anna Keller likes the occasional fancy, over-the-top meal served on a white tablecloth, but will be just a happy with dinner from Taco Bell (she and her husband were there the day they launched their new breakfast menu.) For her, food is about the experience, the story, the tradition, and the community it provides, and it takes a starring role in her blog, where she shares recipe creations and recreations—usually of the baking variety.