So, you've done the deed and put a ring on it. If you're a woman, people are probably already breathily asking you, "Sooooo, how did he asssssk?" And if you're a man, you're probably fortunate enough that no one is asking you anything at all. (What's that like?) Congratulations, it's an exciting time! But once you've chosen a venue and a date, the heady adrenaline of a new engagement wears off, and the harsh reality sets in: you gotta find a caterer.
Choosing a caterer can feel overwhelming. If you're like me and get swamped by excessive details, it's even worse. So many menu options! So many different kinds of service! Do you go with traditional food or shake it up? Will you have enough for the vegetarians? How on earth can we afford all this?
Having just been through this process myself, I'm here to share a secret: food trucks are where it's at. They offer more interesting food options, they're often more affordable, and they'll save you all the unnecessary expense of hiring a bajillion cater waiters. Who needs their little bow ties, anyway?
Lucky for me, I live in a food truck mecca: Austin, Texas. Our wedding season isn't until fall, because our city is like a frying pan all summer long. So if you live in Austin, or you're moving to Austin, or you're just having your wedding in Austin because of all your family here, you've got a little leeway time in reserving these trucks.
Here are some fun Austin food truck options for your wedding or just any event you want to have catered.
The Peached Tortilla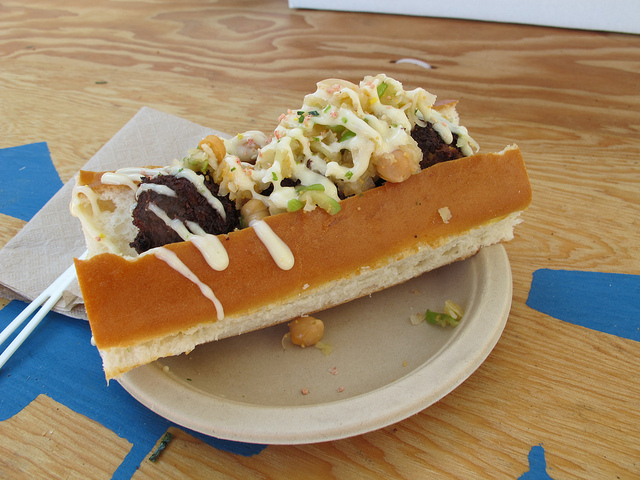 The Peached Tortilla serves up southern comfort food with an Asian food twist. They do it all, including full service catering with those fancy waiters, but for the sake of this list, I'm focusing solely on their truck service. PT lets you build your menu from a long list of options. They offer everything from appetizers like crostini bites to mini brisket grilled cheeses (which could be dangerous because wouldn't you want to eat those every damn day?). PT has main entree options ranging from "pulled" squash barbecue tacos to pad thai tacos and even banh mi tacos or sliders, proving you can offer something to please everyone from your over-critical Aunt Laura to your dad who prefers to only eat comfort food. PT can serve up to 60 guests directly off the truck or set up buffet style for a larger wedding, and their truck menu ranges $20 to $25 per person.
Chi'lantro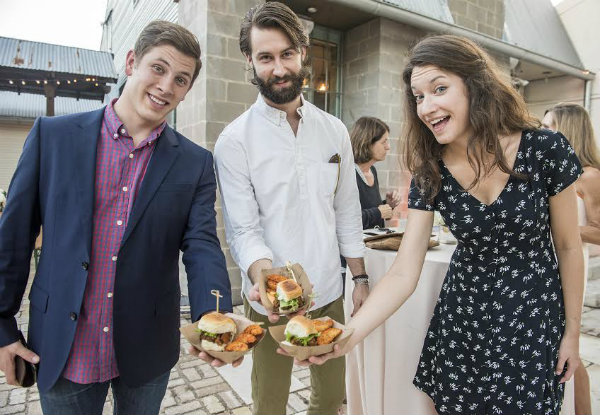 An Austin food truck favorite, Chi'lantro expanded to two brick-and-mortar restaurants last year, but they still take their truck out to spread Korean Barbecue and Taco-inspired goodness across the land (read: Central Texas). Their food is a Korean-Mexican hybrid, and for weddings they offer a panoply of options, including their famous kimchi fries, mini sliders, and mini tacos, the likes of which your guests surely haven't seen before. For mains, they offer a taco bar, a burger bar, and even a salad bar for good measure. Get them to bring those Korean tacos around to keep you from losing your mind over your table centerpieces. Chi'lantro offers packages that range from $14 to $20 per guest, so you can customize according to your budget and your guests' varying taste buds.
Valentina's Tex Mex BBQ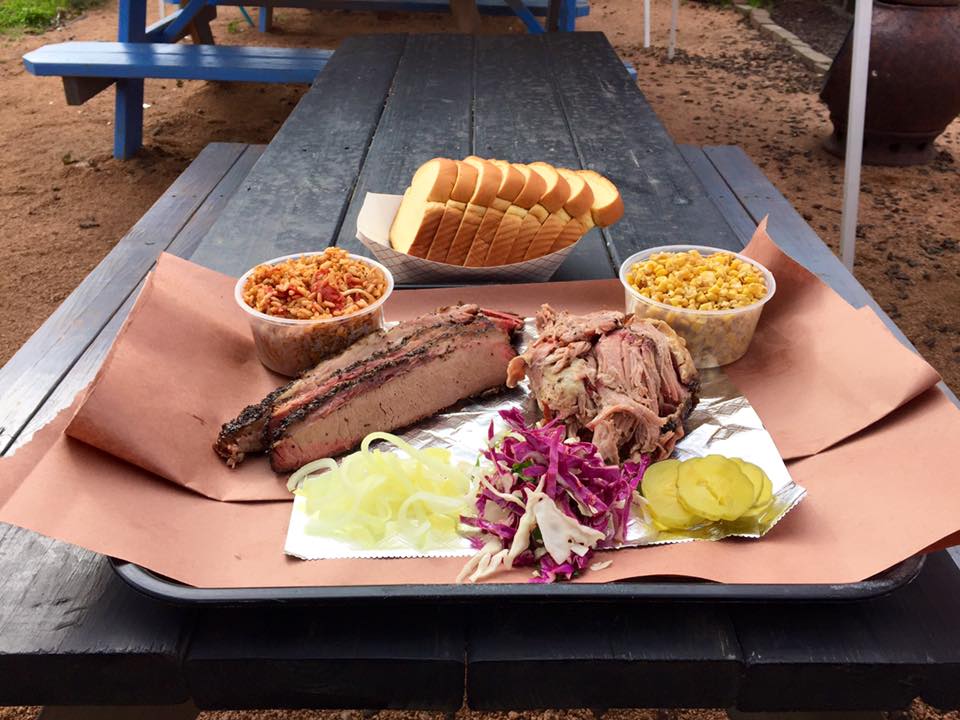 In Austin, it's hard to choose between your barbecue and your tacos, but there's no reason you can't have them both simultaneously. Enter Valentina's Tex Mex BBQ. This family-run establishment will serve chips & queso right with their brisket, making you ask why you'd ever separate the two. They offer brisket and pulled pork sandwiches right alongside pulled pollo tacos and cerveza beef fajita tacos. They even serve breakfast tacos that you can top off with some brisket. Their truck doesn't move from its permanent location, but with their full service offerings, why would that hold you back?
Garbo's Lobster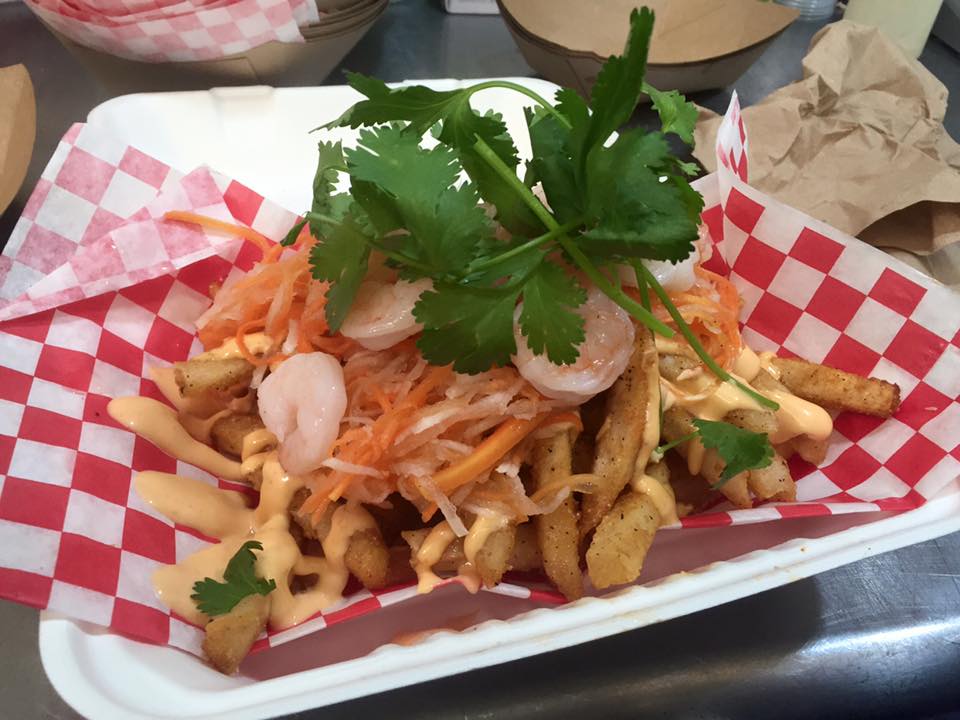 Garbo's brings New England style food to Texas, offering everything from (obviously) lobster rolls and crab cakes to fish tacos for y'all Texans and even a lobster grilled cheese. They can pull up their truck to your gorgeous Hill Country vows or set up buffet style inside your German beer garden venue.
Micklethwait Craft Meats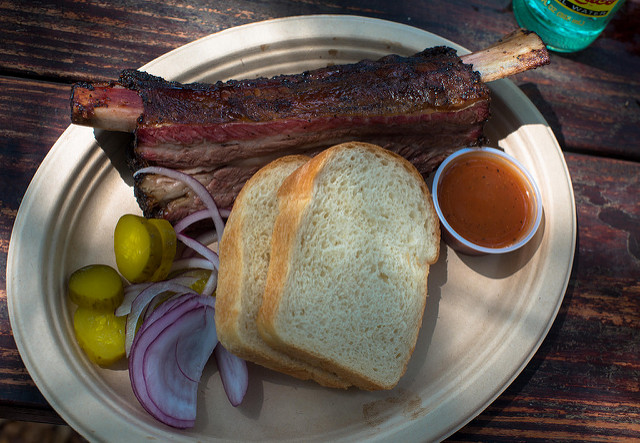 A Texas nuptial favorite is always barbecue, but the options in that department can be overwhelming. Let me help narrow the field by introducing you to Micklethwait Craft Meats, a food truck in East Austin with a loyal following. Micklethwait is just straight up excellent barbecue, no twists or bells and whistles necessary. In recent years, they've become the unsung hero of great barbecue without a wait. They serve both deli sandwiches like a ham and slow roasted pork sandwich to straight up staffed buffet with all the barbecue meat and fixins your guests could desire. They offer a small party trailer for a fee, along with food purchase.
Hey Cupcake!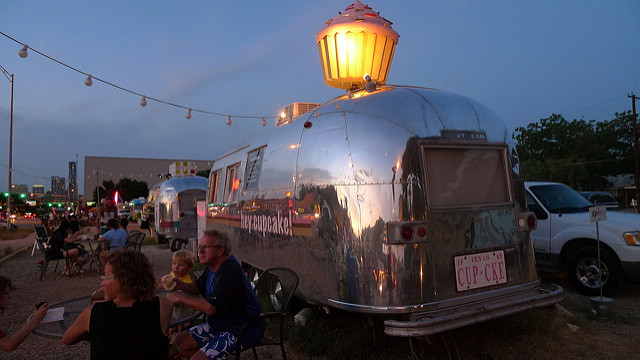 Eventually you'll want a dessert, and even if you've tried your best to swear off processed sugar (hello, right here!), your guests will want the sweets, and let's face it: you can break that avoidance all you want on your special day. Hey Cupcake! is just like it sounds: they offers cupcakes with delicious butter cream icing in an insane number of wonderful variations. I'm a fan of The Standard, a vanilla cupcake with chocolate buttercream, but The Sweetberry strawberry cupcake is also delightful. They even include a gluten free red velvet cupcake for your folks with dietary restrictions.
Gelateria Gemelli
Gelateria Gemelli is probably the only establishment on this list that began with a brick and mortar and then expanded to a truck. Though they're an ice cream shop, Gemelli is more than a dessert caterer. In addition to Italian gelati Gemelli's proprietors learned to make in Bologna, Italy, they offer coffee beverages and Italian craft cocktails to go with your sweets. Gemelli makes small batch seasonal gelato in traditional flavors like roasted hazelnut and pistachio as well as the more adventurous like Peanut Butter Stracciatella and Vietnamese Coffee. Your guests can wash that dessert down with Gemelli's traditional Italian amari from regions all over Italy.
The Ginger Armadillo
The Ginger Armadillo focuses on Texas cuisine from tacos to barbecue, adding a gourmet flair. For food truck service at a reception, they charge $10 per person for a choice of three entrees, three sides and a cold beverage. To add their Build Your Own Mac & Cheese bar is $15 a person. For full buffet catering with a server, the cost is $20 per person, and they can also offer bartenders, desserts and appetizers. The Armadillo has a rotating seasonal menu, so it's hard to say what they would offer during your particular season, but some dishes they're currently offering include duck pot pie and a venison meatloaf. There's also a vegetable curry for your vegetarian guests. Plus they use only local organic fruits and veggies, so your locavore guests will be impressed.
Via 313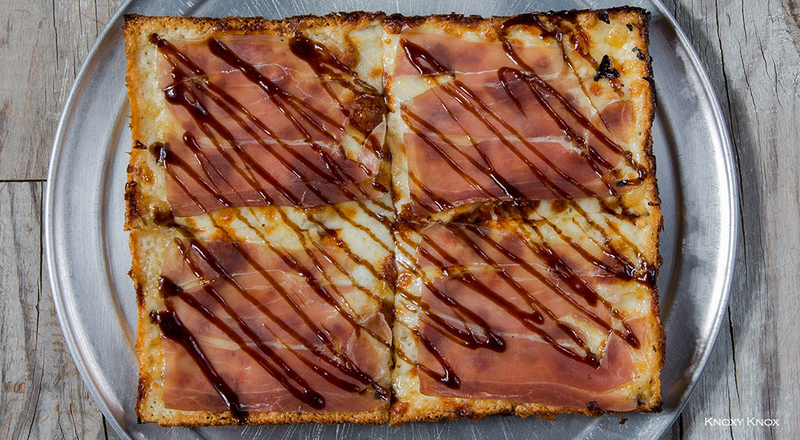 Via 313 serves up Detroit style pizza and they're so popular they've opened up two brick and mortar establishments in addition to their trailers on East 6th and Rainey streets. Their trucks are permanently located in those spots, but that won't stop Via 313 from delivering their rectangular pizza right to your shindig. They offer up a range of Detroit style pies from the classic marinara to the Cadillac, which is served with prosciutto di parma and fig preserve. If Detroit-style isn't your scene, they also serve bar style pizzas named for Michigan groups and bands, like The Stooges (baby spinach and marinated artichokes) and The Supremes (bacon, sausage, green pepper). They offer both small and large sizes so you can customize according to your guestlist.
Erica Lies is a writer and comedian in Austin, Texas. Her work has appeared in Splitsider, Bitch, Rookie Mag, and The Hairpin.
Photos courtesy of restaurants, except for Micklethwait photo by Colleen Morgan CC BY, Hey Cupcake Photo by Chun-Hung Eric Cheng CC BY