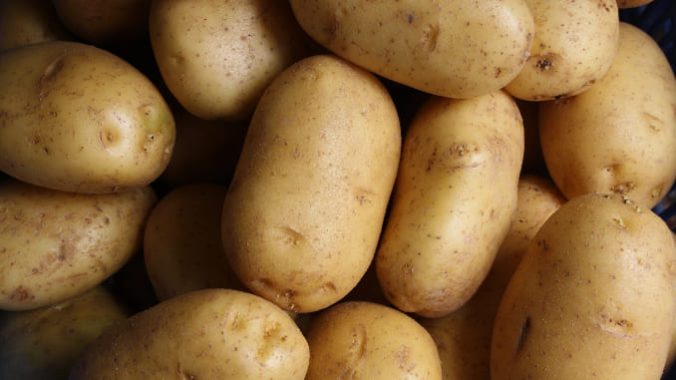 If you're like me, you might think of baked potatoes as a side dish, an afterthought—certainly not the star of the show. But by adding a few hearty, filling toppings to your baked potato, you can upgrade it from a mere snack to a whole meal (providing you're working with a large-enough potato, that is). Forget the same old chili and shredded cheese combo you always choose and take a closer look at these topping combos that can transform a humble potato into an easy weeknight delicacy. Whether you want to keep things classic or you want to try something you'd never find at your local chain steakhouse, this list has you covered. Whatever baked potato combo you end up choosing, though, just make sure you use a lot of butter before adding in the other toppings.
---
1. The Classic
Bacon, cheddar cheese, sour cream, scallions
Oftentimes, the classics are classics for a reason. Your standard loaded baked potato will come with bacon, shredded cheddar cheese, sour cream and scallions (though you can sub chives if you happen to have those on hand instead). Yes, these ingredients tend to be on the heavier side, but in the case of this topping combo, we're going for heartiness. Even with the richness of the meat and dairy products, though, you're working with a lot of different textures. The crispness of the bacon and the creaminess of the cheese and sour cream work well with the heaviness of the potato. The scallions, though, are the most important part—without that touch of green freshness, this topping combo can be overwhelming for the palate.
Of course, you can always make substitutions here if necessary. I don't always like sour cream, so when I'm craving a lighter option, I use Greek yogurt or even olive oil instead.
---
2. The Fresh
Pico de gallo, black beans, corn, guacamole
This vaguely Mexican-inspired topping combo is perfect for when you want the heaviness a good baked potato has to offer but don't want to feel weighed down for the rest of the day. Black beans offer a lighter, fresher protein, though you can always sub in chicken if you're looking for a meatier option. The guacamole gives the baked potato a creamy element, while the corn adds some color and a touch of sweetness. The pico de gallo is the star of the show here; if you're making it from scratch, make sure you add plenty of onions (maybe even more than the recipe calls for).
---
3. The Pizza
Pepperoni, marinara sauce, mozzarella, olives, sliced mushrooms, green bell peppers 
I love pizza-flavored anything, but I actually believe that as long as you get the toppings right, the carb in question doesn't really matter. Forget the pizza dough and use a baked potato to serve as a base for your marinara sauce (not too much!), pepperoni and mozzarella. The veggie additions are up to you. I personally like olives, sliced mushrooms, and green bell peppers. If you do choose to use the latter two, though, just make sure you cook them thoroughly before you add them to your baked potato—they don't have the same effect when they're raw.
---
4. The French Onion
French onion soup, Gruyère, chives
Yes, I mean you should pour actual French onion soup onto your baked potato. Make it yourself from scratch or get the store-bought stuff—whatever's easiest. The Gruyère comes next. While it should start to melt when you place it on top of the hot soup, you may want to throw the cheese-topped baked potato into the oven for a few minutes before you serve it. You can leave off the chives entirely if you want to focus on those deep, rich flavors, or you can sub in some thyme or even parsley for an alternative freshness. For me, though, chives are absolutely essential in this recipe.
---
5. The Buffalo
Shredded chicken, buffalo sauce, blue cheese, lettuce
Buffalo sauce, with its bold, acidic profile, is basically made for baked potatoes. Mix it with some shredded chicken, then use it to top your baked potato. Although you can use a wide variety of cheeses in this recipe, blue cheese really pops here. A sprinkling of lettuce on top gives you some much-needed freshness, though you can omit it if you're going for less of a salad-y situation.
---
Samantha Maxwell is a food writer and editor based in Boston. Follow her on Twitter at @samseating.