Try This TikTok Puff Pastry Trend Before It's Too Hot to Turn On Your Oven
Photo by Lily Ghodrati/TikTok
Food
Features
Baking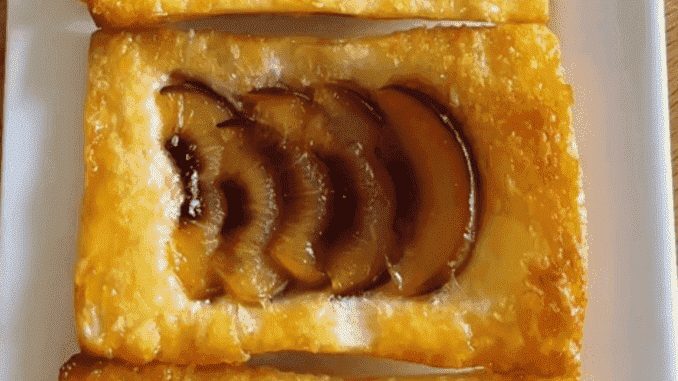 TikTok food trends come and go. Don't even get me started on the baked feta pasta (I was not a fan) or butter boards (I kind of was a fan, embarrassingly). A few are delicious, some are gimmicky and others are barely even coherent recipes at all. There are few TikTok food trends I actually feel the urge to comment on, but the recently viral upside-down puff pastry treats are a notable exception.
Lately, my FYP has been flooded with videos of people drizzling various sauces on parchment paper, layering them with fruits or vegetables, sometimes herbs or cheese, then placing a sheet of puff pastry on top. After brushing them with oil and baking them in the oven, the pastries get crispy on top. Turn them over, though, and the baked ingredients on the bottom fit into a perfectly shaped indentation in the pastry. It's an incredibly simple recipe that yields a delicious—and visually appealing—result.
The trend has been attributed to a TikTok creator named Lily Ghodrati, who told ABC News that her "speciality on TikTok is definitely creating quick, easy and creative food hacks." This puff pastry recipe is certainly that, but more importantly, it's also incredibly versatile.
Ghodrati's first video featured honey and nectarine in the indentation of the puff pastry, the thinking being that placing the fruit on the bottom of the dish would prevent the pastry from getting soggy. After the first video's success, she decided to make a savory version containing olive oil, balsamic vinegar, a slice of onion and some spices.
These two recipes are a delicious start, but the genius behind this hack is the fact that you can make this dish with pretty much any ingredients you have on hand. Another TikTok creator, Alexa Santos, decided to create her own versions of the viral dish. One contains Gruyère cheese, prosciutto, asparagus and honey, while another features honey and slices of both strawberry and kiwi. It's easy to imagine how many other iterations of this dish you could make with the stuff you currently have in your produce drawer.
Some of the best recipes in the world aren't about the specific ingredients at all—they're more about the form. Once you make this puff pastry a single time, you'll know how to pull it off again, giving you a whole new type of dish to work with, no matter what you have stocked in your pantry. I'm such a fan of these types of dishes because I don't always like having to buy ingredients I'll only use for one recipe. Rather, I buy whatever ingredients I want for the week and find ways to combine those foods once I already have them in my kitchen. This recipe allows me to adjust the dish to whatever I happen to have on hand.
Personally, I think these puff pastries could be amazing with roasted garlic and brie or baked tomatoes, Parmesan and balsamic vinegar (and plenty of basil, of course). In the fall, I'd make them with apple slices and cheddar cheese. And if I could get my hands on some sustainable ramps, I think they'd make an interesting, savory addition to a version of this recipe as well. Ultimately, you should give this TikTok food hack a try… but maybe try to do it with the ingredients you already have in the fridge. You may just surprise yourself with your creativity.
---
Samantha Maxwell is a food writer and editor based in Boston. Follow her on Twitter at @samseating.