Image by Paul Lowry CC BY
Dear Sweet Bodega,
Where would any of us be without you in the depths of Brooklyn at 4:07 a.m.? When we've been shoveled from the bar like the last stubborn ice from April sidewalks, and we're standing around fooling ourselves that we might pass you by without a burger or a BLT, you blaze your head-achingly bright lights from the corner. North Star, beacon of light that smells like bacon — we stumble toward you for salvation.
You're always at peak bodega after 4:15 a.m. The place is a club, or a hospital; the line is six-deep and the rest stumble around like zombies, absent-mindedly cradling Monster energy drinks, creme sandwich cookies and purple "en fuego" Takis into their arms like sleeping babes.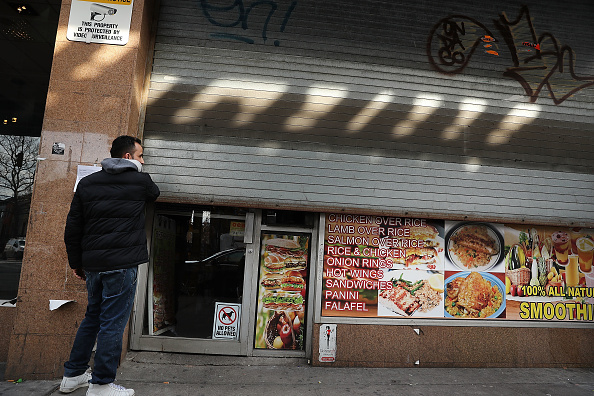 Image: Spencer Platt / Getty
Half are drunk youngsters bar-departed; half are porters, runners, busboys, dishwashers, and MTA workers. Some workers have just finished their graveyard shift and are grabbing a quick tuck-in to carry home to bed. Everyone in the joint has just finished a cigarette or is asking for matches at the counter.
We know your employees by name; you know us as "bus driver with the same corny joke" or "corporate dude before 7 p.m., crazy dude after 10 p.m." or "woman with purple hair who shows us cat pictures" or "dad with two kids on scooters." We listen to you yell out our orders to the cashier, mentioning the extra lettuce and tomato. We laugh at your usual arguments between the deli guy and the cashier, who we learn are cousins once-removed.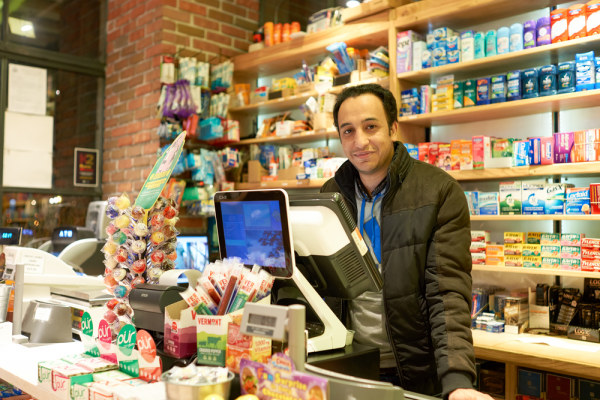 Image: Sorbis / Shutterstock.com
A third of the time, your bacon is crisp perfection. A third of the time, it's just average. A third of the time, it's shit. You're always out of bagels by early afternoon. You don't have anything but rolls at 4 a.m. There's no 100 percent whole wheat bread, for christ's sakes, we tell our visiting Californian friend. We're lucky to get fresh avocado. You have nothing vegan or gluten-free unless it's packaged and over $7. We don't care. We still keep coming. We need you in the patches of Brooklyn where there are few restaurants and fewer pharmacies, drugstores or pet stores. In Manhattan, extreme wealth has paved over most of the bodegas, leaving expensive, clean, well-lit greengrocers; they can keep 'em. You're the only cost-efficient answer in rapidly-gentrifying neighborhoods where gourmet sandwich shops peddle $12 BLTs.
We're welcome, as Brooklynites, to stay as long as we want. Want to take two hours to pet the resident bodega cat and christen him with a new name? Be our guest, the lackadaisically sharp owners say with their lack of attention. (And that's another thing: for those of us who lack pets, your bodega cat not only keeps our food mouse-free, but also is the star of our Instagram accounts. We pet him and long for our pets at our parents' houses. A casual Instagram viewer would think Churro/ Mouse/ Azucar/ Habibi was our cat, we post about him so much. We love his rusty meow. We know he likes ham more than turkey.)
We visit you more than we call our mothers. You know more about us than our mothers. You have everything for everything that ails us. In the morning (does Sunday at 1 p.m. count as morning?), we visit for our slow awakening visit: a large coffee light and sweet, a pack of cigarettes, a sandwich, and maybe a paper (we kind of love that you only proffer the inflammatory Daily News, never the genteel Times), if we're feeling like the news won't kill us today. Later in the day, we're back for our repentance and health visit: a Naked juice, a water for the gym, and some condoms. In the evening, it's a convenience visit: a swing-by for a six-pack for a friend's party or a pack of gum before a date. At 4 a.m., we repeat the cycle.
When we're sick, we stumble to your apothecary seeking the small pill packets stashed behind your counter: you've got it all. When we've run out of toothpaste or shampoo, you've got our temporary stash. If we just adopted a freezing stray kitten in February, you've got the food and the litter. When we have a houseguest coming, we drop our keys with you because we trust you more than our next-door neighbor.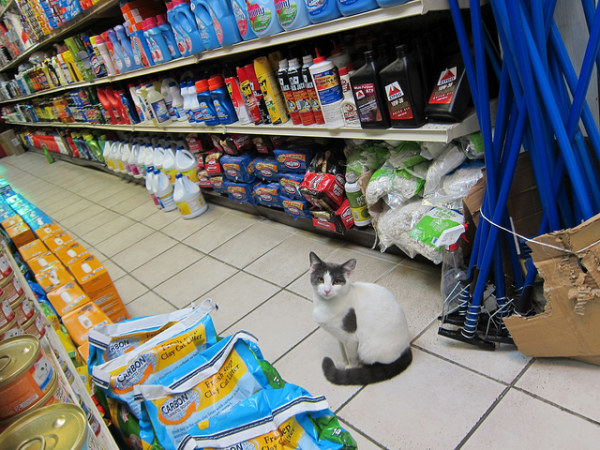 Image by Seth Werkheiser CC BY-SA
Every now and then, we see a bit more. We learn a bit of Arabic or Spanish from you, or we find out you are Yemeni, or Puerto Rican, or Lebanese. We hear, after a year, about your kids and where they go to school. We don't know much about your lives; we don't know how hard your first few years here as an immigrant were, running the business and learning the language, getting up at 4 a.m. to shuffle in the pre-dawn hail to work. We don't know about bombs back home (well, some of us do) or shrapnel or running with your bleeding child in your arms, checkpoints or refugee camps. Most of us don't know what it's like to have relatives stranded at the airport because of an immigrant ban. We don't know about being a doctor, teacher or scientist back home, but being relegated to driving a cab or frying falafel in your uncle's bodega here until you earn enough for school or retire (because other countries' degrees are just paper here). We don't know about the parties and family gatherings you have at home, the food you eat at home, the wives who never appear to be at the bodega, or the way you relax when you're not working.
What we do know is: each one of you is special. A fabled Boricua bodega in Greenpoint sells adobo chicken and rice, which is all gone by 2 p.m., so fans stop in to buy some before they head to work. One Lebanese bodega on Atlantic carries mouthwatering lamb kibbeh and a special onion-y hot sauce to top it. A Mexican bodega in Sunset Park dries and bags its own rare varieties of chiles and always has the tamarind candy we like. A Pakistani bodega gives us some falooda to try, on the house. We seek out an old Italian bodega in Carroll Gardens because it still sells loosies. This one has the $1.99 imported laundry detergent with Hindi writing on it; that one has delicious mini sweet potato and bean pies from an African soul food spot in Bed-Stuy. A bodega in Crown Heights has hardly any products, but the most fun clientele, with a boombox blasting tunes that patrons regularly moonwalk across the cracked floor to. Each bodega has its own special little secret, if you take the time to look around and hang out every now and then.

Image by Michael Cory CC BY
Even if we wanted to know more, there seem to be some lines, lines of class and lines of ethnicity and lines of language and lines of immigration — lines of privilege between those who consume and those who offer service, even if some of us work in service. But are those lines arbitrary, drawn only in our imaginations by popular consciousness and cultural stereotypes? This, the bodega, is where we get close to feeling like kin, using the excuse of capitalist consumerism. We have great fondness for your faces and fear your waning as much for the loss of community as for the loss of our favorite Takis.
You, too, don't know that much about our lives, for as big a role as you play. You hear about our families and jobs, and you know we've had a rough one if we pick up a six-pack, a BLT, a bunch of candy and a chocolate bar after work. And sometimes, we think you even like us and would miss us if we disappeared, to the wilds of the mythical, wide-open West somewhere. Aren't we all in this together?

Image: Spencer Platt / Getty
You are far more important to us than any fancy city restaurant ever will be. And yet you win no awards, claim no glorious spotlight in the New York food world. You are the reliable, steady friend, always there with the same advice: eat something. When friends come calling for tourist recommendations, you are seldom on the lists we give, dotted as they are with chic names that give us insider cred. In reality, we should take them to the bodegas we love, that we live in every day.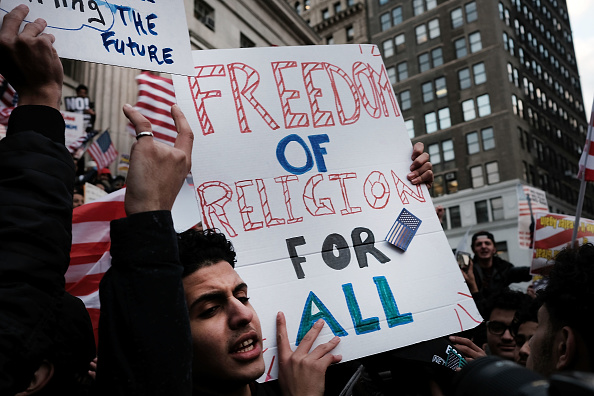 Image: Spencer Platt / Getty
When Yemeni bodegas close for a day for a NYC Bodega Strike, we support you 100 percent. We miss your faces and your food, but we know this city and this country need to know how important and beloved the people behind the businesses are, especially in a time when Trump is barraging immigrants and small businesses.
Thanks for all you do, Brooklyn bodegas. You know how much we need you, but we want you to know how much we love you.
Dakota Kim is Paste's Food Editor. You can tweet her @dakotakim1.