Toronto's 10 Best Spots for Mother's Day Brunch
Photo courtesy of Fairmont Royal York Hotel
Food
Lists
Brunch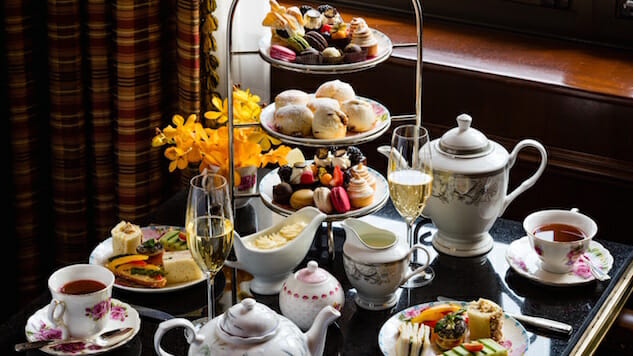 We're not sure why brunch became de rigueur for celebrating mom on her day, but it is. Perhaps most families need the rest of the day to recover from potentially fraught encounters? Who knows? Here's what we do know: we're forever grateful to whoever sanctioned booze at breakfast — mimosa, Cesar, Bellini! For readers in Toronto, we've rounded up the best brunch places to suit all kinds of moms. Seriously, assembly line eggs benny is just not going to cut it these days with our vibrant, opinionated, politically active moms — yes, if it's a bit chilly on May 14th, some moms will be wearing their pink pussy hats to brunch. Get over it.
Here's where to take mom if she's a….
Victorian Mom: Fairmont Royal York Hotel
100 Front Street West
She binge watches Victoria, Downton Abbey and reruns of Upstairs Downstairs. She treasures her collection of antique tea cups, and loves a drive out to the country for a day of antiquing. Give her a reason to wear her best pearls. Executive Chef Robert Mills offers 14 exclusive loose leaf teas, flutes of chilled bubbles, an elegant selection of dainty sandwiches — the kind with the crusts cut off — scones with Devonshire cream and decadent pastries, all served with Old World charm on pretty china in the Library Bar.
Here's a Taste: Chicken celery salad on sundried tomato brioche with caramelized pecans and Chantilly swans with berries.
Farm-to-Table Locavore Mom: Café Belong at The Evergreen Brickworks
550 Bayview Avenue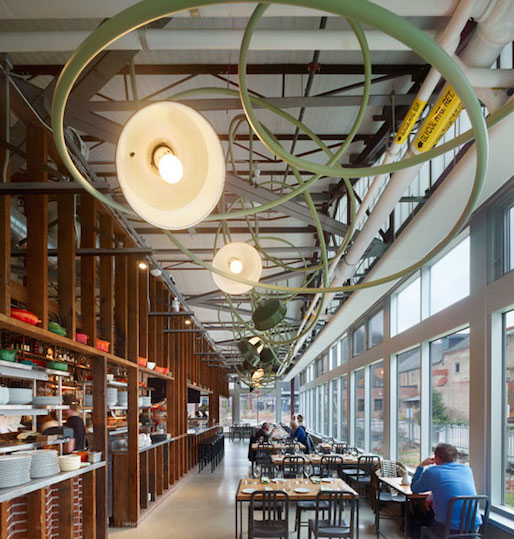 Photo by Tom Arban
She cares where her food comes from, who farmed it and how the animals lived and died. Brunch with mom can sometimes feel like an episode of Portlandia without all the guffaws. Take her here and you won't have to feel bad about anything on the menu. Chef Brad Long is committed to nose-to-tail, sustainable and local cuisine — and sharing; he's a participant in Mealshare. The restaurant is nestled in an historic, urban wildlife park, so walking the trails before or after brunch is a must. Working with local farmers and producers, his menu is a locavores dream.
Here's a Taste: Breakfast Poutine with Pulled Pork, Cheese Curds, Maple Bacon Gravy, Sour Cream, Salsa Verde and a Poached Pasture-raised Egg.
Vegan Mom: Public Kitchen
561 Marlee Avenue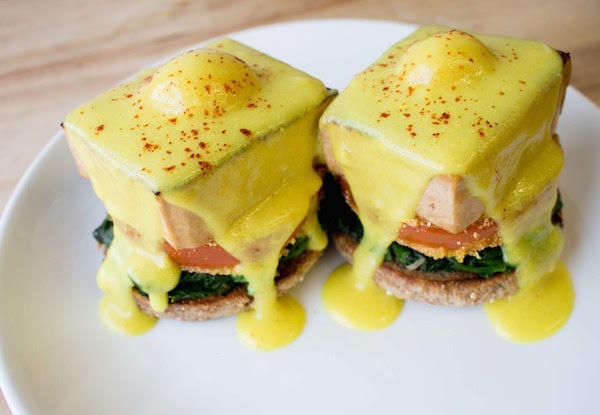 Photo courtesy of Public Kitchen
Don't even get her started. What she will and will not eat is a religion for her. Animal products are banned. Take her somewhere where she can be confident that everything on the menu is plant-based. No eye-rollingly long, drawn-out, embarrassing server inquisition required! Chef and author, Doug-Kale-is-the-new-beef-McNish, is just as fanatical and he's kind of a magician with faux-eggs.
Here's a Taste: Vegan Benedict with sprouted grain English muffin, crisp cornmeal and fennel crusted tomato, herbed white wine and garlic spinach, seared smoky sprouted tofu, runny soft poached vegan egg yolk and hollandaise sauce.
Juicing Mom: Belmonte Raw
Leslieville, 1022 Queen Street East and The Exchange Tower, 130 King St West #CW5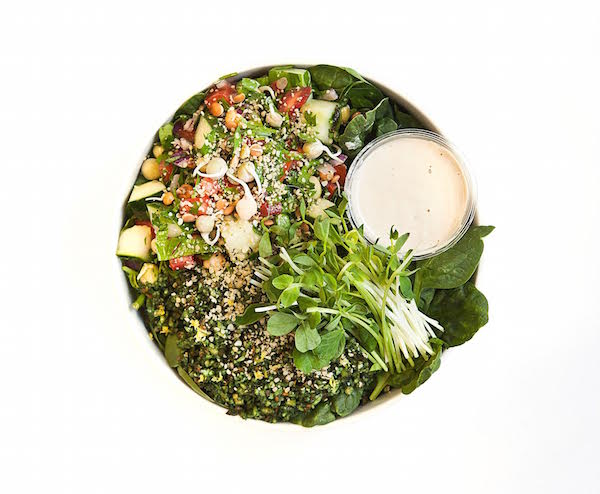 Photo courtesy of Belmonte Raw
She's always on a cleanse or detoxing. 'Nuff said. Take her here or you'll never hear the end of it. Owner Carol Belmonte is a glowing poster girl for healthy eating; from her two locations, she serves sit down raw meals and delivers single or multi-day regimes of juices and elixirs. The menu of raw, gluten-free, organic dishes is super-healthy and yummy.
Here's a Taste: Super Tabbouleh with spinach, tomato, cucumber, red onion, sprouted beans and lentils, pea shoots, tahini, carrot, Himalayan salt, spirulina, lemon, olive oil and hemp seeds.
Show-Me-How-Much-You-Love-Me Mom: Langdon Hall Country House Hotel and Spa
1 Langdon Drive, Cambridge, Ontario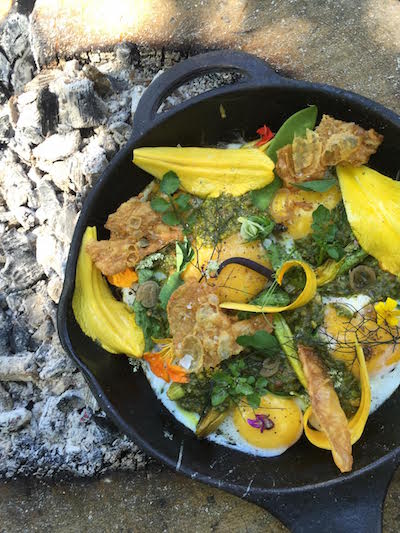 Photo by Chef Jason Bangerter
You love mom so much you'd drive miles, spend a bomb and extend her day into a whole weekend of pampering and exquisite dining. Chef Jason Bangerter keeps geese and chickens on the grounds of this exclusive Ocean Wise and Relais & Châteaux hotel, and the produce comes right from his own vegetable and herb gardens.
Here's a Taste: Sunnyside Goose Egg with warm grain and kale salad, foraged mushrooms, and aged pecorino; part of the brunch prix fixe.
Ivy League Mom: Gallery Grill
Hart House, University of Toronto, 7 Hart House Circle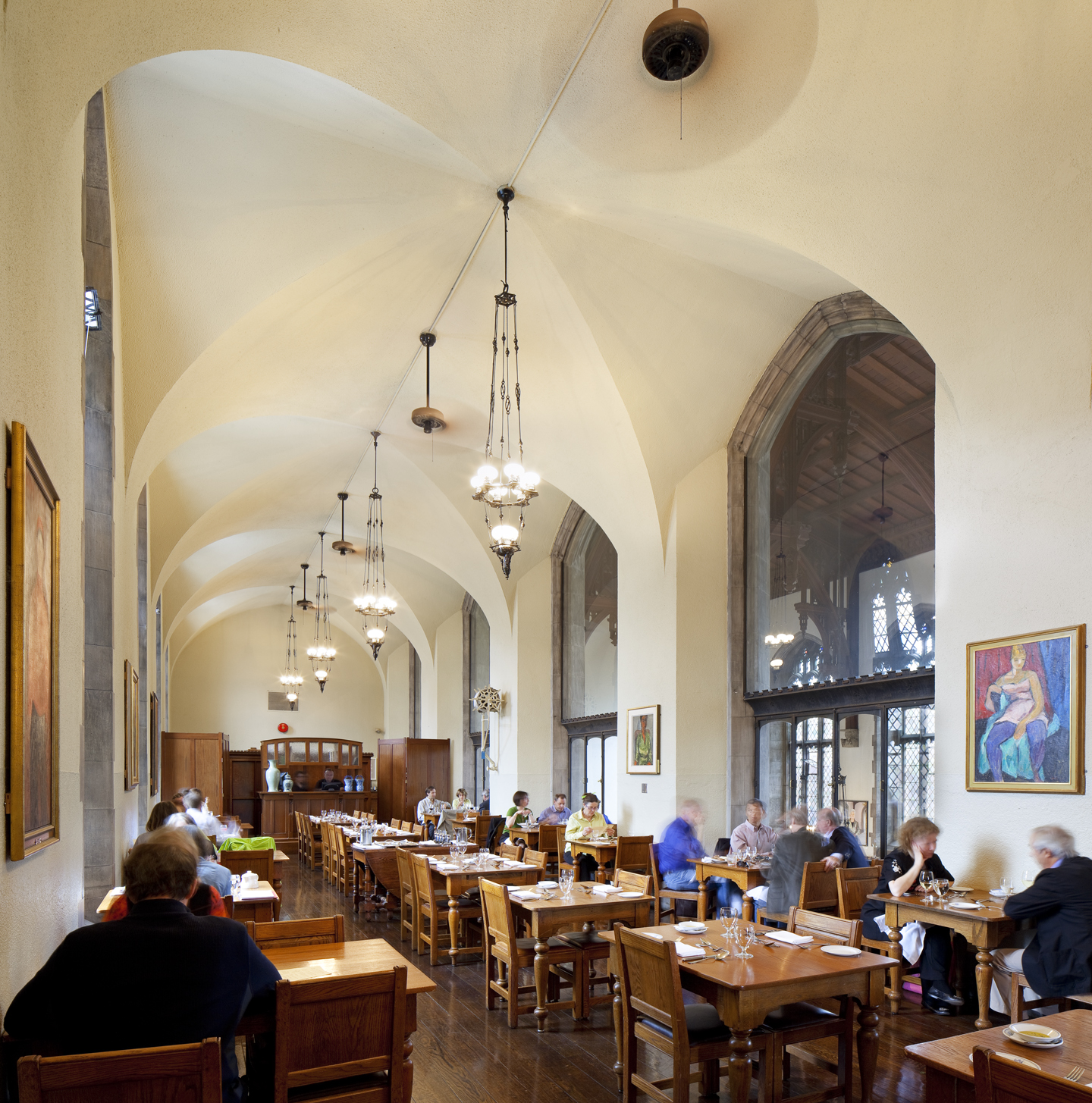 Photo courtesy of Gallery Grill
She may or may not come from old money, but she rocks a classic Chanel suit like no other, even if she did find it at a thrift shop. She values class and understated elegance, and she's always known what fork to use. Chef Suzanne Baby's dining room of vaulted ceilings, oak paneling and leaded glass is Neo-Gothic meets arts and crafts, and you'll feel about 20 IQ points cleverer just for being there. The menu of perfectly executed classics with a hint of modernity are just daring enough.
Here's a Taste: Flatiron steak and fried eggs with smoked rosemary hollandaise, arugula salad and grilled brioche.
Scandi-Style Mom: Karelia Kitchen
1194 Bloor Street West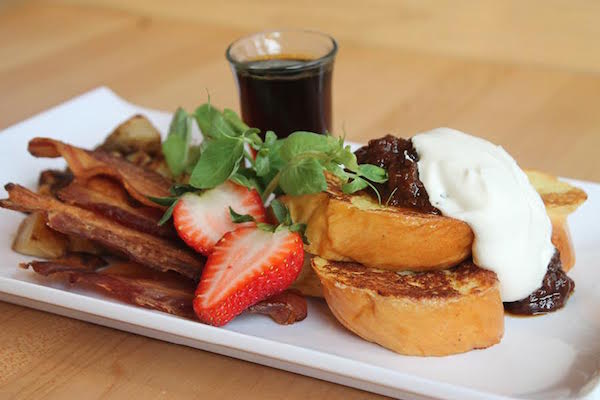 Photo courtesy of Karelia Kitchen
She loves her collection of vintage Dansk, thinks white on white is just right, somehow looks amazing in one of those shapeless Marimekko tunics, and has mastered the pronunciation of hygge. A warmer, more hygge-filled café you will not find this side of Stockholm. And on the menu of this Nordic smokehouse, cardamom and cinnamon-infused coziness, house-smoked fish, and house-made baked goodness. Oh, and it's pronounced hoo-guh.
Here's a Taste: Pulla (cardamom bread) French toast with stone fruit compote, brown sugar cream, smoked strip bacon and hash potatoes.
Adventure Mom: Maha's
226 Greenwood Avenue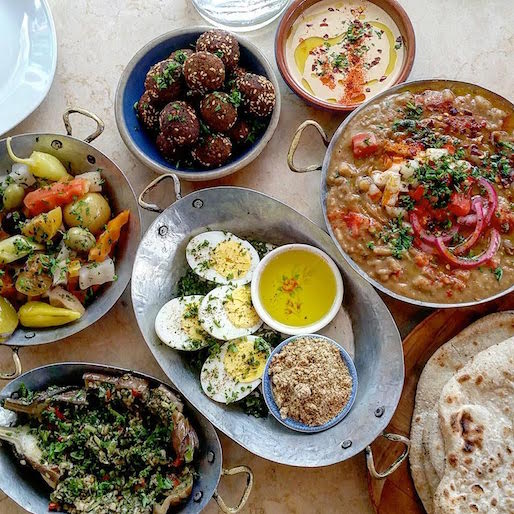 Photo courtesy of Maha's
Adventure mom loves the world. Perhaps she's travelled the Silk Route, worked on a kibbutz, or honed her yoga body at an ashram in India. She's fearless and craves adventure and flavor. She will love this wonderful, bohemian little Egyptian café, decorated in colorful woven fabrics, the air rich with aromas of onion and butter escaping the tiny kitchen. Wait times for a table can be long, so get in line with one of their signature honey cardamom lattes.
Here's a Taste: Basturma scrambled eggs with thinly sliced cured beef, fenugreek, garlic and Egyptian spices, served with charred balady bread and salata balady.
Rock 'n' Roll Mom: Sneaky Dee's
431 College Street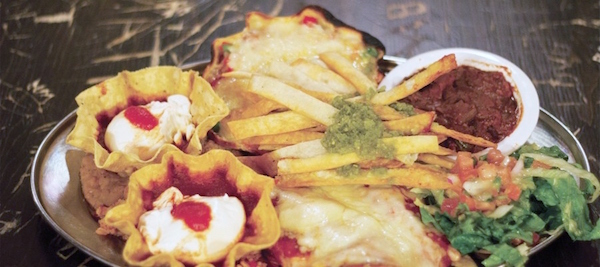 Photo courtesy of Sneaky Dee's
If you rifle through her collection of original vinyl — yes, she still has all of it in milk crates in the garage — you'd find The Stones, Steppenwolf, Led Zepplin, Jefferson Airplane, The Doors and of course, Hendrix. The holes in her jeans are from wear and tear; she didn't buy them that way. Sure, she's all grown up and responsible now, but she can still shock you with tales of what she and your dad got up to at Woodstock. This joint has as illustrious a rock 'n' roll history as she does; the graffiti-art façade is a Toronto icon. It's a gritty restaurant and a rough and tumble concert hall, and the food is indulgent and excessive, you know, like rock 'n' roll.
Here's a Taste: The Fucked Up Breakfast with two egg, pepper, cheese and salsa mole enchiladas with a tortilla bowl filled with beans, diced onions, tomatoes, peppers and topped with cheese, and two poached eggs swimming in salsa mole in corn tortillas with rice and beans, chilli, tortilla chips, salsa verde and ensalada.
See and Be Seen Mom: One
116 Yorkville Avenue

Photo courtesy of One
She's 50 going on 25, has her Botox person on speed dial, secretly wishes she were on The Real Housewives of the 416 and has her finely French manicured fingers on the pulse of what's hot and what's not. She eats with her eyes and if brunch involves a stroll through Toronto's toniest nabe for a little post-brunch celebrity spotting and shoe shopping, all the better.
Here's a Taste: French toast with banana, dark chocolate, vanilla Chantilly, walnuts and honeycomb.