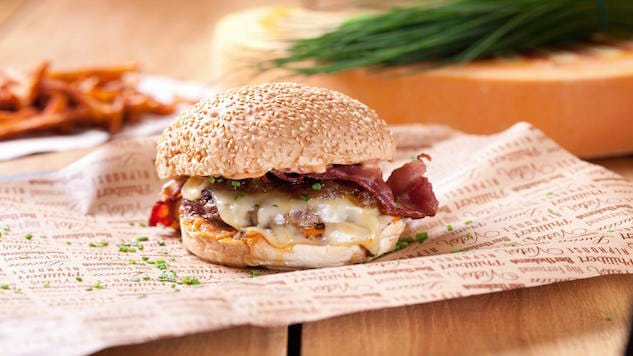 I stepped into the Big Fernand on Paris's Rue Saint Sauveur with a demanding standard in mind. With a whiskey convention to attend that afternoon, I needed to put something heavy and lasting in my belly to soak up a steady trickle of strong spirits, and a tasty hamburger would be perfect. Yet Europe generally has a well-deserved reputation for serving up lousy burgers, often mushy where they should be juicy.
My first positive sign was the short line out the door mere minutes after opening time. My next was seeing the beef patties sizzling on the griddle, thick enough to stay on the right side of propriety and developing a coat of proper griddle-char to lock in the juices. Finally there was my finished burger: Le Bartholome, a bacon burger served with raclette cheese, pickled onions, and chives with the house cocktail sauce smeared on the bottom of one bun and the house barbecue sauce on the other. I scored much more than meeting my whiskey-sponging goals with that lunch.
Paris defies the bad burger expectations because France has gone mad for hamburgers. A walk through the streets of Paris reveals an (un)healthy sprinkling of burger joints, and many eateries in the Michelin star-bedecked culinary capital have burgers on the menu. Five Guys opened their first store in Paris this past August, but the American burger house will face plenty of stiff competition, as France has its own homegrown counterparts already in operation. Big Fernand is just one of them, and in more ways than one: the French chain not only has several stores in Paris and more around the country, but one in London and a couple in Hong Kong as well.
Beef patties aren't the only type of burgers on the menu in Paris. Big Fernand is a meaty place to be sure, with veal, chicken and lamb on the menu, but it also nods at vegetarians with a mushroom burger. Other, smaller Parisian chains go beyond the one nod. Bistro Burger offers fish plus two kinds of veggie burgers (piled high with yet more veggies for good measure). Mamie Burger also has fish and veggie burgers on the menu, and the latter is a quinoa patty burger, La Belle Mere, served with grilled eggplant, roasted peppers and fresh zucchini that can make even a non-vegetarian salivate.
Naturally enough, Paris's love for a good hamburger has gotten into its developing food truck scene. Walking down Avenue Ledru-Rollin I happened upon the green rig of The BBQ Brother, serving up fresh, straight forward and flame-broiled hamburgers of the type that would make connoisseur George Motz grin.
The food truck scene in Paris is often consciously American, sporting vehicles with names like Cantine California. Not so elsewhere in the city. When you bite into a hamburger in Paris, odds are not only that it will be as good as anything you can get in the States, but something the French have made their own as well.