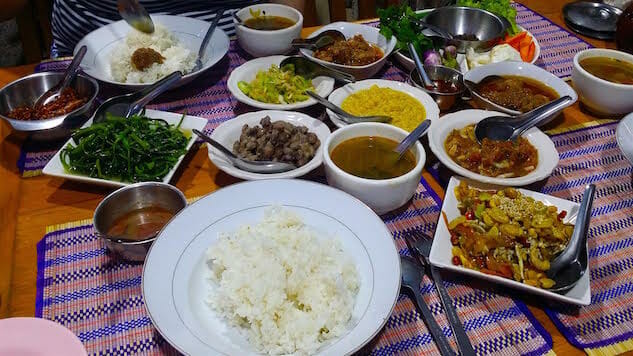 Famous for its jaw-dropping cities of ancient pagodas and lush jungle sceneries, Burma has been attracting growing crowds of tourists since it began opening up in 2011.
Less well-known? Its food.
Sandwiched between China and India, with more than 135 different ethnic groups, Burmese cuisine is among the most diverse in the world. Incorporating at once fragrant curries, crunchy pickled tea salads, and every ilk of noodles known to man, it is a gastronomic triumph that gets unfairly ignored.
As the heart of the country, Yangon is the best place for visitors to start opening both their senses and their stomaches to Burma. Here are five memorable and unexpected dishes to try, each traditional of a different ethnic group and region in the country.
1. Spicy Seaweed Salad/ Kyauk Kyoe Thout (Rakhine)
Min Lann Seafood Restaurant, Inya Lake, Pyay Road, Yangon.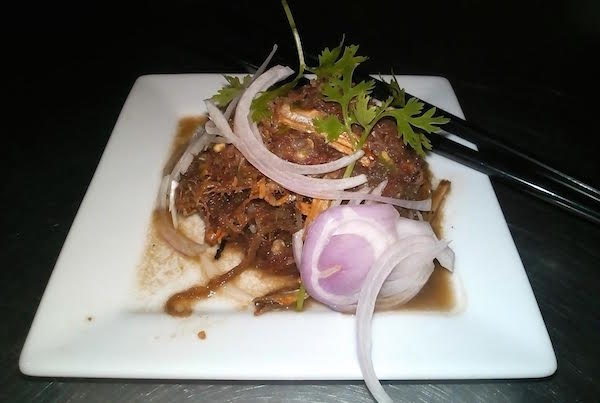 Photo by Fanny Potkin
Flanking the Bay of Bengal, the cuisine of Rakhine State is shaped by the sea and its whims. This zesty salad, although humble in appearance, is a mainstay at every Rakhine home. The star ingredient is seaweed, which is collected from the shores after high tides and dried in bamboo baskets. The algae is then mixed with green chilis, lime or tamarind juice, dried small fish, onions and ngapi, a traditional Burmese fermented fish or shrimp paste, whose pungent smell is recognizable across the country. Served with rice, it's a refreshing dish with a fiery kick.
Try it at Min Lann, a traditional Rakhine restaurant that procures its seafood straight from the beach daily and is a favorite of both locals and visitors alike. The salad is especially well paired with the farmer's curry, a sweet and sour broth packed with fresh fish, lobster, crab and prawns. It's the closest you'll get to the Indian Ocean in Yangon.
2. Shan Tofu and Steamed Meat/ Tohpu Jaw& Hin Thote (Shan)
Nang Htike Shan Noodle, Bo Gyoke Rd, Yangon.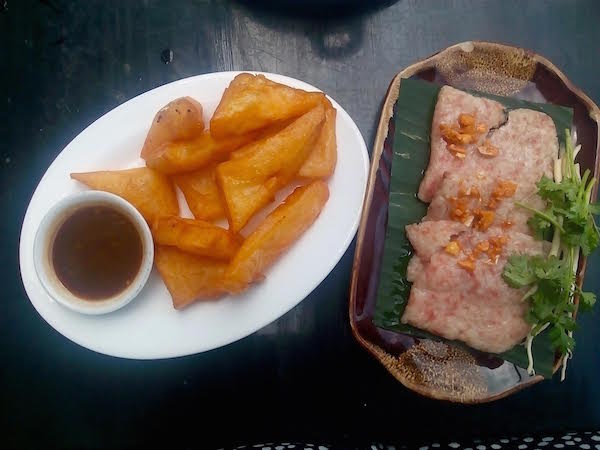 Photo by Fanny Potkin
Shan State is Myanmar's largest region and its specialties are reminiscent of Northern Thailand, with whom it shares a long border. The MVP of Shan cuisine is its traditional chickpea tofu, whose texture shares little resemblance to its soybean cousin. Uncooked, it looks like a block of Cheddar cheese and is often grated into salads. But it's at its best when eaten as fritters (tohpu jaw). While crunchy on the outside, those small triangles belie a soft and pillowy core. Eat them with hin thote, an airy glutinous pork and flour concoction that's steamed in banana leaves.
The no frills Nang Htike is crammed with Yangonites until 11 pm every day and has all the Shan dishes you can dream of. Its fried tofu and hint thote are made to order.
3. Grilled Fish With Herbs/Nga-Ka-I (Kachin)
Sha Yi, No. 76, Bogyoke Road, Yangon.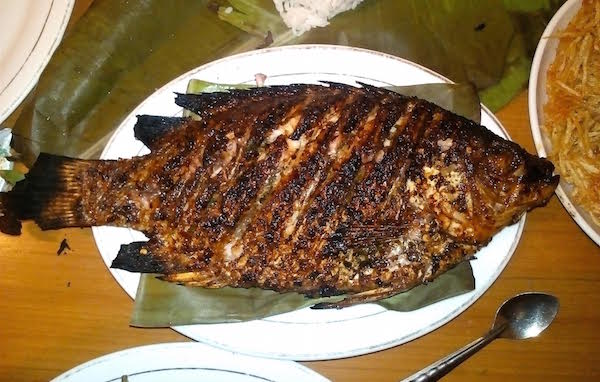 Photo by Fanny Potkin
Sitting at the northernmost tip of the country, the mountainous Kachin state is not at the top of most tourists's lists, due to decades of conflict.Yet, its singular culture and people are like nowhere else. Unlike Burma's typically oily fares, the Kachin prefer their flavors spicy and sour. A worthy introduction to Kachin Food is this traditional fish in banana leaves, which is jam-packed with an aromatic array of herbs, ginger and chilis before being grilled over a hot fire. Eat it with some hearty alpine vegetables.
At Sha Yi, all the chefs and waitstaff are Kachin and the banana leaves and herbs are brought straight from Kachin State by the owner.
4. Mon Style Curry (Mon)
Jana Mon Ethnic Cuisine, No. 114 Nanda Won Street, Yangon.
The food of Mon State, which lies at the south of the country, is very similar to Burmese food, albeit an extra pinch of chillies.The Mon excel at curries (pictured at top), with up to a dozen varieties. Mutton or beef are always good choices.The oil-based curries will come in a small bowl and will traditionally be generously complemented by other appetizers. Expect a large serving of rice, as well as plates of fried vegetables and tangy salads, a bowl of soup, and a tray of fresh vegetables and spicy dips. If it's put in front of you, don't miss out on the ubiquitous tea leaf salad, which mixes tart tea leaves with tomatoes, cabbage, and crunchy tea fried beans.
The stalls at the Anawrahta Road Night Market will have a dizzying array of massive curry pots to chose from, but for lighter fare, try Jana Mon, which puts an elegant spin on classic Mon dishes.
5. Golden Sticky Rice Cakes/ Shwe Htamin (Burmese)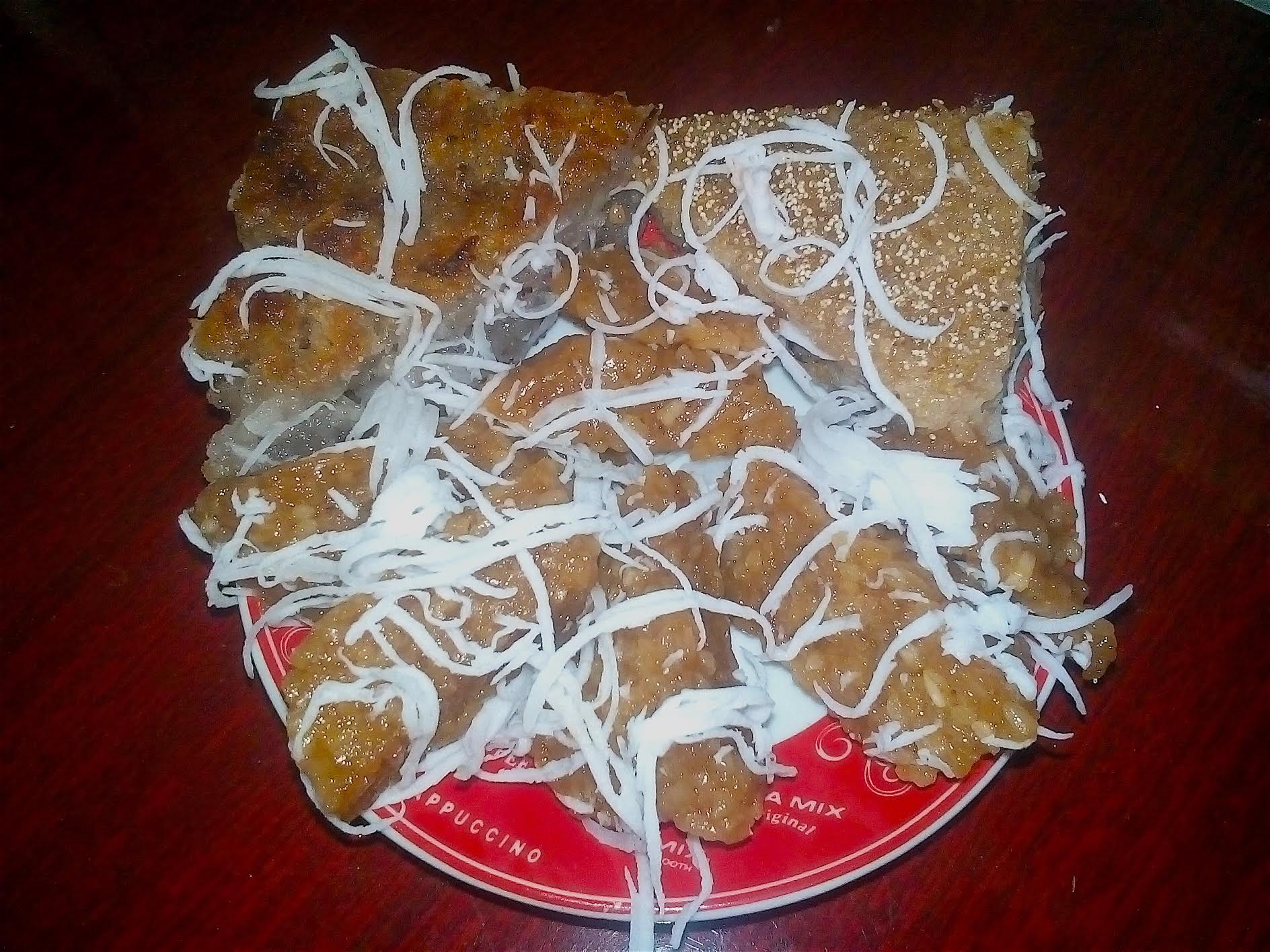 Photo by Fanny Potkin
In Burma, sweets, known as "moun," are rarely eaten as desserts but consumed instead as snacks, often with a cup of tea. Those concoctions usually involve rice in all shapes and form, jaggery, millet, as well as coconut and coconut milk. Influences from India and Britain popularized the use of semolina flour, poppy seeds, and custards. Baked in large steel basins, the treats are cut into the shapes of diamonds and sold in pyramids at street corners.
Try some caramelized glutinous rice treats, known as shwe htamin, or "golden rice". Sweetened with palm jaggery and and garnished with a mountain of coconut shavings, those gooey rice cakes evoke the taste of toffee pudding. As they symbolize gold, shwe htamin are a common sweet to share among friends and relatives during festivals and are often donated to monks at Buddhist monasteries.