5 Signs the Caviar Craze is Upon Us
Photos courtesy of Whole Foods and The Caviar Company
Food
Lists
Caviar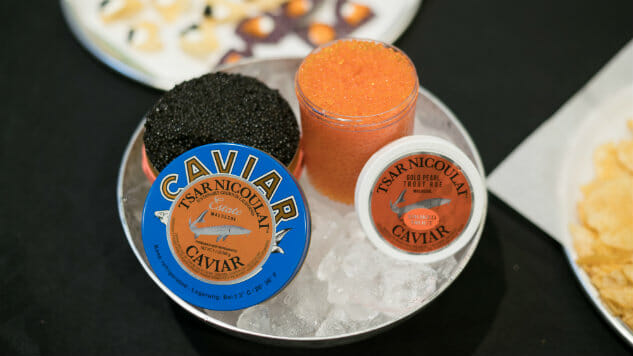 Caviar, once the stuff of Russian period dramas and stuffy fine dining establishments, is making its way into the mainstream, marketing itself as a hip, foodie trend for millennials — and we are totally buying it, literally and figuratively.
As the market is opening up to newer and more sustainable varieties of the delicacy, on top of the classic and Russian-produced Beluga caviar (the Beluga sturgeon swims only in the Caspian sea), the tiny fish eggs can be now purchased online, consumed for brunch and used as the secret weapon of impressiveness at dinner parties.
Here are 5 sure signs that soon, caviar will replace items such as cocktails or uni and avocado toast at the top of the millennial food trend pyramid.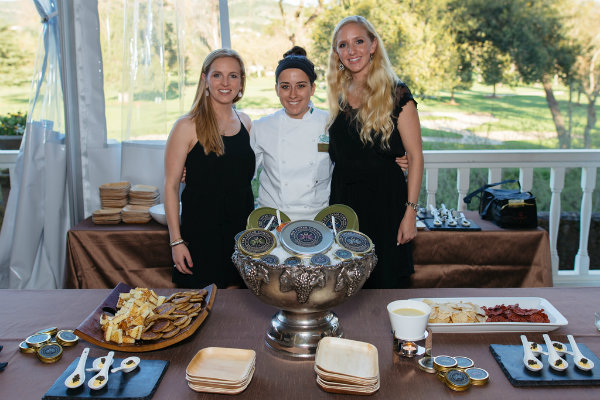 1. A caviar lounge just opened in New York.
Moonlighting on menus for years, caviar has now achieved central stage and proves itself worthy of an establishment centered around it. OLMA Caviar, a purveyor of caviar with a stall at the Plaza Food Hall opened a second location on the Upper West Side in the spring, complete with elaborate caviar platters, caviar bites and even caviar pizza, a brave take on Wolfgang Puck's once revolutionary invention. Yelpers are raving about the paddlefish and the hackleback varieties quite casually, as if they've been consuming roe for decades.
2. Caviar is appearing as both a hip bar snack and a brunch item.
Move over, oysters! More bars than ever are putting caviar on their small bites menus, playing up its salty flavor. At San Francisco's new hot spot Louie's Gen-Gen Room, located inside the insanely popular Liholiho Yacht Club, chef Ravi Kapur serves chips with caviar layer dip, which includes smoked trout roe, french onion dip, egg and chives. In Portland, Oregon, Kachka does Happy Hour with a $20 caviar toast; white sturgeon on buttered challah bread. As for brunch, restaurants celebrate the versatile product by pairing it with eggs, avocado and other brunch staples. In L.A, the Larchmont, still trendy and now open for brunch, serves a killer Smoked Salmon Tartine, topped with whipped cream cheese and salmon roe. The hunt for the most Instagrammable caviar-decked brunch dish is on!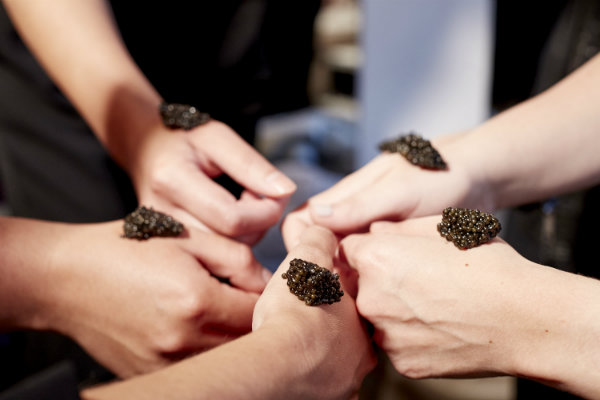 3. A "caviar concierge" is now a thing
The Caviar Company, a brand new venture by two San Francisco-based sisters, promises to bring the caviar party to you. Saskia and Petra Bergstein, both not yet 30, launched their company six months ago — they work with caviar purveyors from all over the world, and, along with supplying to a number of local restaurants, specialize in caviar tastings on location, be it an office party or a private dinner. They arrive to each event equipped with a variety of caviars, creme fraiche, potato chips and other fun accompaniments, and encourage guests to do 'caviar bumps' — a.k.a. licking caviar from your own hand. "Sampling caviar is an experience, and the millennial consumer is all about that — we're known to spend all of our money on experiences," says Petra. Spend it in style, of course.
4. Whole Foods is stocking up on it.
A big factor in niche foodie trends going mainstream, Whole Foods is expanding on its caviar game this year. "We've definitely seen growth in sales and demand this year," says Elliott Myers, Northern California's Seafood Coordinator for the supermarket chain, "and not just around the holiday season anymore." Recently, 45 Whole Foods stores around California have been enriching their caviar offerings with 3 new varieties by local company Tsar Nicoulai, as well as adding an option to purchase caviar in large tings at the seafood counters. The refrigerated section now carries smoked trout roe as well. "So many more celebrity chefs like Eric Ripert and David Chang have been using caviar and roe in creative ways, outside of the 'unobtainable' or 'just for the rich and fancy' concept, bringing it to the common consumer," Myers says.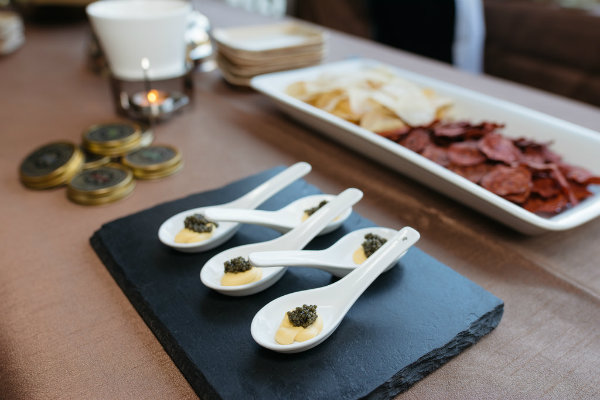 5. And….. there's already a Vegan version of caviar.
Isn't a vegan twist on an utterly delightful guilty-pleasure dish the ultimate proof of cult status? Enter the Vegetarian Caviar Club, a company that launched in 2016 and is all about a vegan version of the indulgent product. Made from seaweed, this interesting find comes in Black, Red, Wasabi and Truffle, looks like caviar (minus the moral implications), and, according to the website, "simply demands to be sampled by anyone with a taste for the good things in life." Sounds like a plan.
Flora Tsapovsky is a Russian, Israeli and currently San Francisco-based food and fashion writer. Her work has appeared in Lucky Peach, the San Francisco Chronicle, Racked and more.