Chile's proximity to the coast and incredible bounty of fresh produce make it one of the best places to enjoy succulent seafood, hearty red meat and, of course, vibrant and robust red wines. More than that, though, there's an expanding food culture that's spreading throughout its most populous city, Santiago. Deserted buildings are being turned into hipster eateries and pisco bars, markets are booming, and the city's low-income neighborhoods are getting urban gardens and brightly painted murals.
To truly appreciate the revitalization of Santiago and its food scene, you have to understand its origins – a marriage of European influence, passionate locals and indigenous ingredients. Even though high-end, globally-recognized restaurants (like Chef Rodolfo Guzman's Borago) exist all throughout, your first foray into Santiago cuisine should be humble. These delicious bites will introduce you to the food of the Chilean people, and if you're lucky, you might even meet some locals to chat with while you're grazing.
Seafood Empanadas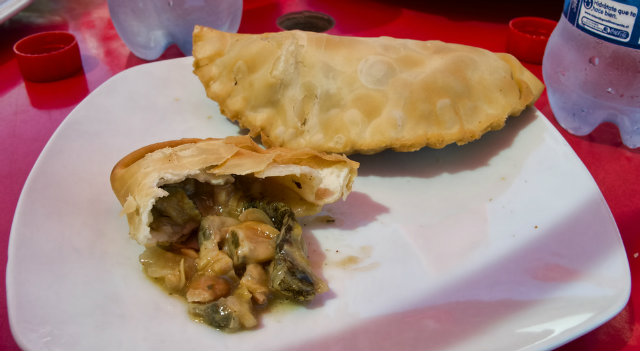 Between the sounds of the buses honking, the commotion of the crowds, and the array of aromas wafting through the air, the city's famous Mercado Central is nearly impossible to miss. This bustling seafood market, decorated with a wrought iron façade, is the place to go for one of Santiago's favorite snacks (or meals, depending on who you ask) – the seafood empanada. These flaky pasties are stuffed to the brim with tomatoes, potatoes, onions, peppers and an array of sea bass, clams and other fish. For the most authentic bite, skip the restaurants on the periphery and stop at one of the market stalls inside instead. Also, make sure you order a side of hot sauce (Chileans love al pique, made with cilantro, green onions, peppers, salt, pepper, lemon and more) and a pisco sour to wash it down.
Bistec à la Pobre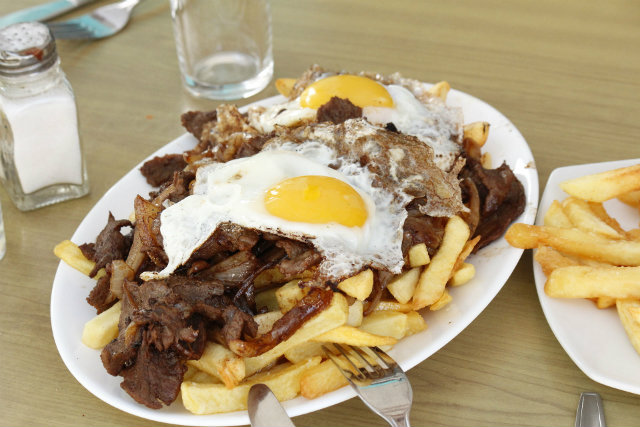 Every South American country has its own version of the "poor man's dinner." In Colombia, it's the bandja paisa, a huge plate of pork, red beans and rice, fried plantains and avocado. In Brazil, it's feijoada, a stew made from black beans, veggies and sausages. And of course, in Chile, it's the bistec á la pobre. This hearty meal is comprised of grilled beef, fried potatoes, onions and a fried egg. Not only will this keep you going for a long day of work, but it's the ultimate hangover dish when you've been out late in Barrio Bellavista downing pisco and cokes.
Chacarero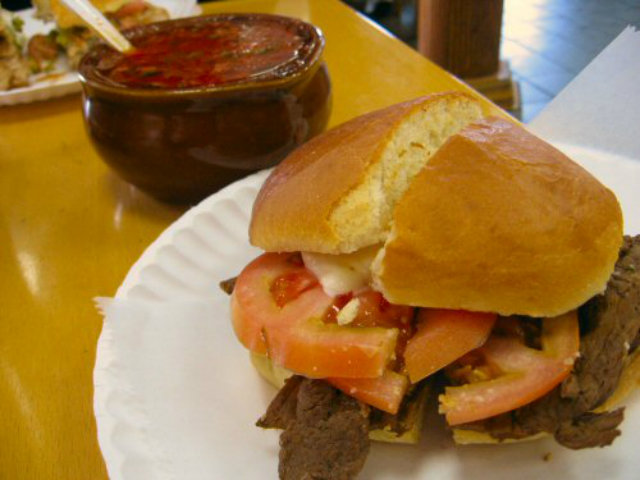 If there's one thing Santiago residents love, it's comfort food. With a strong focus on family and a culture rich in farming and fishing, it's no wonder most locals crave dishes that remind them of their childhood. That's why entrees like the the chacarero, Santiago's signature sammie, is a staple in almost every Chilean's diet. The sandwich – a soft, melt-in-your-mouth stack of a fluffy roll, sliced beef, avocado, tomatoes, cooked green beans and spicy aji chilies – is often enjoyed for lunch or a pre-dinner snack. There are plenty of places throughout the city to grab this sandwich, but locals recommend Fuente Alemana, which has multiple locations throughout.
Completo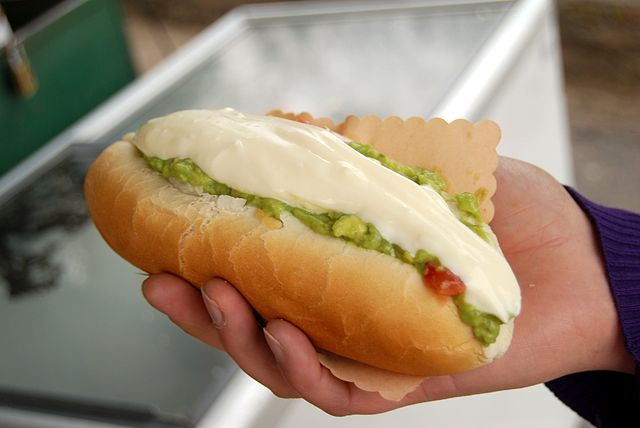 A must-eat in Santiago's Centro Històrico district is an authentic completo from Domino. Although it looks like a hot dog, don't call it that — this portable comfort food is like no frankfurter you've had before. This filling dish, a meal unto itself, is a lunchtime favorite for everyone, from school kids to bankers. Like the name suggests, a Chilean completo comes fully loaded with an almost endless variety of toppings, including melted cheese, smashed avocado, ripe tomatoes, mayonnaise, sauerkraut and marinated pickles. Although other places in town (especially in the Barrio Universitario) sell these coveted concoctions, the locals all flock to Domino for their completo cravings.
Pan Amasado con Pico de Gallo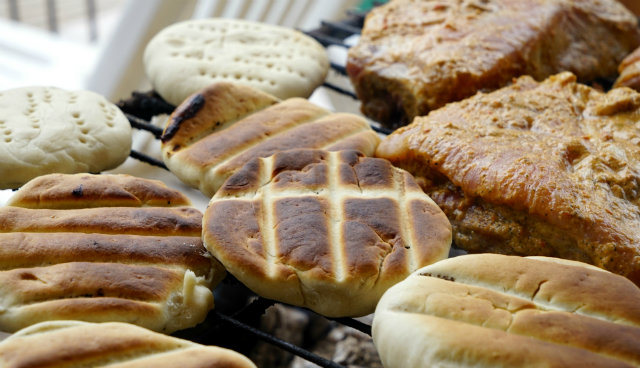 If you've ever wondered what heaven tastes like, bite into a fresh-from-the-grill Chilean pan amasado. These pillowy-soft, oval-shaped bread loaves are a true local tradition, with most recipes passed down from generation to generation. You'll find vendors selling stacks of these slightly yeasty, slightly sweet rolls on nearly every street corner in Santiago, but the best ones you'll ever have are found a bit out of town in a local home above the mountains. The brother and sister team of Urban Adventures Santiago take guests of their two-day tour up to their parent's house, where their mother and family friend (also a chef) whip up the most mesmerizing pieces of bread you'll ever eat. Plus, they serve it alongside freshly chopped pico de gallo, made with cilantro, peppers, onions and tomatoes. If you can't make it out of town, however, try Fuente Mardoqueo on Avendia Frandsico Bilbao. Here you can enjoy the rolls on their own or stuffed with cheese, pickles, shaved beef and tomatoes in a hearty sandwich.
Claire Volkman is a seasoned writer and photographer with a passion for food and travel. Claire has spent time in more than 40 countries and hundreds of cities writing, photographing and immersing herself in all things food, wine, and culture.
All photos by Claire Volkman, excepting empanada photo by Dan Lundberg CC BY-SA; bistec a la pobre photo by Ignacio Correa César Pérez CC BY-SA; chacarero photo by Krista CC BY; and completo photo by Paul Lowry Paul Lowry – Flickr: El Completo del Tio Manolo, CC BY 2.0, https://commons.wikimedia.org/w/index.php?curid=15515260 CC BY