Europe's Most Delicious Christmas Markets
Photos: Anders Bøgild and Claire Gallam
Food
Lists
christmas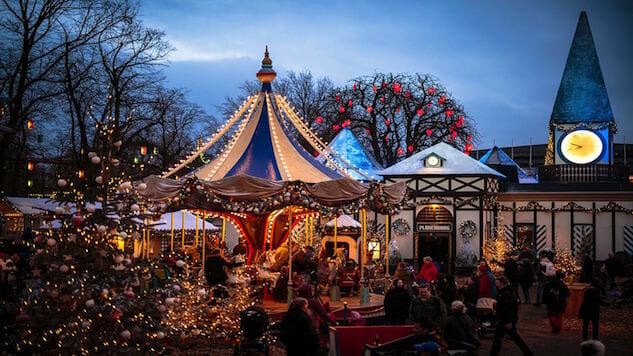 Few places in the world have the allure of Europe during Christmastime. Lacking the crowds of summer and decorated with glistening lights, holiday carolers and the smell of mulled wine wafting through the air – it's so Charles Dickinson it almost feels cliché. Most of the beauty of Europe this time of year doesn't just lie with the town's decorations, it's the bustling and renown Christmas markets, which don the streets of Europe's largest cities (like Vienna) and even the lesser known towns (like Bologna, Italy or Rothenberg ob der Tauber, Germany). Beyond the lights, the shopping and the overall merriment, the most alluring part of any of these markets is the food and drink – which varies entirely by culture to culture and country to country. From Budapest's mouthwatering food stalls serving stuffed cabbage and fall-off-the-bone pork neck to Dresden, German's diverse and abundant collection of divine sausages, soft-baked strudels and stollen cake, you'll quickly see that the charm of these markets doesn't lie in the presents, but the dishes.
Bologna, Italy
Italy probably doesn't come to mind when you think traditional Christmas markets, and that's because most people flock to the medieval streets of Germany, Austria, England and the Czech Republic. However, the country – especially the northern city of Bologna – boasts one of Europe's most delicious holiday markets. Bologna has long been regarded as one of Italy's most gastronomic cities and the city's flair for all things pasta, cheese and Bolognese sauce comes alive during Christmastime. Sitting right in front of the 12th century San Pietro Cathedral and the large piazza is the primary market, Fiera di Natale (open November 20 – December 26). While you're strolling, be sure to pick up a few bags of torrone, a Bolognese holiday sweet that's made from festival nougat, almonds and honey. You'll also find stalls selling house made cheeses (like buffalo mozzarella and burrata), horse meat sausages (which is tastier than it sounds) and bowls of fresh made tortellini and Bolognese sauce. You'll also find Italy's version of mulled wine (which is similar to Germany), crispy flatbread pizzas topped with slow cooked ragu or some sweeter chocolate tortellini filled with ricotta cream. For souvenirs, you'll find a cute collection of small figurines for a nativity scene and plenty of wooden bowls, spoons and other trinkets.
Budapest: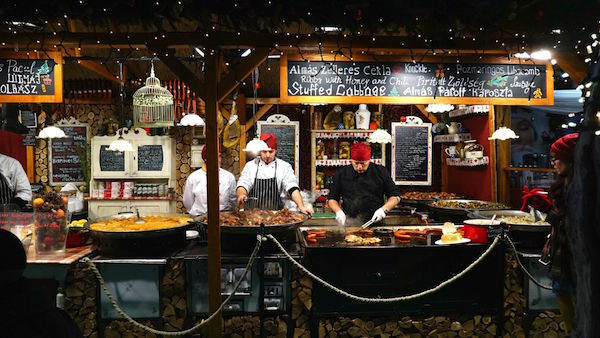 Photo: Claire Gallam
Decorated like Hungarian village cottages, market food stalls that make up the bulk of the Vörösmarty tér Christmas market (open November 10 – January 1) in Budapest serve some of the city's best (and most authentic) dishes. Kicking off in mid-November and located in the center of the Pest district right near the famed Fashion Street, the market is home to over 150 brightly lit, evergreen decorated market stalls selling everything from hand-blown glass necklaces to soft blanket scarves. The food area sits in the center of the market, adjacent to the large well-lit Christmas tree. The selection of dishes is almost dizzying, with vendors selling plump grilled sausages topped with spicy mustard and paprika; mulled wine spiced with fresh fruit; puff pastry chimney cakes that are cooked on an open spit and rolled with chocolate or cinnamon sugar and the largest (and crispiest) potato pancakes you can find. For something truly Hungarian, opt for a warm duck or beef filled cabbage roll doused in a fresh tomato sauce or a succulent tray of melt-in-your-mouth pork knuckle served with caramelized onions and peppers. There's even homemade pizzas (called toki pompos) cooked in wood-fire grills and flódni, the traditional Jewish-Hungarian plum and poppy seed cake. Flanking the charming market stalls is another can't miss café – the Varosliget café – which serves some of Hungary's best iced wines and overlooks the ice rink.
Copenhagen: Copenhagen oozes Christmas charm, especially in their famed Tivoli Gardens (open November 19 – December 31). The expansive 80,000 square meter playground-meets amusement park-meets gardens turns into a holiday masterpiece with more than four miles of light displays artistically hung, a special Christmas market (serving up Yuletide inspired grub), Russian and Nordic inspired stalls and a large ice rink that's often filled to the brim with bundled up children and adults sipping mulled wine as they twirl. The food isn't typical theme park cuisine either – thanks to Copenhagen's reputation as one of the best gastronomic cities in the world. You'll find the normal Christmas eats, like spiced roasted nuts, along with some more creative dishes, like Danish inspired tapas or soft and buttery churros made Spanish style from Lune Spanskror. In addition to Tivoli, Copenhagen also has a market on famed Nyhavn Harbor (open November 11 – December 23). The pastel-painted harbor houses and shops are transformed into a fairy tale-esque Christmas market, filled with stalls selling traditional Danish specialties, like risalamande – a vanilla flavored rice pudding or roast pork open sandwiches with crackling. For a market fit for a gourmand, head to the market that sits in the center of Copenhagen's foodie district, or Kødbyen (the Meatpacking District, open December 10 – 11). Here you'll find some of the best street food served up holiday still, like churros, glogg, rich and creamy hot chocolate, Flæskesteg sandwiches (soft buns topped with roasted pork, red cabbage, mayonnaise, orange and pickled cucumber) and even spicy Indian curries served with freshly caught Denmark seafood.
Dresden, Germany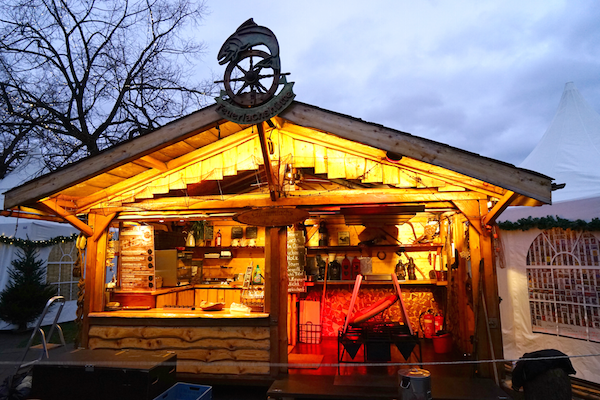 Photo: Claire Gallam
Nothing says Christmas cheer like a 46-foot Christmas pyramid. The antiquated town of Dresden, Germany is home to that and so much more during the holiday season – like a four-ton fruitcake, 280 ornately decorated stalls selling everything from advent calendars or carved wooden smoking figures that make up its most famous market – the Strielzelmarkt (open November 24 – December 24). The market, which is one of Europe's oldest, dates back to 1434 – which is where most of the quirky traditions (like the Christmas Pyramid, world tallest Nutcracker and even a Fruitcake Maiden that is stamped into the square of the Strizelmarkt then cut into pieces to be passed out to market-goers. If hearty chunks of fruitcake aren't enough to tide you over, sip on mulled wine and sample some of Dresden's other delicacies, like deep-fried dumplings, soft-baked gingerbread, roast beef, bratwurst and roasted almonds. If the tantalizing smells permeating from the stalls don't entice you, the sheer volume of food stands will.
London
In a city with more than 8 million residents, it's no surprise that you can find a Christmas market on nearly every corner starting in mid to late November. Because of the sheer size of the city, the Christmas cheer is spread throughout – from the official Norwegian stalls decked out on Trafalgar Square to the ice skating rink right in Somerset House. For foodies, some of the best fare can be found in East London at the Hyper Japan market (open November 25 – 27)on the Tobacco Dock. Here you'll find endless supplies of sake, stalls selling authentic crafts, art and kimonos and amazing Japanese cuisine – like Wasabi frosted cupcakes, hot bowls of miso soup, expertly crafted sushi and perfect slivers of sashimi and more in the bustling Eating Area. Another great market for serious noshing is the Urban Makers East Christmas market, which will be popping up in Mile End's Ecology Pavilion December 10 – 11th. Along with over 100 vendors selling hand-made crafts and gifts, there's the Urban Makers Feast, which features amazing bites from local chefs – like succulent pork sliders from Alibi Pantry, decadent chocolate tortes and layered banana cakes from the Glorious Bakery and mulled wine cocktails (spiked with bourbon) from Fly By Bars, to name a few. Smaller markets can be found popping up in the Natural History Museum, which installs a temporary ice rink (early November to mid January 2017); and the Greenwich Market (most of December).
Prague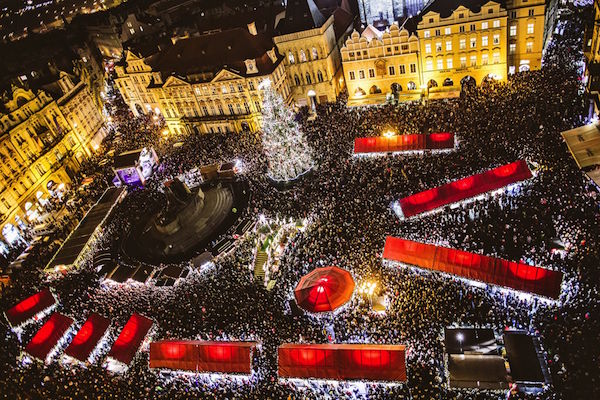 Photo courtesy of Prague Tourism Board
One of Europe's most enchanting (and picturesque) cities, Prague boast a collection of Christmas markets from November – January, with the most popular being the one situated on on the long slope of Wenceslas Square and the one right inside the medieval Old Town Square, which resembles a holiday post card. The stalls form around a giant Christmas tree (chosen from a different area of the Czech Republic each year), a detailed manger scene and the blend of Gothic, Baroque and Renaissance architecture that makes Prague famous. In the Old Town, dozens of brightly decorated stalls sell everything from handmade wooden toys to Bohemian crystal. Sweet tooth's will love the many pastry stalls, which sling out hundreds of Christmas treats, like honeyed gingerbread, vanockva (a braided pastry studded with raisins), sugar-coated nuts, vosi hnizda (nutty cookies made with a hefty amount of rum). There's also savory snacks available, like sausages boiled in wine, barrels of carp cooked in a myriad of ways and, of course, big pots of svarene vino (sweet mulled wine) and mead. The Wenclesas Square market, which is flanked by an imposing artificial Christmas tree, features a large collection of stalls selling of Prague's most delicious street eats. As you wander through the brightly lit trees and the wooden stalls, you'll find mouthwatering specialties – like barbecued pork served on pretzel buns, blood sausages, roasted conkers (or chestnuts), beer and mead, steaming bowls of rybi polevka (fish soup) and big bowls of potato salad. You'll also find it nearly impossible not to smile as you walk past the Christmas Carolers, who are donning traditional Czech attire.
Rothenberg ob der Tauber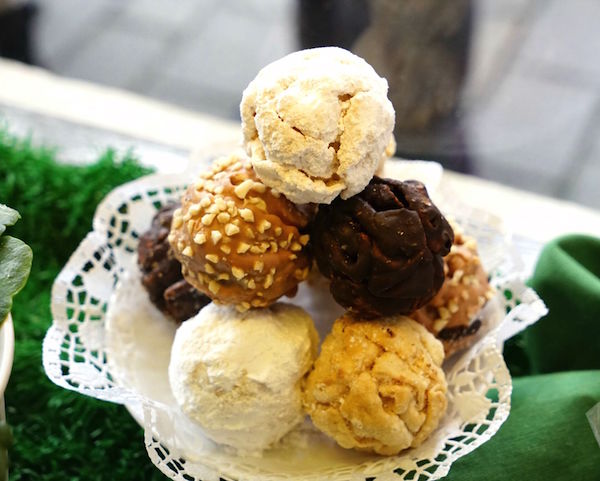 Photo: Claire Gallam
You can't find a place more decked out in the holiday spirit than Rothenburg ob der Tauber, a small town nestled in the Franconia region of Bavaria. Home to the world-renown Christmas store (Käthe Wohlfahrt) and more nutcrackers than a small town should have, it has a very Disneyworld-esque charm. The unspoiled beauty of the city and the perfectly restored medieval architecture (that dates back to 1170). The highlight of the village (aside from the old town) is the Reiterlesmarkt (open November 25 – December 23), which sits right below the historic clock tower. The twinkling lights and imposing Christmas tree are beautiful, but it's the food, whose rich aromas permeate the air with a mouthwatering aroma as soon as you step into town, that's the real draw. The market is more intimate than others on the list, but that doesn't mean there's not an abundance of rich, hearty eats to enjoy as you stroll. Sample the city's famous pastries, like the Rothenberg Schneeball, which is made from strips of deep fried dough coated in chocolate or powdered sugar; Windbeutel cream puffs that are filled with sweet or savory fillings or the infamous Schwarzwalder Kirschtorte (aka the Black Forest Cake). This multi-layered cake is filled with sweet dark chocolate, cherries and fluffy whipped cream. Beyond just sweets, you'll also find ample bratwurst stands selling all varieties of this popular meat, aromatic orange and cinnamon mulled wines, braised cabbage with thick slices of bacon and crispy fried potato pancakes. If you're more of a beer connoisseur, sip on a pint of Hefeweizen at the Zur Holl Beer Garden, which is just a block from the market.
Vienna: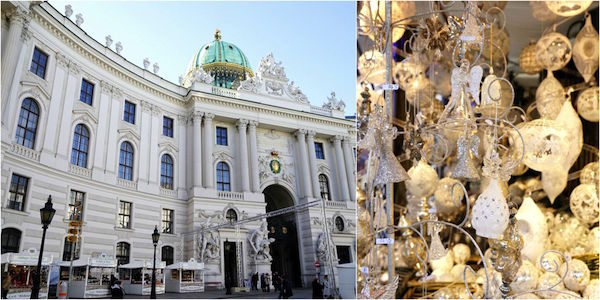 Photo: Claire Gallam
Like an advent calendar come to life, Vienna truly radiates holiday charm from mid-November until January. With more than 10 markets to choose from and thousands of sweet and savory sweets awaiting at each, you can easily spend your entire visit eating your way through each spectacularly different markets. Even though thousands of visitors' swarm to the picture-perfect city for the markets, it's just as popular for the locals – who dub the holiday a true social affair. No matter what the day, you'll find locals dressed to the nines sipping Punsch or Glühwein (the local mulled wine), noshing on freshly roasted chestnuts and spicy Christmas cookies. The dishes served vary from market to market. At Rathausplatz (open November 17 – December 24), one of the largest markets that sits next to the advent window plaqued Town Hall, boasts local handicrafts, enchanting tree illuminations and cream-filled pastries, sausages and pretzels that are the size of your head. At Schönbrunn Palace market (open November 23 – December 26), the backdrop is breathtaking (thanks to the impressive palace and its outbuildings behind) and the food stalls are a throwback to the Victorian area, serving soft-baked breads, melted cheese on crispy bread, flakey apple strudels and, of course, endless varieties of the city's famed sachertorte.
Claire Gallam is a seasoned writer and photographer with a passion for food and travel. She has spent time in more than 40 countries and hundreds of cities.