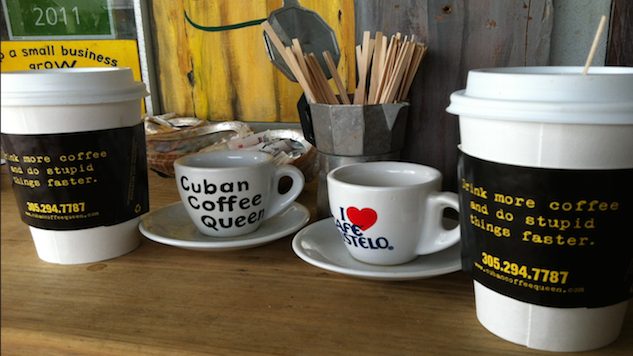 Key West is the southernmost point of the U.S.—it's actually closer to Cuba than Miami, which was probably why it has had a thriving Cuban community for generations (it was infamously the first stop for the Mariel boatlift). For a place that's only 7.5 square miles, there's a surfeit of Cuban coffee—touristy kiosks, restaurants, coffee shops. Cuban coffee culture is an ingrained part of Key West culture, and these shops have themselves become tourist destinations.
Cuban coffee, also known as café Cubano, originated when espresso machines were first imported from Italy. With all the sugar cane fields, Cubans will often heavily sweeten the espresso, sometimes holding a lump of sugar—traditionally, a crude brown sugar called demerara—between their lips while drinking. A "Cuban pull" adds this brown sugar to the espresso cup, the heat from the coffee hydrolyzes the sugar so you end up with an almost gooey cup. Cuban coffee is also a culture, a social event that brings people together throughout the day. Mario Machado, a Cuban-American doctoral student who studies agriculture and food systems in Latin America says "coffee represents more than just a beverage, but a part of the Cuban cultural identity."
While coffee culture is as robust as ever in Cuba, for Cubans, the coffee is actually sub-par, doled out as part of a ration system, often cut with cheaper ingredients, like roasted soy. While tourists rave about the fresh-roasted coffee at the hotels and the airport, Carmen Machado, a writer, recalls her relatives getting their coffee from "rations." Given centralized government control over agriculture, Cubans had to make do with what they had. Similarly, Machado said, "my relatives served us seafood—frozen and imported from Asia because the fresh seafood goes to hotels and tourists even though it's an island nation, its people don't eat fresh fish." She has fond memories of them drinking it, highly sweetened, throughout the day and into the night, coffee made Italian style in metal espresso pots called cafetera over the stove.
Professor Evelyn Hu-DeHart, Director of the Brown (University)-in-Cuba program, says people in Cuba cannot afford to purchase good coffee, so the habit of sweetening it may have evolved to mask the low quality, while also reflecting of the centrality of sugar to Cuba's agricultural history. She goes on to point out that even the ubiquitous stovetop espresso pots in Cuba are now "made in China, not Italy."
Cubans brought their coffee culture to the U.S. by roasting their own coffee, which is packaged and sold throughout the country in supermarkets; the two main brands of Cuban coffee used Key West are Pilon and Cafe Bustelo; the expatriates who started Cafe Bustelo settled in East Harlem, which is why you'll find the distinctive yellow cans in any bodega in New York. Mario Machado, (who happened to be drinking Cafe Bustelo as we spoke) said that, while the flavor profile of the beans is important, what often makes Cuban coffee taste so rich is the preparation, which is much stronger than most Americans are typically used to drinking(i.e, using a cafetera, whether Chinese- or Italian-made).
In Key West, then, excellent Cuban coffee is everywhere, at the food trucks lined up for the beachgoers at Smathers Beach and Cuban restaurants. If you're looking for something more accessible, Key West's Starbucks is probably most prominently positioned—at the base of a hotel on the main drag. Start your day with a café Cubano like Papa Hemingway. Later in the day, get a colada, a large espresso served in a styrofoam cup with three or four lumps of sugar thrown in. A colada comes with supplemental demitasse cups—the drink is meant to be shared. Enjoy with friends in the shade as you watch the world go by.
1. Frita's Cuban Burger Cafe
425 Southard St.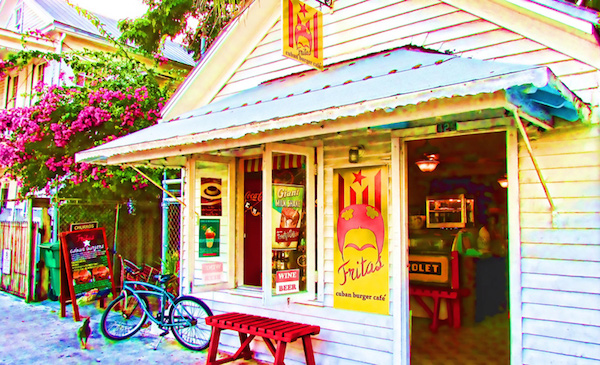 Photo courtesy of Frita's Cuban Burger Cafe
Most Cuban coffee menus for tourists just list espresso and cafe con leche. But a stop at the bright, narrow Frida Kahlo-themed Frita's Cuban Burger Cafe brought me to Marcia, the Cuban-American owner, who set me right. For afternoon drinking, she said, skillfully working amidst the narrow coffee bar that is the transition space between an airy takeout window and a charmingly cluttered one-room restaurant, Cubans generally don't want a something like a heavy like a cafe con leche. She handed me an espresso that had the tiniest injection of steamed milk, the milk foam blending seamlessly into the espresso foam—this was a cortadita (which wasn't on the menu). It was delicious and just the right blend of espresso, sugar and milk for a pick-me-up. The tiny storefront just off the main drag was filled with unhurried diners, langorous locals and tourists alike. I just wished I had had time to try some of their conch fritters, which smelled delicious.
2. Best Coffee in Town!
1222 White St.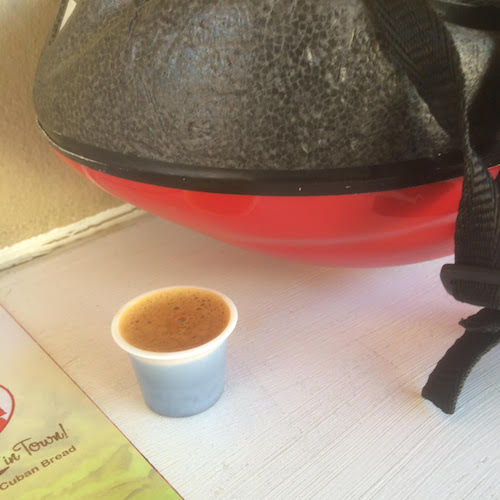 Photo by Marie Lee
This spot shares space with a laundromat in the first floor of an apartment building. The space isn't really more than a takeout window, so I would have missed it without their bright banner. My eye was subsequently caught by the neon vests of all the construction workers crowding around the takeout window—they were there getting their caffeine fix ("Cuban speed," they called it). Here, I was introduced to the concept of the bucci, the thimbleful of espresso, sweetened or unsweetened, that allows people to sip throughout the day. It was tiny but powerful. I had opted to have it unsweetened, and its smoky goodness was so intense I almost couldn't finish what looked like a negligible amount of liquid. I biked back in half the time it took for me to get there.
3. Five Brothers
930 Southard St.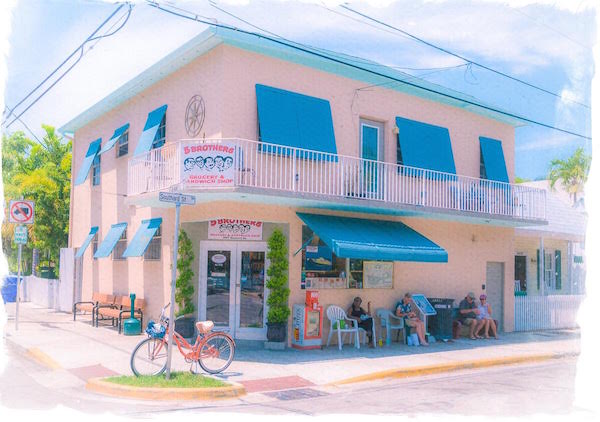 Photo courtesy of Five Brothers
Five Brothers is like a Cuban 7-11, a one-room store with a counter in the back for takeaway only. For Cuban coffee, it's the place where the locals go. It's a bit off the beaten path, plunked in the middle of a residential neighborhood—expect to see a line. Their café con leches are thick and sweet. The store opened in 1978 and is now owned by Heriberto "Pepe" Paez Jr., the son of one of the original Five Brothers. He's always in the place chatting, which distract him from preparing a dozen coffees at once. There's no seating except for a few plastic chairs out front—not a bad way to sit with your coffee, for which even a small contains two shots of espresso. Five Brothers originally was a grocery store and still maintains a charming mix of provisions: plantain chips, guava paste, wine and racy postcards.
4. Cuban Coffee Queen
284 Margaret St.
5 Key Lime Square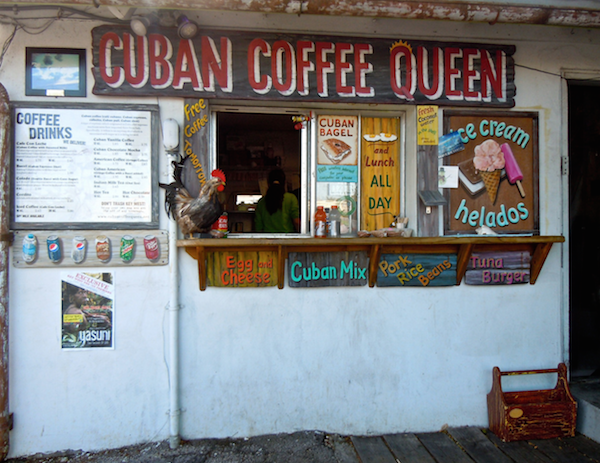 Photo by dcwriterdawn, CC BY-ND 2.0
Cuban Coffee Queen has two branches, a salt-box shack kiosk near the wharves of the historic Key West Seaport and a coffee bar that also sells food on Duval Street, the main drag. This seems more like a place you'd see in Williamsburg, complete with tattooed hipster baristas. It's not traditionally Cuban, but their Cuban iced coffee (with coffee ice cubes) combined both Cuba and Key West's tastes. The hipster barista made sure to tell me they use Cafe Domino instead of the usual Pilon or Cafe Bustelo because "in a blind taste test 99 percent of our customers preferred it." The Duval Street spot is in the heart of touristy Key west, an open-air but shaded space where you can watch the local roosters strut as you sip your coffee. If it gets too hot out for you, they also deliver.