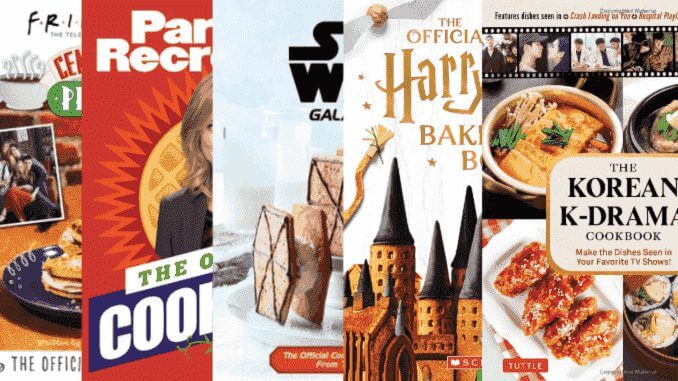 Good cookbooks offer a way of immersing yourself in different cultures, whether showcasing the basics of French cuisine or highlighting Gullah Geechee foodways, and sharing that food with people you care about. As the late American novelist and Gourmet columnist Laurie Colwin wrote in More Home Cooking, "Cookbooks hit you where you live."
If this is accurate for regular cookbooks, then it is arguably more so for cookbooks dedicated to pop culture properties like movies and TV shows—who doesn't want to indulge in some fandom-related cookery based on fictional cultures?
Pop-culture cookbooks let us dive more deeply into worlds we already love or are just getting to know. And to that end, here are five cookbooks that will let you linger in your favorite fandom's kitchen a little while longer.
---
1.
Friends:
The Official Central Perk Cookbook
by
Kara Mickelson
While this immersive cookbook is essential for Friends fans, the depth and breadth of its recipes make it engaging even for home cooks who are more casual viewers of the hit TV series. Packed with classic stills, well-known quotes and photographs of its 75-plus featured dishes, this cookbook's recipes also include header notes explaining their connection to a particular Friends episode.
As expected for a book thematically tied to Central Perk, the beloved coffee shop frequented by the six friends, the beginning chapter is "Sips and Brews," with a guide to proper coffee drink terms and ratios (espresso/milk/foam) and detailed preparation notes. Even the most inexperienced barista can feel confident whipping up Phoebe's Ube Coconut Latte Macchiato ("The One With the Videotape") or Julie's Hong Kong Milk Tea Boba ("The One With Ross's New Girlfriend").
Subsequent chapters—including "Morning Perks," "Midday Perks" and "Not On a Break Sweets"—introduce robust recipes such as Chandler's Smoked Gouda Breakfast Sandwich ("The One With the Thumb"), Joey's Rosemary Truffle Parmesan Potpourri Chips ("The One With Ross's Teeth) and Monica's Giant Chocolate Chipper/Chopper Nutty Cookies ("The One With the Cat"). 
Prospective cooks should know that while the ingredients required for most of these recipes are widely available, and the preparation techniques are not complicated, the recipes are a bit fiddly, often requiring numerous steps to complete. The results, though, will be worth it: You'll undoubtedly echo Joey, who once said, "I had to eat everything."
Recipes to try: Monica's Perfect Flaky Pain au Chocolat ("The One Where Ross Dates a Student"), Joey's London-Style Strawberry Smoothie ("The One With Ross's Wedding") and Rachel's Fire-Grilled Veggie Flatbread ("The One With the Joke")
---
2.
Parks and Recreation: The Official Cookbook
by
Jenn Fujikawa
One of Parks and Rec's lasting legacies is its characters' many iconic quips. Perhaps Leslie Knope's (Amy Poehler's) most quintessential is, "We need to remember what's important in life: friends, waffles, work. Or waffles, friends, work. Doesn't matter, but work is third."
Given this, it's fitting that every section of the Parks and Rec cookbook, from "Why Would Anyone Eat Anything Besides Breakfast Food?" to "Pawnee City Hall Potluck," begins with a waffle recipe: Classic Waffles, Distraction Waffles, Waffle Sundaes… And, just like the show, the recipes are accessible and lighthearted. Many of the recipes are vegetarian and gluten-free, with the notable exception of those in "If It Doesn't Have Meat, It's a Snack," the section dedicated to meat-devotee Ron Swanson (Nick Offerman).
Make a few recipes with this cookbook, and you'll have everything you need to host your own Galentine's Day or Harvest Festival. If you're lucky, your invited guests might even survey the spread and respond by quoting Ron: "I am going to consume all of this at one time because I am a free American."
Recipes to try: Fry-Fry Chicky-Chick Waffle Sliders, The Most Amazing Grilled Cheese Sandwich Ever Made and Uteruses Before Duderuses Caffe Mocha 
---
3.
The Official Harry Potter Baking Book
by
Joanna Farrow
J.K. Rowling's transphobic statements have made her a problematic figure, but the food in the magical world she created still looks good enough to eat. Harry Potter fans will recall that in The Sorcerer's Stone, Harry initially learns he's a wizard from the Hogwarts gamekeeper Rubeus Hagrid. At this moment, Hagrid also presents Harry with a slightly squashed cake, decorated with the words "Happee Birthdae Harry," making it the first time Harry can remember his birthday being celebrated.
Using this baking book, you too can create Harry's delicious birthday cake or choose from 42 other recipes classified by wizarding skill level (read: difficulty) from easy to complex, including Dark Detector Scones (easy), the Monster Book of Monsters Cake (complex) and Harry's very favorite Treacle Tart (intermediate). 
The recipes—grouped into savory and sweet categories—are accompanied by photographs showing the finished product, stills from the movies and facts about Harry Potter's world. With plenty of vegan-friendly and gluten-free choices, every Harry Potter fan will have something bewitching to bake and eat. 
Recipes to try: Honeydukes Haul Cake (intermediate), Hogwarts Gingerbread Castle (complex) and Whomping Willow Cheese Straws (easy)
---
4.
Star Wars Galactic Baking: The Official Cookbook of Sweet and Savory Treats From Tatooine, Hoth and Beyond 
by Insight Editions
Ever wondered what characters in the Star Wars universe eat between epic lightsaber duels and various quests to thwart the Empire? It's rumored that among Mandalorian chefs in the know, this cookbook is The Way. 
Recipes are grouped by location—green worlds like Naboo and Endor, desert worlds such as Jakku and frozen worlds like Hoth—and are further identified as Dark Side (rich and indulgent), Light Side (healthier) or Lightspeed Prep (ready in 30 minutes or less). 
This cookbook is less exhaustive than some of the others featured here; beyond classic stills from the first six movies, little else connects the baker to a galaxy far, far away. However, the recipes are fun: You can decorate adorable cupcakes with BB-8 on top for a Star Wars-themed birthday party; make Mos Eisley Cantina Munchies, a sweet, salty and spicy snack mix perfect for your binge-watch of the latest Star Wars TV series; or whip up a batch of Rey's Training Course Energy Bites for some protein support after a rigorous workout.
Recipes to do or do not*: Tie-Fighter Ice Cream Sandwiches, Rancor Claws (the Star Wars version of a bear claw pastry) and Keshian Spice Bread (cinnamon coffee cake with pecan streusel topping) 
*There is no try. 
---
5.
The Korean K-Drama Cookbook: Make the Dishes Seen in Your Favorite TV Shows
by
Choi Heejae
From music to TV shows (known as "K-dramas"), Korean pop culture is conquering the world. Food plays an integral role in K-dramas, whether prepared as a home-cooked meal to demonstrate one character's affection for another or consumed at a high-end restaurant to highlight a character's social status. Considering this attention to food, a cookbook themed around the mouthwatering foods K-drama fans see in their favorite shows was inevitable.
The book, created for English-speaking audiences, begins with a list of Korean ingredients used in the 61 featured recipes. These range from items commonly available in U.S. grocery stores, such as gochujang and rice vinegar, to ones that might require a trip to an Asian grocery store, like salted shrimp or yuja tea. The cookbook's author, Choi Heejae, provides alternatives and substitutions for ingredients when possible.
Heejae has organized the recipes into six chapters, including "Classic Korean Dishes That Appear in K-Dramas," "Dishes That Have a Starring Role in K-Dramas" and "Homemade Kimchi and Comforting Hot Pots." The book's pages are full of delectable-looking photos highlighting preparation steps as well as finished fare, along with notes indicating which K-drama and episode the dish appears in. You may want to try the potato pancakes the nosy neighbors in Crash Landing on You episode 3 brought when they wanted to meet Jeong-hyeok's "fiancee" or the Korean rolled omelet served as a bar snack in Mystic Pop-Up Bar episode 9. Some of the recipes are complex, requiring numerous steps to complete, but the results are undoubtedly delicious. 
Recipes to try: Bibimbap (Romance Is a Bonus Book), Crispy Rice (Crash Landing on You), Noodles in Spicy Black Bean Sauce (Hospital Playlist) and Korean Tonkatsu (Familiar Wife)
---
Other tasty pop culture cookbooks to explore:
TV 
Emily in Paris: The Official Cookbook by Kim Laidlaw
A Feast of Ice and Fire: The Official Game of Thrones Companion Cookbook by Chelsea Monroe-Cassel and Sariann Lehrer
Firefly: The Big Damn Cookbook by Chelsea Monroe-Cassel
Seinfeld: The Official Cookbook by Julie Tremaine and Brendan Kirby
Movies
Alien: The Official Cookbook by Chris-Rachael Oseland
The Princess Bride: The Official Cookbook by Jenn Fujikawa