Foods You Can Grow in Your Apartment
Photo by Devi Puspita Amartha Yahya/Unsplash
Food
Lists
food culture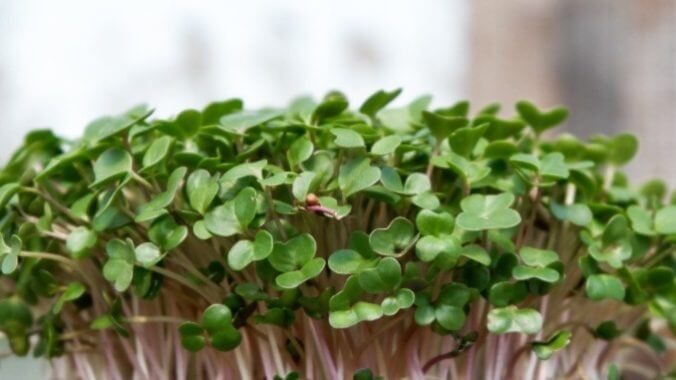 As prices at the grocery store reach an all-time high, some people are cutting back on their favorite foods and getting creative with feeding themselves and their families so they can make ends meet. If you live in an apartment like I do, you may be jealous of those who have the land available to grow some of their own food. You may be surprised to learn, though, that almost anyone can grow food at home—even people who live in apartments.
The following are some of the easiest foods to grow in an apartment. Some of these foods involve an investment, while you can start growing others without spending a cent. Let's take a closer look so you can start growing your own food at home.
---
Microgreens
Have you looked at the price on a package of microgreens lately? They're not cheap, especially when you consider that you're getting very little food in an average package. But conveniently, they're one of the easiest veggies to grow at home. You'll need to get a grow mat and snag some seeds, but once you do, you'll be all set—just put the tray of seeds by the window, and watch them grow. Don't have much natural light in your home? No problem. Just use an LED grow light instead of putting your microgreens near the window.
Microgreens usually only take two to three weeks to grow and harvest, so you don't have to wait long to add a crunchy, fresh bite to your next salad.
---
Mint
Mint is one of the best plants to grow in your apartment because it's so, so versatile. You can use it for your homemade ice cream in addition to adding it to your favorite salad or using it as a topping for a savory dish. But at the store, mint can be pricey, so growing it at home makes sense. Make sure to keep it in an area where it gets some sunlight as well as some shade. Ideally, you'll place it near a window that's sunny in the morning and shaded in the afternoon. Mint grows exceptionally quickly—so quickly, in fact, that you may be giving your neighbors your extras.
---
Mushrooms
Mushrooms require more of a time and money investment than most foods you can grow at home, but we think that investment is well worth it, especially if you're the kind of person who likes eating more obscure mushroom varieties. First, you'll have to get a mushroom cultivation kit, which will provide you with everything you need to grow the mushrooms of your choice. Most of the time, these kits will come with a growing medium that's already been inoculated with mushroom spores. Make sure to keep the mushrooms moist and in a relatively dark space, and it won't be long before you'll be able to harvest them.
---
Scallions
Most of us just throw away the ends of our scallions, or green onions, once we're done using them. But if you want to make sure you always have scallions on hand, you should keep those ends and stick them either into a glass of water or a pot of soil. Before long, you'll notice that your scallion ends will begin to grow again, eventually giving you new, fresh scallions you can easily use in your cooking. This process really is just as simple as it sounds—there's no reason not to do it.
---
Lettuce
You know how you're going to start saving the ends of your scallions? You can do that with your lettuce too. Put the base of your head of lettuce in some soil after you're done chopping your salad ingredients, and put the lettuce in a place where it gets plenty of sunlight, preferably near a south-facing window. It won't be long before you'll have fresh lettuce you can grab whenever you need to add some green to your dish.
---
Parsley
Do you always forget to water your plants? If so, then you may want to try growing parsley, as it's relatively drought tolerant. After you plant your parsley in soil, you'll want to keep it near the window, as it needs plenty of sunlight. Then, you can snip off as much as you need whenever you start cooking. Since parsley is so easy to grow, it's appropriate even for beginner home gardeners.
---
Basil
Like the other herbs we've mentioned here, basil can easily grow indoors, though you'll have to be more careful that it doesn't get too dry—basil can get droopy quickly. This plant grows super-fast, so with just a plant of two, you can have a steady supply of basil anytime you need to add it to a salad or a pasta dish. Basil needs to get some sunlight, but it shouldn't be in direct sun all day long.
---
Samantha Maxwell is a food writer and editor based in Boston. Follow her on Twitter at @samseating.