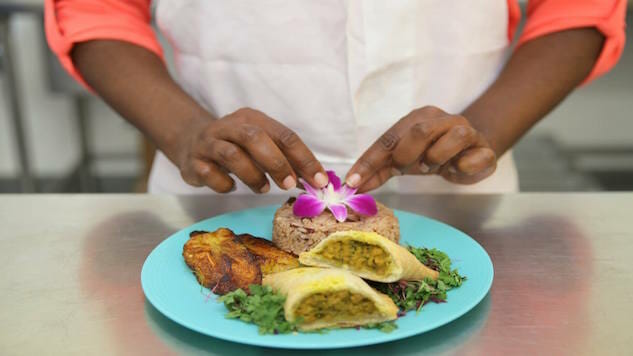 Food is considered exceptional when it's, "just like mom or grandma used to make," and yet career chefs and award-winning restaurants are disproportionately represented by white dudes. These guys aren't malicious when they cook up the perogies of the century, but their unparalleled success as an ethnic/gender group reflects society's focus of resources on this particular demographic, leaving the delicacies of women, people of color, immigrants and other marginalized groups at home in the kitchen.
Which is where La Cocina comes in. According to their website, "the mission of La Cocina is to cultivate low income food entrepreneurs as they formalize and grow their businesses by providing affordable commercial kitchen space, industry-specific technical assistance and access to market opportunities. We focus primarily on women from communities of color and immigrant communities."
The San Francisco-based organization addresses the resource gap in the world of food by providing these vital services, as well as a community of support.
I attended their most recent conference, which featured panel after panel on how to get started in the food industry, from reducing food waste to building a business that includes social justice as a key pillar.
It's expensive to build a business of any kind, but the food world is particularly daunting. Consider that restaurants getting reviewed are the ones who can afford a PR company to bring in journalists, while the hole-in-the-wall with the most fantastic dim sum you've never had is unable to attract a crowd due to lack of startup funds or social media know-how. Or maybe the woman with the best goddamn salsa recipe this side of the Mississippi is highly motivated to get her family's generations-old recipe onto the shelves at Whole Foods, but wouldn't even know where to begin. With the status quo the way it is, we're all missing out.
If any evidence is necessary that what La Cocina provides is sorely needed, look no further than my interaction with a panelist after the "How to get investment as a women-owned business" discussion. The women on the panel agreed that the best strategy for getting funding was to, "act like a man," in that women should ask for more money to appear more ambitious, and be aggressively assertive.
I asked if we as women could attain funding without having to take on more masculine characteristics, to applause from the audience. I say that to illustrate the audience's support in that notion, not to pat myself on the back: I'm not the only person who thinks women shouldn't have to act like dudes just to be seen.
After the panel I was approached by one of the two male panelists, who put his finger in my face and told me there actually isn't gender inequality in the world of funding businesses, it's just that women need to learn how to speak up.
So, there you go.
La Cocina isn't the only company out there committed to breaking down some of the barriers to entry for marginalized people. FoodLab Detroit has created a collective of socially-minded businesses that support one another in growing economic success without sacrificing a sense of community. Similar organizations that support low income entrepreneurs are popping up all over, so this country can look forward to a more diverse food landscape in the future.
After all, what is "American Food?" This topic was addressed at the conference, and it makes for phenomenal discussion. This is undeniably an immigrant nation: even the current president, who is very much anti-immigration, has a mother who was born in Scotland and paternal grandparents born in Germany. Taking the president's immediate heritage into account, haggis and sülze (head cheese) might be the most American foods on the menu right now.
The point is, this country is a beautiful melting pot of every kind of person, and the food marketplace should reflect this diversity unique to the United States. Being born into money shouldn't be the determining factor for what we get to eat, so thanks to La Cocina and others for evening the playing field.
Ali Wunderman is a semi-nomadic travel, food and wildlife writer. She is founder of The Naturalist and author of the upcoming Moon Travel Guide to San Francisco.