How ASMR YouTube Videos Introduced Me to the World of Thai Desserts
Photo by Markus Winkler/Unsplash
Food
Features
food media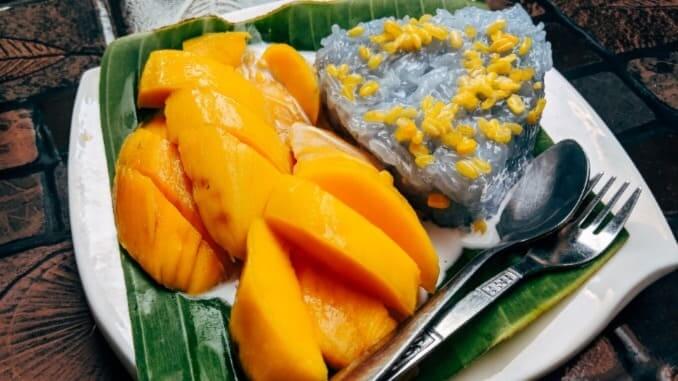 Mango and sticky rice is undoubtedly among the most popular and well-known Thai dessert in the U.S. When I was 18 and living on my own in Dallas, I ordered Thai food to go. I had become absolutely obsessed with pad see ew, and I decided to try mango and sticky rice for the first time. Like most, I fell completely in love. The mild yet decadent nature of the glutinous rice paired with the vibrant sweetness from the mango nearly knocked me off my feet.
For a while, mango and sticky rice was the only Thai dessert that I had really heard of. Fast forward to 2020 during the height of the covid-19 pandemic. I'm not really sure how, but during the seemingly endless nights of doom scrolling, I stumbled upon an Instagram account for @sasittube. I had never heard of ASMR before, and at first glance, I thought it was the most bizarre trend. However, I quickly learned that I was one of those people who was both enticed and fascinated by watching these creators simply… eat. As someone who doesn't typically enjoy the sound of people chewing, I couldn't believe my ears. Although some of her most popular videos featured foods like crab legs and sushi, I was drawn to her videos that centered around Thai desserts.
I couldn't believe how beautiful all of the little pastries and treats were. From soft and silky coconut jelly to pandan layer cakes, my mouth watered as I dove into this woman's YouTube channel. Then, I was introduced to luk chup (or look choop). I watched as @sasittube picked up what appeared to be a miniature carrot, took a bite out of it, and then showed the center to the camera. I had no idea what it tasted like, but I knew that it looked incredibly appetizing. As I examined the rest of her plate, I saw miniature apples, bananas, pears and eggplants. They were so beautiful and shiny, and they looked more like little pieces of art than they did candy. I was totally hooked, and more than that, I needed to find a way to try them, immediately. Thankfully, I live in Los Angeles. Having access to such diverse cuisines is one of the biggest benefits of living in a culinary hub like LA, and I knew exactly where I needed to go: Thai Town.
With one quick Google search, I found Bhan Kanom Thai, a shop dedicated to the art of Thai desserts. Despite living on the Westside, I hopped in the car and made the trek to Thai Town. Upon walking into Bhan Kanom Thai, the fragrant aroma of cooked coconut and sugar filled the air. I scanned the many rows of snacks and candy until, finally, my eyes landed on the refrigerator in the back… and there they were. Instinctively, I grabbed two boxes. I somehow knew I was going to love them. I then decided to browse and see what else I would recognize. I saw coconut jellies in the fridge, and I knew they were a must-try. Another dessert that caught my eye was khanom krok. I also snagged some pandan layer cake, coconut pudding and khanom tuay.
I made my purchase, ran to my car, and immediately cracked it all open. First things first: the luk chups. I had learned that these beautiful desserts were made from mung beans, while the shiny exterior came from a gelatin coating. I had never tried mung bean before, so I didn't really know what to expect. That said, when I bit into the lup chuk, I was pleased to find that this mild yet slightly sweet creation was beyond delicious—so much so that I ended up eating an entire box before the day was over. I thoroughly enjoyed the rest of my treats as well, but to this day, the kanom tuay is my all-time favorite treat.
Though it may seem like a somewhat strange and silly way to pass the time, I am so thankful to have discovered this very specific and unique side of the internet featuring food ASMR videos and mukbangs. I have been able to learn so much about different foods and cultures that I might not have been exposed to otherwise. I guess that's a testament to the power of the internet (and the strange art that is ASMR).