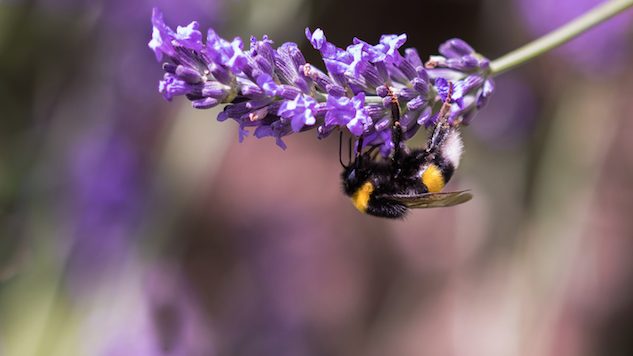 Of the 100 crop species that provide 90 percent of the world's food, more than 70 percent of them are pollinated by bees. Nuts, fruits and even root vegetables; they're all here thanks to bees. Bees are an essential part of our food chain — we all depend on them for our own survival — but today they are threatened by colony collapse disorder, putting our entire food system at risk.
"Pollination by insects is essential for many plants to produce healthy fruits and seed," says Hilary Dahl of Seattle Urban Farm Co. "The majority of the food we eat is pollinated by bees and other flying insects. Without insect pollination most fruits and vegetables will not set fruit at all or the fruit will be incomplete and likely to rot or fall off the plant."
If you have a little garden space, or even just a balcony with room for pots, planting a bee-friendly garden is a way to ensure that these important pollinators have the habitat they need to survive. "An effective bee-friendly garden doesn't have to be large, nor does it have to be complicated," write Kate Frey and Gretchen LeBuhn in The Bee-Friendly Garden, an excellent resource for anyone looking to bring more pollinators to their garden. "You can begin with a bare site and develop a bee-friendly garden from scratch, or you can simply incorporate some bee-friendly plants into an existing garden."
By planting a bee-friendly garden, it's not just the bees that will benefit. Many of the same plants that bees love also attract beneficial insects, ones that will help you to deal with pests and infestations. Ladybugs for example can be used as natural aphid control, and ground beetles help to protect against caterpillars and slugs.
If you're looking to plant a bee-friendly garden this spring, we've rounded up a few helpful tips.
Go Organic
Keep pesticides and chemicals out of your garden to keep the bees thriving. This goes for plants as well; some nursery plants are treated with bee-killing insecticide neonicitinoids. Opt for certified organic plants and seedlings to ensure that they're safe for your garden and the bees.
Plant What's Right for Your Area
Common bee-friendly plants are cosmos, borage, cornflower and sweet alyssum. There are a wide variety of plants that attract pollinators, but the most important part of choosing what you will add to your garden is figuring out what will work best for your climate and soil. Check out a zone map to determine what will be best for where you are located.
Plant a Mix of Annuals and Perennials
Annuals are great pollen sources for bees, and some will even reseed on their own. A lot of annuals are edible as well — both in the form of herbs and flowers — like basil and cilantro (particularly when they go to seed). Some people may prefer planting bee-friendly perennials, as they don't need to be replanted every year. Bee-friendly perennials include lavender, catmint, anise hyssop and thyme.
Keep Things Diverse
Bees and pollinators crave diversity, so mix things up. "Each species of insect prefers a different set of plants as their source of nutrients, breeding grounds, and habitat," says Dahl. "Increased biodiversity of plantings will prevent any one insect species from taking over the garden and help you attract a diverse population of beneficial insects to create a more balanced garden ecosystem."
Plant a Bee-friendly Seed Mix
If you don't know exactly what you want to plant, consider buying a packet of bee-friendly seeds. Many seed companies offer seed mixes designed to attract pollinators, like Seattle Seed Co.'s Bee Kind Pollinator Collection.
Plant with Different Seasons in Mind
"When creating your pollinator habitat, make sure to provide a range of plants, and select types that will bloom at different points of the season," says Dahl. "Pollinators come in all shapes and sizes and have unique lifecycle schedules, so you want to create a space that provides food for as many months of the year as possible. For example, bumblebees- which may of us associate with hot summer days, actually start to emerge in late winter and they need plants that provide food when they do!" Plant a variety of plants that will blossom in other seasons, like crocus for springtime and zinnias for the autumn.
Rewild Your Lawn
"A garden that is primarily lawn cannot be filled with life," write Frey and LeBuhn. A pristine green lawn is no friend to bees; sow it with wildflowers to provide food and habitat for the bees. This will also help to bring some biodiversity into your green space.
Build an Insect Hotel
Besides needing food, bees and other beneficial insects also need a home. You can find insect hotels at many gardening stores, but they are also simple to make at home using found materials.
Think in Color
Listening to Seattle Urban Farm Co.'s podcast Encyclopedia Botanica's episode on attracting beneficial insects and pollinators, I learned that bees love blue, purple and yellow flowers. Think bright when planting; it's good for your mood and the bees.
Plant in Clusters
Bees and other beneficial insects need habitats, so instead of a flower here and a flower there, plant them in groups. "Whether you have a huge garden or a just few pots out on your patio, you'll want to cluster your flowers together," says Dahl. "The intention is to create a habitat for these insects, so you want to be sure that you're providing them with a place to feed, sun themselves and rest. By clustering your plantings together, you're more likely to successfully create this diverse habitat." For example, plant a cluster of bee-friendly flowers at both ends of garden bed.
Give the Bees Something to Drink
You're not the only one who needs water on a hot summer day. Frey and LeBuhn suggest making "rafts" for bees by placing pieces of corkboard in water, which the bees can land on and access water without drowning. Small bowls and saucers can be put out for bees around your garden as well.
Main photo by Sandrine Néel, CC BY 2.0. Lead photo by marcuz85, CC BY-SA 2.0
---
Anna Brones is the author of The Culinary Cyclist and Fika: The Art of the Swedish Coffee Break, the founder of the print quarterly Comestible and runs Foodie Underground. Wherever she is in the world, she can often be found riding a bicycle in search of excellent coffee.