Nine Reasons Why Lancaster, PA is the New Portlandia
Like Carrie Brownstein and Fred Armisen, Lancastrians are Committed to Keeping Lancaster Weird and Foodie Focused
Food
Lists
Lancaster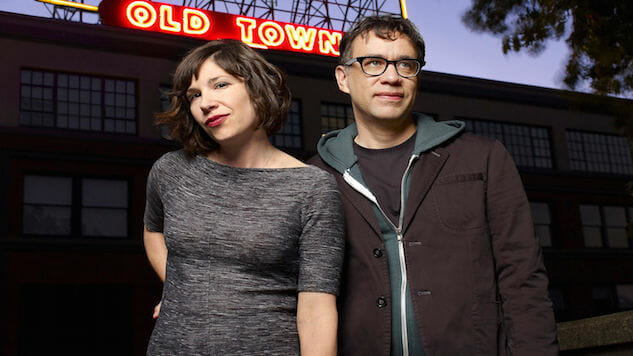 1. Locavore Lure
Farm to table is far from a fad in Lancaster. It's a long standing point of practice around town and in the better restaurants. Animal birth certificates may not be served alongside a menu, but seventh-generation dairy farmers Linden Dale Farms have names for each and every of their 90 or so goats.
If eating a goat milk-based cheese at a local restaurant in town, chances are it may be sourced from Linden Dale. Pop into Lancaster's Central Market to talk to proprietors Andrew and Mary. They may be able to tell you, the name of the goat behind your creamy dish.
To get to the meat of the matter, Rooster Street Butcher only works with local farmers who raise their animals on pastures, free of hormones, antibiotics and treated humanely. If going green, Green Circle Organics works with a local farmers co-op of six local farm families, all organic.
2. Brew Ha Ha
Similar to Portland and Seattle, Lancaster has its fair share of independent hippy dip cafes. Prince Street Cafe by Central Market is a buzz day into night. Cafe One Eight, Mean Cup and Chestnut Hill Cafe are great places to meet, read, write and wile the day away, as well as get a coffee. If geeky about the bean, head to Square One or Passenger Coffee.
Square One is an award-winning micro-roaster that specializes in small batches. They offer cold brew, plenty of coffee paraphernalia to get off on and the best back patio in town. Passenger is a beautiful bright historical space with some serious beans and cold brews that will keep you buzzing for days.
3. Pickle This
No one in town's looking to pickle plastic or the heel of a shoe like Carrie and Fred in Portlandia, but pickling is a tradition with Lancaster's Amish community. Yet pickling doesn't start and stop with Amish alone. Most locals can break into in depth conversations about the state and status of their pickling endeavors. Hit Amish Family Recipes in Central Market to get your pickled fill.
4. Munch a Brunch
Forget about aeropressing at home and hoof it to Rachel's Cafe & Creperie at 9:00 am on Saturdays and Sundays. If you arrive at 9:01, it could be half an hour before you get a seat in the Parisian styled cafe. On Orange also has people hopping in the cold waiting for warm seats inside. This place is well worth the wait and abuzz with locals. They serve Lancaster Brew and thick toasted bread with their omelettes, and their downstairs feels like you're eating in an old English inn.
5. Arty for the Party
The whole town is getting arty for the party. Chef Taylor Mason of local Maison fame serves up rustic, artisan, Neapolitan-style pizzas, pastas, cured meats and burrata cheeses at his the newly opened Luca. Hunger & Thirst's Gastropub and bar is a great place to take in the artisan ambiance or hit their marketplace and grab artisan cheeses and meats to go.
6. Viva La Vegan
This is far from LA, let alone Portlandia, yet the nightly crowds at the newly opened Root of Lancaster shows it's far from a passing trend. The local cold pressed company Rijuice is also all the urban rage.
7. Makin Whoopie
In Portland, there may be pies inside of cakes, inside of pies. In Lancaster it's all about the whoopie pie. It's its own religion. Drop into Shady Maple at Central Market and get an array of whoopies in several flavors. While there, pick up their ridiculously decadent donuts; peanut butter, maple bacon, s'mores. If you want to put them inside or on top of each other, that's an option too.
8. Beet It!
Similar to Portlandia, Lancaster is all about the beet. Every restaurant in town whips up their own version of a beet salad. Fenz's Roasted Beet & Spinach Salad with goat cheese is the city's best. Their salad is one of many reasons to walk through the door. Proprietor Robert Feniger's charm, bartender Steve's wit and the people that you meet are the reasons you stay longer than expected.
9. Tipple Time
Lancaster's beer roots run deep in the city, literally. They were pumping beer underground during the prohibition period, but that's another story. Their liquor scene wasn't as strong until more recently—now it's off the chain and there are a few key players and some seriously intoxicating spots in town.
Luca, Hunger & Thirst, John Jeffries, Aussie & the Fox, Pour and the Pressroom are killing it on the cocktail front. However, The Horse Inn takes it to another level. This place isn't trying to be a prohibition bar—it was one. Today Master mixologist Ben makes his own bitters, whips up many an egg, barrel ages classic cocktails and makes his own soda. Like Andy Samberg in Portlandia, he makes forgotten classics, contemporary or on the fly cocktails just for you.