Grillo's Pickles Is Selling A Pickle Bouquet Kit for Valentine's Day
Photo by Grillo's Pickles
Food
News
products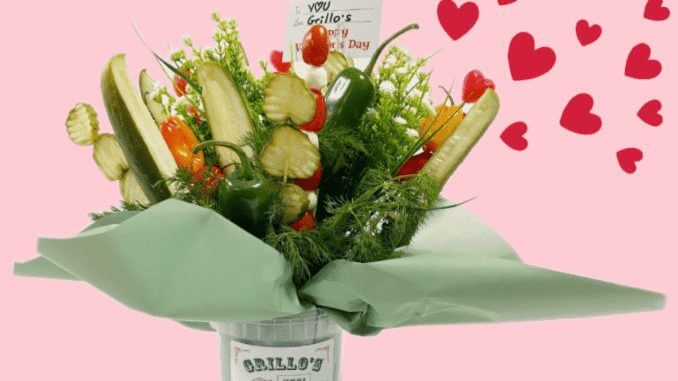 This might be an unpopular opinion, but I'm of the belief that Valentine's Day is, in fact, a food holiday. The chocolates, the breakfast in bed, the reservations at a nice restaurant: these are all the most important facets of the holiday and ones I wholeheartedly support. At the same time, I hate that Valentine's Day seems to be nothing more than a cheap capitalist scheme forcing us to spend money to prove our love in the shallowest possible fashion.
That's why I believe in a few guiding principles when it comes to Valentine's Day gift selections. First of all, they should be food-related. Chocolate is the standard, yes, but there's no need to stick to the sweets. Second of all, they shouldn't be ridiculously expensive. I don't want a luxury designer brand to make a profit off of my relationship insecurities. And thirdly, they should be funny. What are we even doing together if we're not laughing?
If there's one gift that fits all of these principles, it has to be Grillo's Pickles' Pickle Bouquet kit. Think Edible Arrangements, but instead of putting your loved one at risk of developing diabetes because they have to consume an entire fruit bouquet within a matter of days, you can give them the gift of salty, briny pickled veggies.
The kit contains everything you need to make a pickle bouquet other than the actual vegetables. You'll receive 15 wooden skewers onto which you can spear your pickles along with a card and cardholder, tissue paper and filler, a pickle vase, and floral filler to make your pickle bouquet look even more inviting than it already will be. Additionally, you'll receive assembly instructions so your bouquet looks more enticing than just a bunch of pickles on sticks. The kit costs $20 plus the price of shipping.
Of course, you'll have to snag the pickles as well. Grillo's also suggests adding in other ingredients to make your bouquet tastier and more colorful. For example, you could pop some cherry tomatoes or cheese cubes onto the skewers. A few sprigs of dill can fill the bouquet out and add a lovely floral scent. Don't be afraid to get creative here—you know what you loved one likes to pair with their pickles best.
The kit goes on sale on February 2, 2023, and it'll only be available for a limited time while supplies last. Therefore, if you decide your boo needs this briny, salty gift, then you shouldn't wait until the last minute to snag it.
If you ask me, this might just be the perfect Valentine's Day gift in accordance with the values stated above. Sure, it's going to be delicious (Grillo's does sell top-notch pickles, and this is coming from a self-proclaimed pickle afficionado), but it's also just quirky enough to be endearing.
Was this entire article written in the hopes that my crush will see it and send me a pickle bouquet, thereby solidifying the future of a long and happy relationship in which they feed me kosher baby dills poolside well into my 90s? Maybe. But I also want this pickle bouquet for you and your loved ones, dear reader. And if they break up with you because they think a pickle bouquet is a stupid gift? You probably weren't meant to be anyway.
---
Samantha Maxwell is a food writer and editor based in Boston. Follow her on Twitter at @samseating.