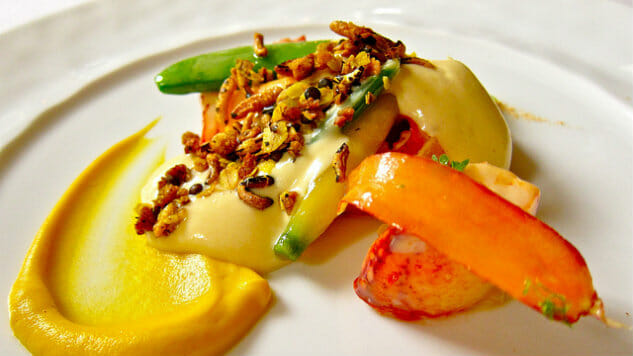 You've undoubtedly heard of curry powder, that golden spice rack staple, but are you familiar with its French cousin vadouvan? This savory, slightly smoky blend combines traditional Indian spices like turmeric, cumin, curry leaves and coriander with the Gallic influence of grated shallot and/or onion. Although the specific mixture differs from one vadouvan to the next, this versatile blend, equally terrific with meat, fish, and vegetables, is an undeniably hot ingredient in restaurants throughout the country.
Animal
Los Angeles
Veal Brains, Vadouvan, Apricot Purée, Carrot
Star chefs and restaurateurs Jon Shook and Vinny Dotolo celebrate esoteric, decadent meat dishes at their Beverly Grove hotspot Animal. Their vadouvan-laced veal brain dish is no exception, with the offal infused with the curry blend, then served alongside apricot puree and carrot, both ingredients used often in Indian cuisine.
Sbraga
Philadelphia
Salmon, Cauliflower, Parsnip, Vadouvan
At his eponymous Philadelphia restaurant, Top Chef Winner Kevin Sbraga isn't afraid of culinary experimentation, "I learned on 'Top Chef' that you can't always play by the rules" he says. Sbraga's menu is a study in seasonality and experimentation, like this dish, which pairs a vadouvan-laced parsnip purée with crispy-skinned seared salmon and roasted cauliflower.
Daniel
New York City
Lobster en Gelée, Cauliflower Mousseline, Vadouvan, Lime Vinaigrette, White Sturgeon Caviar
At his flagship restaurant Daniel on Manhattan's Upper East Side, Daniel Boulud takes culinary indulgence to the next level, with carefully composed dishes encompassing a variety of cultural influences. He uses vadouvan as a flavorful counterpoint to rich cauliflower mousse and gelée-coated lobster. Lime vinaigrette adds acid and an Eastern flair to this decadent dish.
Root
New Orleans
Vadouvan Scallops, Roasted Parsnips, Confit White Asparagus, Preserved Lemon, White Asparagus Vichyssoise
Growing up in a military family, Root's Executive Chef Phillip Lopez was exposed to a wealth of global culinary influences, which are apparent in the menu at his New Orleans' restaurant. Lopez flavors sweet scallops with the curry-inflected spice, then serves them with roasted parsnips, confit white asparagus, and creamy, white asparagus vichyssoise. Preserved lemon adds a sour tang, cutting the richness of the scallops and vichyssoise.
RN 74
San Francisco
Smoked Bone Marrow, Vadouvan Butter, Oxtail Marmalade, Lemon Confit
Located in San Francisco's Financial District, RN74 takes its name from Burgundy, France's highway, Route Nationale 74. The restaurant's impressive wine list focuses largely on Burgundy's varietals, which pair well with the French-inspired menu. One of its "Pour La Table" shared plates selections features rich smoked bone marrow topped with vadouvan-scented butter, oxtail marmalade, and lemon confit, for a hyper-flavorful (if calorific) start to the meal.
Tiny's
New York City
Wild Coho Salmon, Vadouvan Curry and Beurre Blanc with Sweet Potato and Soy Bean Fricassee and Fennel and Watermelon Radish Salad
Tribeca's family-owned Tiny's is a staple in the neighborhood, along with "The Bar Upstairs." The Modern American menu features hints of Southern and French cuisine, like in this wild Pacific salmon dish, which combines heady vadouvan curry with a rich beurre blanc sauce. Sweet potato and soy bean fricassee is served with the salmon, along with a light, refreshing fennel-radish salad.
Main photo by djjewelz CC BY-ND
Leah Bhabha is a cookbook co-author, recipe tester, and food writer who has written for numerous publications including Food & Wine, Marie-Claire, The Guardian and Food52. She chronicles her cooking and eating experiences on her blog, OneHungryPickle.com.