Taco Bell's Dipping Taco Gives Birria a Fast Food Makeover
Photo courtesy of Taco Bell
Food
Features
Taco Bell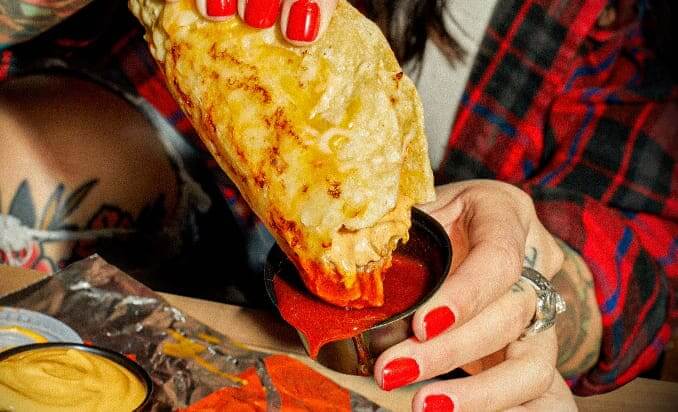 Taco Bell is a lot of things. Peak late-night food? Sure. The best fast-food restaurant in the continental U.S.? Maybe! An authority on Mexican food? Absolutely not. This is the institution that's brought us Mountain Dew Baja Blast and the Mexican Pizza, the house that taco shells made out of Doritos built.
So when Taco Bell comes out with a new menu item that's inspired by something that you might find on the menu of your average taqueria, it's a bit disorienting to say the least. The Irvine, California-based chain's latest offering is the Grilled Cheese Dipping Taco, inspired by the extremely popular birria.
For the uninitiated, birria is a style of slow-braised meat (traditionally beef or goat) that gets shredded after cooking. It's delicious. Good birria is salty, spicy, ever so slightly sweet and hearty. Most places that serve birria serve it with a consommé made from its braising juices, which is just about as packed with flavor as you can get. That's part of why it's become so popular in the U.S. in recent years; plus, dipping a birria taco in deep-red consommé before taking a bite with an exceptional cheese pull makes it very Instagrammable.
As far as Mexican food goes, there aren't many other dishes that have seen such an immense groundswell in popularity on social media in recent years. In that regard, it makes sense that Taco Bell is cashing in on the tasty trend with its Grilled Cheese Dipping Taco. It's interesting to see the restaurant make such a big bet on a new item. While most of its offerings all use some variation of the same handful of ingredients in different shapes and sizes, this new "Dipping Taco" features shredded beef, which is a new type of meat for the menu. On top of that, the taco comes with two extra dipping sauces on the side: a cup of nacho cheese and one of "red sauce," which is meant to be inspired by enchilada-style salsa.
It's a lot for a fast food item. Not only is the chain using a whole new type of meat for the dish, the taco also gets grilled with cheese inside and out, creating a crispy layer of cheese on the outside, potentially adding to prep time.
The taco definitely goes for a higher asking price compared to a lot of the other options on the menu, but it's also worth every penny. The standard crunchy Taco Bell taco is lacking some necessary structural integrity; even after one bite, you're lucky if the crisp shell doesn't shatter into a mess. Or, if you ordered delivery, your Doritos Locos Taco might just bottom out or snap in half after getting soaked from the juicy ground beef.
The crispy dipping taco dodges its menu neighbors' structural issues thanks to its grilled cheese exterior. That doesn't just save you the trouble of picking ground beef out of your taco wrapper; it also adds some extra cheesy flavors to the already-gooey taco. And any fan will tell you that more cheese is always welcome when it comes to Taco Bell. The beef itself has some subtle smokiness, though its flavor falls largely in line with The Bell's other offerings: cumin, garlic and onion powder, bouillon and various chilis. Its texture is a mild disappointment on its own, but adding another texture to compete against the gooey cheese, crisp tortilla and slightly sticky sauce would be too much. Overall, it's definitely one of Taco Bell's better new items in recent memory. It takes their standard taco and moves past its structural and textural shortcomings. I definitely missed the onions and lettuce, but the grilled-on cheese is a great improvement. And a side of nacho cheese will always take a meal at Taco Bell to the next level.
Personally, the Grilled Cheese Dipping Taco doesn't quite beat out the long-gone Quesalupa as my all-time favorite, but it'll absolutely be in my regular rotation until Taco Bell decides to put it in the vault. As strange as it is to see Taco Bell feature a menu item so closely tied to more traditional Mexican food, it's also pretty exciting. It's no secret that Taco Bell isn't exactly representative of Mexican food from Mexico, but seeing the chain dive into more contemporary food trends and adding its trademark (read: cheesy, salty and underspicy) spin on it is always exciting. It may need some creamy jalapeño sauce to bring it up to spicy snuff, but it's an excellent new take on a classic that manages to scratch the grilled cheese itch.