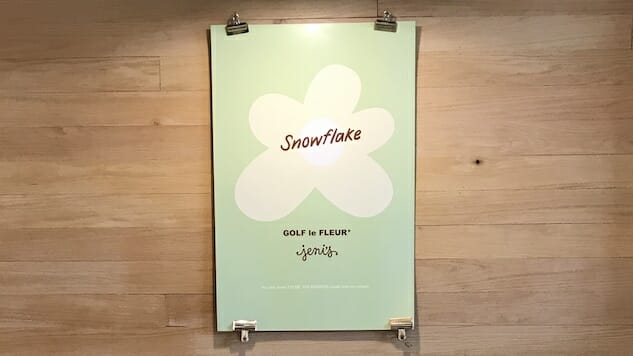 I have two niche interests: novelty ice cream and celebrity appeal. 
I have a soft spot for zeitgeist-y photos of Drew Barrymore and Aaliyah holding up ice cream cones and has-been teen heartthrobs papparazzi'd with fro-yo cups in their hands, and I can't tell you why—it's the same level of satisfaction that one gets from looking at miniature toy sets, animatronic restaurant mascots or vending machines in videogames… it's some weird, unexplainable fascination that matches my own cavity-prone sensibilities.
When noted sweet tooth Tyler, the Creator announced his exclusive partnership with the ultra-premium, ultra-bank-breaking ice cream giant Jeni's Splendid Ice Creams (for you uneducated readers—ultra-premium ice cream includes 17 to 20 percent of butterfat, as compared to the Breyers-Dreyer's-Edy's standard supermarket 10 to 12—so this shit is indulgent and expensive) to produce a limited-edition flavor called "Snowflake," I felt like it was my God-given duty to get my grubby hands on whatever they were selling as soon as I possibly could. 
Sure, I'm not a die-hard fan of Tyler, the Creator in any capacity (barring a brief Flower Boy phase in high school) and would rather spend my $5 elsewhere, but whatever he was selling in a mint-colored pint had to be all mine. (To quote Eve Babitz: "Packaging is all heaven is.")
The flavor was described as a two-colored blend of cool peppermint, warm spearmint and white chocolate with white chocolate flakes and sea salt. The concoction was born of Tyler's desire to find white chocolate chip cookies without macadamia nuts and mint ice cream made with white chocolate chips, not regular chocolate. "I finally got the two away from their clingy friends and set up a play date for my mouth," he wrote in his announcement.
Well—I dreaded the flavor the minute I read its description.
Spearmint is my least-favorite flavor of chewing gum of all time (right behind wretched faux watermelon), I'm not a big fan of white chocolate and I also didn't consider peppermint, or any sort of cream-based ice cream, for that matter, to be a "summer flavor." There's nothing like beating the heat by scarfing down half a pint of a buttery, ultra-rich generic-brand peppermint or mint-chocolate chip ice cream and immediately vomiting it all back up from heat exhaustion. 
To avoid upchucking milk and butterfat, my preferred summer ice cream flavor is something lighter and preferably fruit-based—guanabana, strawberry cheesecake, passionfruit, anything; I'd even settle for a faux banana flavor for good measure—so convincing myself to order peppermint ice cream in the 90-degree Atlanta heat was a real trip. 
But good grief—Tyler knows how to make a good ice cream. Like—stupefyingly so.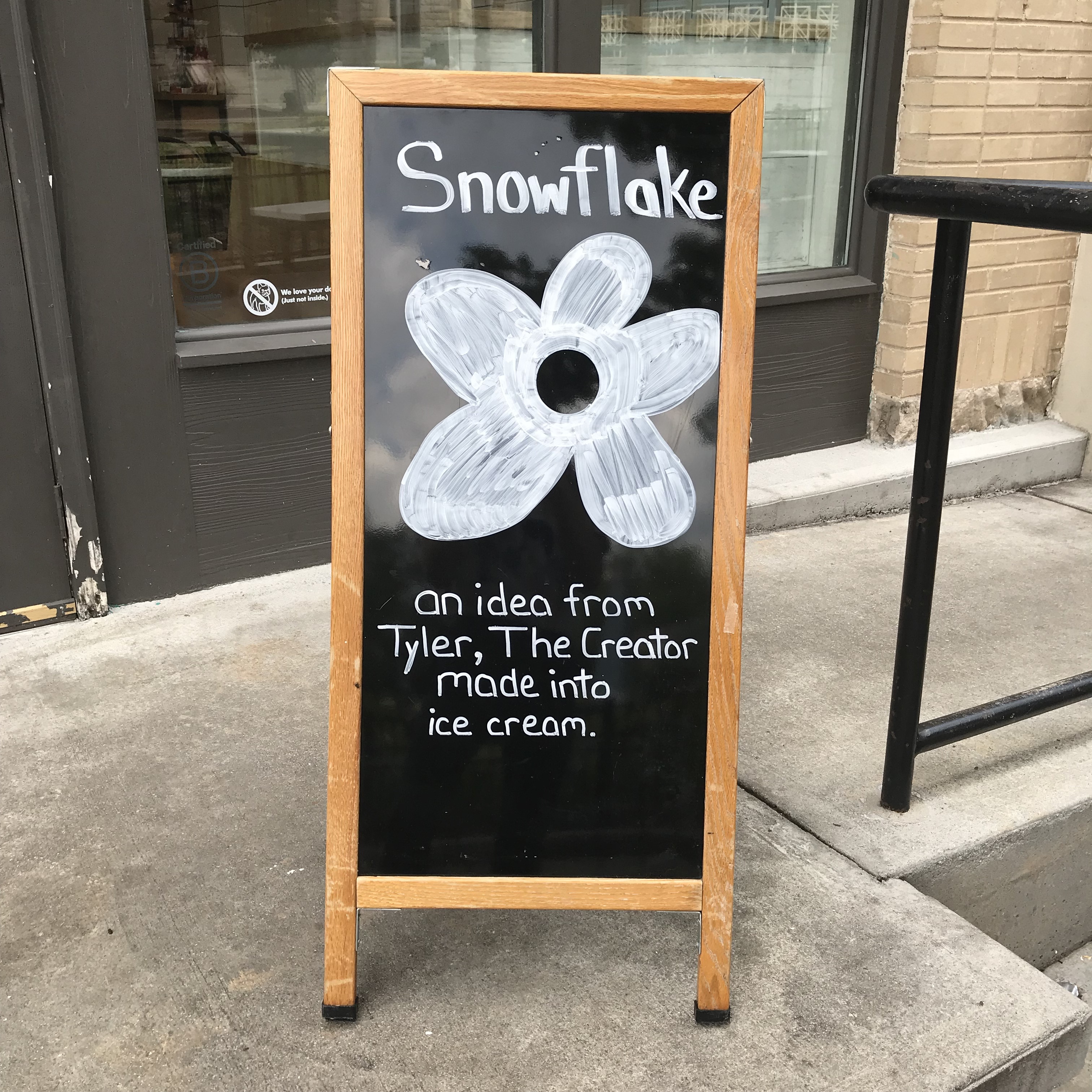 "Snowflake" is likely the most anti-toothpaste peppermint-based ice cream I've ever tasted. In all of its green-and-white swirled wonder, the flavor tastes like a hunk of peppermint bark melted down, shoved into a frozen daiquiri machine and splat in a cool vat of white chocolate. The weird blend of different mint extracts and sea salt was bizarrely refreshing in the summer heat, even when my cone started to drip down my forearm when I was only 25-feet away from the storefront and being gawked at by two preteen girls with their own ice creams.
I didn't mind that the ice cream lacked any definable crunch, or that I smelled like the inside of a Jeni's storefront for the rest of the day. I didn't even mind that the peppermint extract left a weird film in my mouth—I'd reached celebrity ice cream nirvana with the maple-syruped, cavity-prone, cereal burial-proprietor Tyler, the Confectioner (and the cop issuing me a warning citation for not paying for parking) at my side.
The only thing left to try is Big Freedia's exclusive Ben & Jerry's flavor.
GOLF le FLEUR* x JENIS SPLENDID ICE CREAM: JULY 6TH pic.twitter.com/t5dcSpiQjL

— Tyler, The Creator (@tylerthecreator) July 1, 2019
Savannah Sicurella is an intern at Paste and catalogs pastries and other sweet things here. You can follow her on Twitter @holyschmidtt.