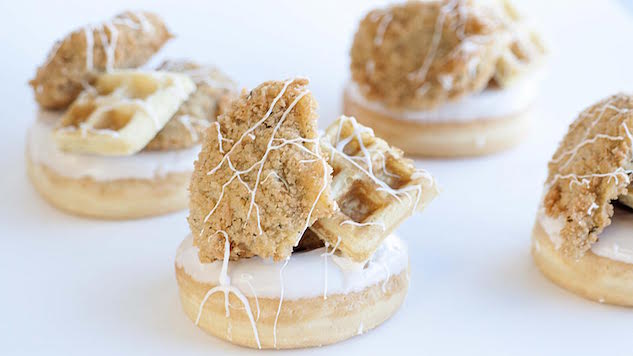 Homer Simpson said it best: "Donuts. Is there anything they can't do?" These round, doughy delights are the snack food that never gets boring, despite being ubiquitous treats since the mid 19th-century. Be they glazed, stuffed or powdered, every variety is as delicious as the last.
And while most old-school donut varieties include milk or egg ingredients, these sugary goodies have come into their own in the last few years, and upgraded versions of the old classics are everywhere. With specialty donut shops popping up across the country, vegan varieties abound.
Here are seven places that prove donuts don't need milk, eggs or other animal ingredients to be insanely delicious:
1. Vegan Treats
Bethlehem, Penn.
"If I told you that eating a cupcake could save the lives of hundreds of thousands of species of animals, plants, rainforests and ecosystems, would you do it?" asks Vegan Treats owner Danielle Konya. The answer is an obvious yes—and also applies to donuts. This socially conscious Pennsylvania bakery—founded on the idea of saving animals and the planet—offers an array of delicious donuts. Flavors change regularly, and include options like almond glazed pretzel doughnuts drizzled with Swiss chocolate, raspberry mousse rings, black and white, Boston cream doughnuts, pumpkin mousse long johns, lemon meringue doughnuts, cinnamon rolls and—get this—vegan fried "chicken" and waffles maple glazed doughnuts (pictured above). Dying yet? And should you want to branch out, the bakery's sweet stuff selection also includes pastries, vegan soft serve and plenty of other goodies.
2. Ronald's Donuts
Las Vegas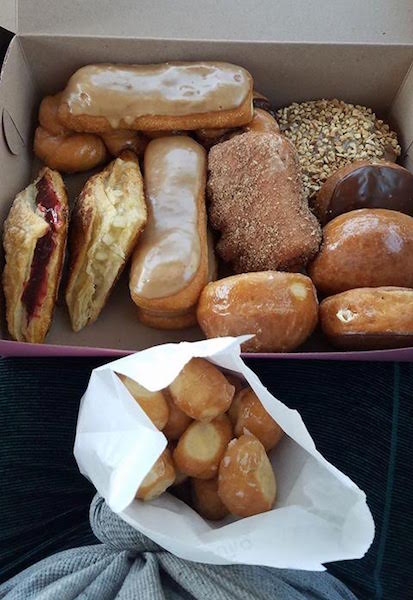 Photo by Kylie Campbell
In this day and age, a lack of official social media presence generally means one thing: you're so popular, you don't have to bother posting IG updates. That's Ronald's Donuts, a Las Vegas staple in a strip mall that frequently sees lengthy lines of devoted donuteers. The vegan donut spread at this spot is seriously impressive, and includes everything from fritters to cream-filled to classic glazed to (of course) donut holes. Grab a dozen in a classic pink box and chow down.
3. Dun-Well Doughnuts
New York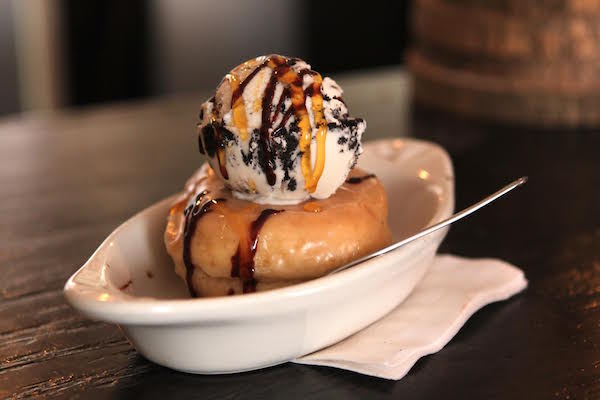 Photo courtesy of Dun-Well Doughnuts
Literally inspired by Homer's aforementioned love of round confections (the co-founder watched a Simpson's episode and the idea was born), this New York-based spot has locations in Brooklyn and Manhattan. Everything is 100 percent vegan, so you can go bananas and eat your weight in donuts—should the mood strike you. They've got all the classics (traditional glazed, cinnamon sugar, toasted coconut, vanilla sprinkle, chocolate, berry, powdered jelly, peanut butter and jelly)—plus special rotating flavors like "The Homer" (pink with sprinkles), pie doughnuts, pink lemonade and more.
4. Voodoo Doughnuts
Portland, Ore.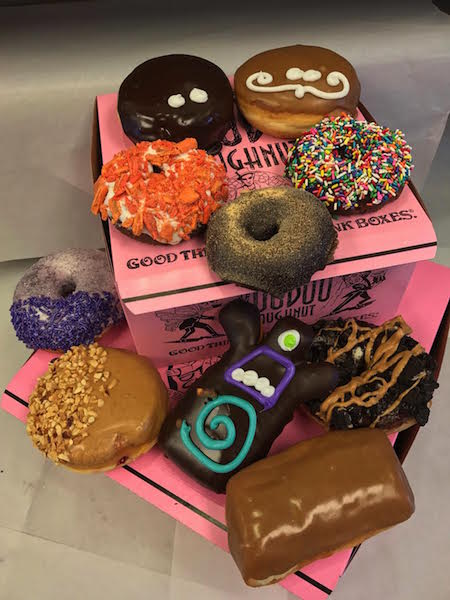 Photo courtesy of Voodoo Donuts
If plain glazed donuts bore you to tears, Voodoo Doughnuts is probably closer to your palate profile. Started by a couple of BFFs in Portland, Oregon, the spot has now expanded to Texas and Colorado. Voodoo isn't an all-vegan operation, but they do have a ton of vegan options on the insanely expansive menu. Try the Diablos Rex, a chocolate cake doughnut with chocolate frosting, red sprinkles, a vanilla pentagram (you read that right) and chocolate chips; the Triple chocolate penetration doughnut topped with cocoa puffs; or the famous Voodoo Doll doughnut—raised yeast filled with raspberry jelly topped with chocolate frosting and a pretzel stake.
5. Mighty-O Donuts
Seattle
Mighty-O has a simple mission: make delicious organic donuts without any animal products; and effusive customers would say it's a mission they've more than accomplished. Donuts come in vanilla cake, chocolate cake, specialty, raised yeast—and mini O's. Flavors include Cuckoo for Coconut—chocolate iced with coconut; Chocolate Peanut Butter—peanut butter glazed on chocolate; Twists, homemade yeast raised with glaze or cinnamon and sugar; Apple Fritters; and lots of others. The brand has cafes in three Seattle neighborhoods: Greenlake, Ballard and Capitol Hill. In the words of owner Ryan Keller: "Pursue the good, and try not to do the bad things." Obviously, donuts count as the good.
6. Donut Friend
Los Angeles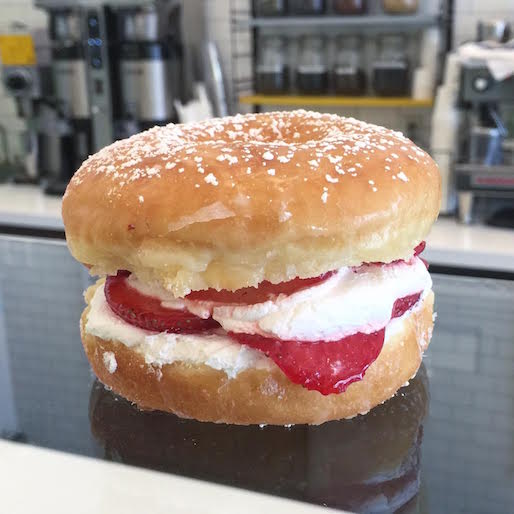 Photo courtesy of Donut Friend
Donut sandwich anyone? At Donut Friend, the donut experience all about customization. Opt for one of the signature creations (like the Bacon 182 with coconut bacon and maple glaze, or the cream-filled, chocolate-topped Custard Front Drive), or make one that's entirely your own. Start with a raised yeast or cake donut, fill it with anything from Tofutti cream cheese to caramelized apples, and pour some sauces, nuts or candies on top. It's like a donut sandwich on steroids; all the sugary goodness anyone could ask for.
7. Pepples Donut Farm
Oakland, Los Angeles and Berkeley, Calif.
This uniquely monikered sweets shop is ground zero for vegan donuts and cruelty-free brunch in three cities across sunny California—Los Angeles, Oakland and Berkeley. Options include fancy treats like fritters and jelly-filled (weekends only!), plus classics like vanilla glaze and cinnamon sugar—and unique flavors like salted caramel, lavender earl grey and whiskey tangerine fig. They also serve an all-vegan brunch (including biscuits and gravy)—so save some stomach space.
---
Hannah Sentenac is a freelance writer and journalist who covers veg food, drink, pop culture, travel, and animal advocacy issues. She's written for Live Happy magazine, Foxnews.com, MindBodyGreen.com, and numerous other publications and websites. Hannah is also the Editor-in-Chief of LatestVeganNews.com, a publication dedicated to positive, original news from the vegan and plant-based world.