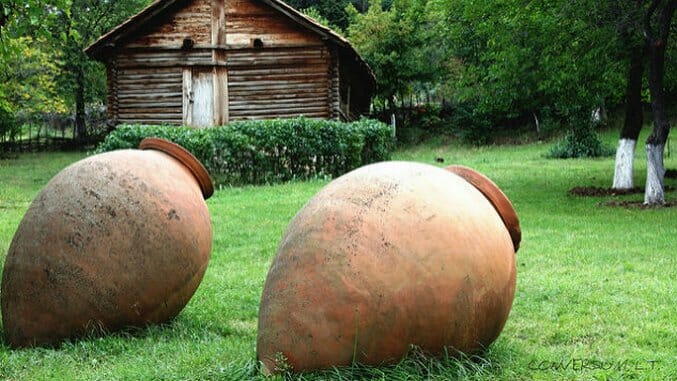 Photo by Levan Totosashvili CC BY-SA
Italy, France, Spain, Germany. When we think of old world wine, we often think of these Western European mega-producers. But savvy somms and wine drinkers are sipping from other parts of the "old" world that also boast thousands of years of winemaking tradition. Of those, Georgia is having a moment. I was recently able to taste through a handful of unique and delicious offerings at this year's Raw Wine Fair in Brooklyn and left a believer. There are a limited number of producers currently being imported to the US, but look for increased selection as this trend takes hold. Here's a few tidbits to orient yourself in the world of Georgian wine — now go forth and explore!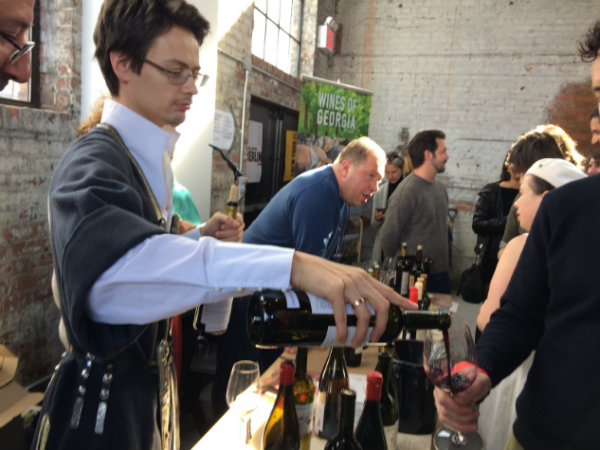 Photo by Katie Le Seac'h
Lesson 1: Qvevri
The Qvevri is the Georgian version of the amphora. Unlike the flat-bottomed clay vessel, the qvevri is pointed at the bottom and often partially buried in the earth. Georgian winemakers sometimes still employ Qvevri for fermentation as well as the more modern stainless steel and oak barrel. Wines can be both fermented with the skins and stems and aged in Qvevri.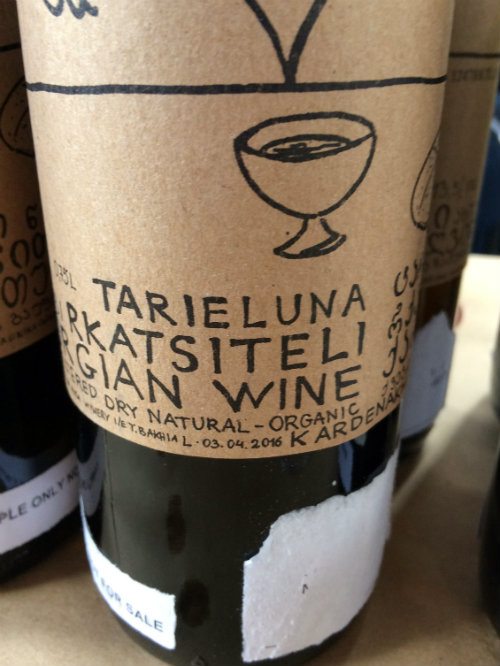 Photo by Katie Le Seac'h
Whites made in Qvevri are often quite tannic and textured, like the delicious Nika Rkatsiteli Tarieluna 2015 with notes of orange rind and clove. Amphora has long been associated with the polarizing resinous nose of Greek Restsina wines, but winemakers from a variety of regions throughout the world are experimenting with fermenting in amphora again.
Lesson 2: The grapes
When you see the words Rkatsiteli, Saperavi, Kisi, Tsolikauri, or Tsitska on the label, do not freak out. These are some of the many grapes indigenous to Georgia. Many of the Georgian wines I tried were varietal wines — a bonus for American consumers who tend to find a grape they like and stick with it. The most planted white is Rkatsiteli and the most planted red is Saperavi. Saperavi is both red-skinned and red-fleshed and can produce elegant light- to medium-bodied reds like the 2014 Orgo Saperavi with flavors of red berries, wood smoke, earth and cedar in dryer years or an opaque berry and spice laden wine in wetter conditions.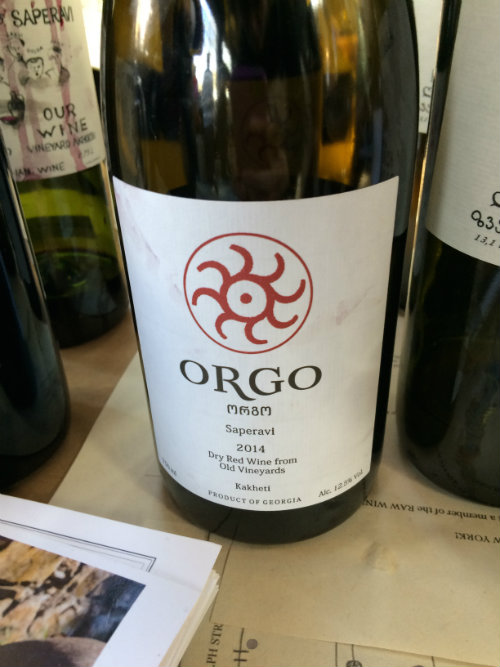 Photo by Katie Le Seac'h
According to Georgianwine.gov, "While Georgia is home to at least 525 distinct grape varieties (Ketskhoveli et al. 1960), the collectivization of agriculture during the Stalinist regime, and later, Gorbachev's anti-alcohol campaign in the 1980s led to the grubbing up of vast swaths of these indigenous varieties. Today, while only about 45 are in current commercial production, the Georgian government is engaged in concerted efforts to increase the genetic diversity within the country's vineyards." If things go well, more varietals new to US consumer will become headed our way.
Lesson 3: Alice Feiring
Alice Feiring's book, For the Love of Wine, brought her passion for Georgian wines back to Europe and the United States. She is generally credited with single handedly causing their resurgence. If you want to jump down the Georgian wine rabbit hole, this is the place to start. Supporting these wines early as a consumer will help winemakers resist the pressure to modernize and mass produce. While mass produced wines are not necessarily bad and natural wines are not necessarily good, everyone seems to agree that the homogenization of the wine industry isn't appealing. Hopefully it will be possible for small, quality-driven, traditional producers to stay alive as international interest in the region swells.
Katie Le Seac'h is a freelance writer and sommelier living in Brooklyn. She writes about wine, food and parenting.