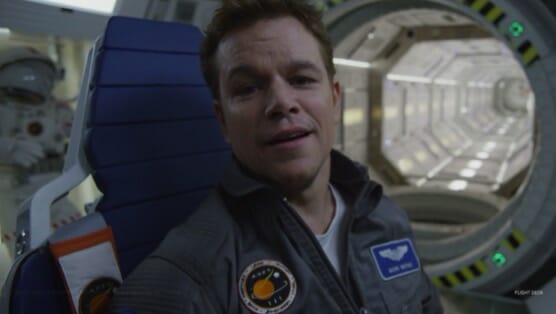 A promo for Ridley Scott's The Martian, disguised as a personal video clip, was released this past Sunday and shed some light on the film's universe and significantly more advanced version of NASA.
The clip is simple, being filmed by Matt Damon's character, NASA astronaut Mark Watney, as he goes around the spaceship Hermes introducing the other astronauts as they're heading to Mars. The video is being broadcast to Earth as people live tweet in the lower left-hand side of the video using the hashtag #AresLive. Other astronauts aboard the ship include actors Michael Peña, Jessica Chastain and Kate Mara.
The film is based on the book The Martian, by Andy Weir, about an astronaut (Matt Damon's character) left for dead on Mars who must use his limited resources to survive, hoping to be rescued. It's essentially Castaway: Red Planet Edition (and is quite the page-turner!).
The casting of Matt Damon as the astronaut castaway is interesting considering he played astronaut castaway Dr. Hugh Mann in Interstellar. The role should be quite different though with The Martian's Mark Watney having a gallows sense of humor and being a guy people can root for, rather than an embittered, murderous astronaut stranded on a planet on the edge of the known universe—unless that happens this time as well.
The Martian comes out in theaters Nov. 25.