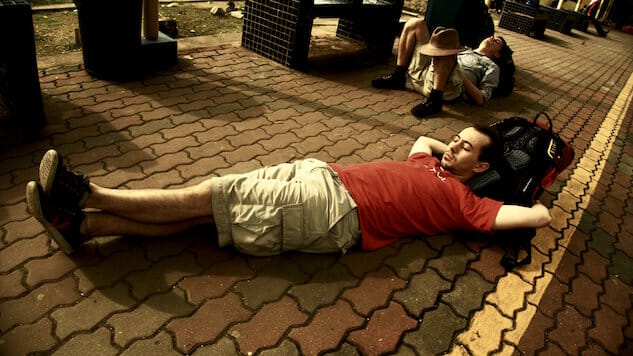 A fitness chain in the United Kingdom has introduced a new group fitness class entirely dedicated to napping. This is not a drill.
The class, called the "40 Winks Workout," was introduced by David Lloyd Clubs with fatigued parents in mind. It is supported by research indicating a "tiredness epidemic" in the U.K., with parents specifically being targeted by sleepless nights.
Participants in the class will arrive to the fitness club to find spin bikes replaced with beds, lively music replaced with atmospheric sounds and a lower-than-usual temperature in the studio to promote calorie burning during sleep. They are then encouraged to curl up and enjoy a relaxing mid-afternoon nap that is "designed to help reinvigorate the mind, body, and even burn the odd calorie," according to a press release by the club.
The club cites statistics such that 86 percent of parents suffer from tiredness, with 26 percent reporting less than five hours of sleep each night, in support of the need for such a class. The "40 Winks" are said to help with alertness, anxiety, stress and general improvement of mood.
"Sleep is a lot more important than people realize. We tend to focus on the short-term effects such as being tired or lacking concentration, but it is also essential for our long-term physical and mental wellbeing too," said Kathryn Pinkham, founder of the Insomnia Clinic, on the class. "In addition to a lack of sleep bringing with it a higher risk of developing anxiety or depression, when we are sleep deprived we lack the energy to exercise regularly and also the mental clarity to make good decisions about the food we eat, which could negatively impact our physical health in the long-run."
Though the group fitness class seems lighthearted and difficult to take seriously at first glance, the club is hopeful that it will have real benefits for those participating.
The class was held on a trial basis during the last weekend of April at the Sidcup location of the club—and, unsurprisingly, ended up being fully booked. Though nothing is currently planned, the club has said that if the Sidcup classes are successful, it will look into integrating nap sessions within its other locations in the U.K. More information on upcoming classes can be found on the club's website .
Photo: wamdé, CC-BY
Emma Korstanje is a freelance journalist based out of Athens, GA.