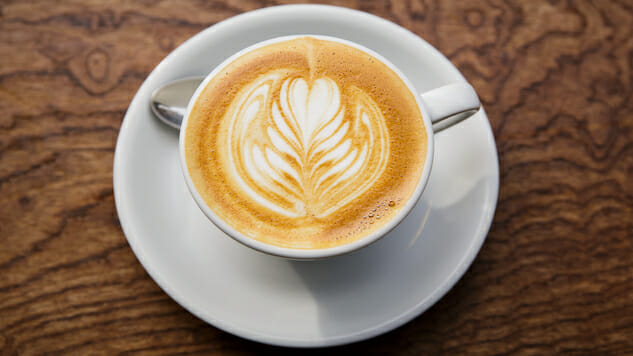 This article is not meant to diagnose or provide medical advice—that responsibility lies with physicians. The author is not a licensed medical professional.
Coffee: It's one of the most commonly consumed beverages in the world. With the rise of a mainstream coffee culture (i.e., "But first, coffee" t-shirts and memes), it's also become a ritualistic morning activity that has nearly everyone reaching for a cup of joe to make it through a hectic day. Have we become a nation of coffee addicts? Maybe. An Instagram search alone reveals more than 59 million posts of coffee cups, latte art, gadgetry and smiley people on the go with java in hand.
Besides the temporary energy surge that coffee provides, are hordes of caffeinated, coffee-obsessed people receiving any substantial health benefits from this beverage? Surprisingly, a growing body of research suggests yes. From aiding in weight loss to reducing the risk of some serious chronic illnesses, it seems this popular drink may actually be good for you.
While it's too soon to specifically pinpoint which elements give coffee its health-promoting properties, emerging evidence indicates coffee is (almost) always a good idea for people drinking it in moderation.   
So, if you're jonesing for a cup of joe, here are six reasons why should keep drinking it.     
1. Coffee May Help You Lose Weight.
A moderate amount of caffeine (the amount found in three to five cups of coffee) may promote weight loss, according to the Mayo Clinic. Caffeine seems to temporarily reduce your appetite, curbing that midmorning or midafternoon, high-calorie snack craving. Also, caffeine potentially enhances thermogenesis—a flashy word for the production of heat and energy in your body through (in this instance) digestion. However, the increase of thermogenesis is likely limited to a brief period of time.
To maximize the weight loss possibilities of coffee, watch out for all the extras like sugar, whipped topping and cream. These can amp up the calorie count and hinder the weight-reducing capabilities of this drink.  
2. Coffee Can "Perk" You Up
Coffee is a neurostimulant, which means it acts as a mild spark plug for your central nervous system. A 2016 article in _Practical Neurology states drinking coffee has many favorable effects on the brain. "It can increase alertness and well-being, help concentration, improve mood and limit depression," notes the article. And, "daily coffee and caffeine intake can be part of a healthy, balanced diet." Finally! Science is beginning to support what coffee aficionados around the world have been saying for a long time.
3. Coffee is Chock Full of Antioxidants
Did you know that your daily cup of coffee is filled to the brim with a bounty of cancer-fighting antioxidants called polyphenols to protect your body? A 2015 study from Harvard School of Public Health discovered coffee contains compounds that help reduce insulin resistance and lower systemic inflammation. With approximately 83 percent of Americans drinking coffee each day, it's the most abundant source of dietary antioxidants. However, more research is needed to better understand these remarkable coffee compounds and their connection to overall health. In the meantime, coffee is quickly earning a superfood reputation among the likes of caffeine counterparts, including green tea and chocolate—good news for those looking to boost their intake of beneficial antioxidants.
4. Coffee Reduces Your Risk of Type 2 Diabetes.
Type 2 diabetes occurs when the body develops a resistance to the hormone insulin or the pancreas stops producing enough insulin. Consequently, sugar builds up in the bloodstream where it can cause a whole host of problems. Research suggests certain considerations such as weight, diet, level of activity, fat distribution and family history, are risk factors for type 2 diabetes.
However, there's more good news about your favorite brew. In a 2014 study, also from Harvard School of Public Health, researchers documented that people who drank more than one cup of coffee per day over a period of four years had an 11 percent lower risk of type 2 diabetes compared to people who made no changes in coffee consumption. In contrast, those who cut down on their daily cups of coffee showed a 17 percent higher risk for diabetes.
5. Coffee Decreases Depression
In the Australian and New Zealand Journal of Psychiatry, researchers from Qingdao University Medical College in Qingdao, China conducted the first meta-analysis of data examining the relationship between coffee intake and risk of depression. This large-scale analysis "strongly identified that coffee and caffeine consumption was significantly associated with decreased risk of depression in adults." The risk of depression dropped by 8 percent for each cup of coffee consumed per day—yet another reason to get your daily caffeine fix.
6. Caffeine may help you live longer.
On January 16, 2017, a study published in Nature Medicine_, by Stanford University Medical School, got everyone buzzing. Research suggests we may now be able to target and combat specific inflammatory processes that are often associated with aging and age-related diseases. The study also pointed to harmful metabolites, or byproducts of metabolic reactions in the body, as responsible for triggering inflammation. The good news is that caffeine and its own metabolites seem to counteract those harmful compounds. Furthermore, researchers observed the inflammatory chemicals were reduced among older participants in the study who tended to drink more caffeinated beverages like coffee. Does drinking coffee help protect your cells from the damaging effects of inflammation? Yes, it does! Folks, researchers have just demonstrated a correlation between caffeine consumption and longevity.
Jenny Lelwica Buttaccio OTR/L is a Chicago-based, freelance lifestyle writer and a licensed and registered occupational therapist with expertise in health, wellness, fitness, chronic illness management and business.