Supreme Court Justice and Workout Hero Ruth Bader Ginsburg Is Starring In Her Own Fitness Book
Health
News
Fitness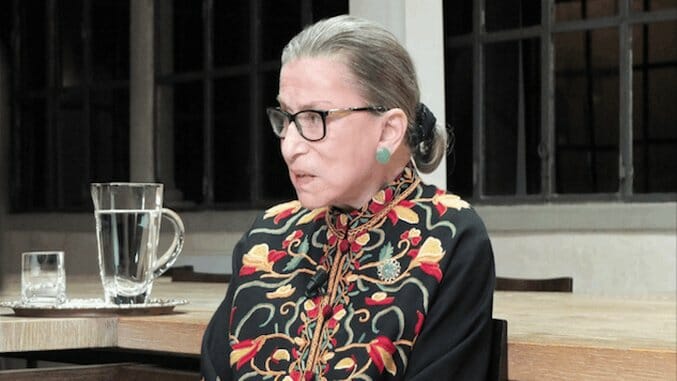 In what is probably some of the more exciting Supreme Court news as of late, it appears that Justice Ruth Bader Ginsburg is unleashing her own brand of "fitspo" into the literary world.
That's right. The 84 year old Supreme Court Justice, most notably known for her work on gender discrimination and her ability to use her voice, literally, when disagreeing with the majority of the Court, is starring in a book about her own successful workout regime.
The book, titled "The RBG Workout: How She Stays Strong … And You Can Too!" is set for release on October 3. It is co-authored by Ginsburg's personal trainer, Bryan—who now also trains Justices Breyer and Kagan—and illustrator Patrick Welsh.
The release comes at a point in which the justice's health has been in the spotlight, as many Democrats are hoping she will continue her work with the Court through the term of President Donald Trump—preventing the appointment of a more conservative justice in her place. According to Ginsburg, physical fitness is a major aspect to her personal health plan, saying "A very important part of my life is my personal trainer."
Though the Justice has overcome many serious health setbacks, such as pancreatic and colorectal cancer—after which she first began training with Johnson—the book seems to have a more playful tone. Illustrations of the Justice in her judicial robes, purple exercise leggings and tennis shoes will be scattered throughout, accompanying a workout regime that, most recently, has been described as employing classic strengthening moves such as planks and push-ups.
Anyway, it's probably a resource worth checking out, as Oyez,, the unofficial archive of the Supreme Court created by the Illinois Institute of Technology's Chicago-Kent College of Law, notes that Bader Ginsburg "can lift more than both Justices Breyer and Kagan." So there's that.
Photo: European University Institute, CC-BY
Emma Korstanje is a freelance journalist based out of Athens, GA.