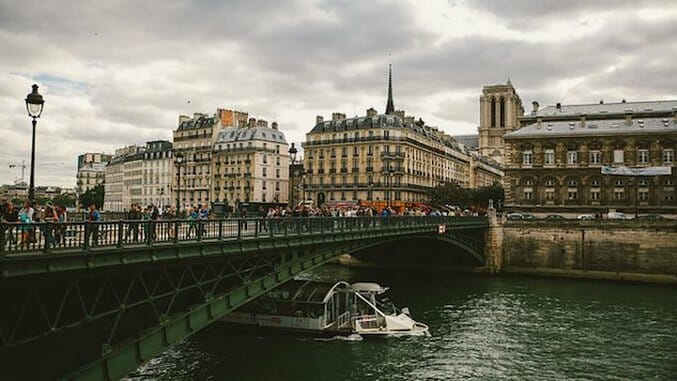 Finding a city's secret spots can only really happen at human speed. In this series, World Running Guide, we'll provide information to help you discover your next destination through the eyes (or rather, feet) of a runner.
Paris was always meant to be discovered on foot. The gargoyles on Notre Dame, the iron arches on the Promenade Plantée, the temple overlooking the Parc des Butts Chaumont—all treasures only available to those willing to get up close and personal. This capital is worth exploring every inch, so why not go? Welcome to Paris.

On Your Mark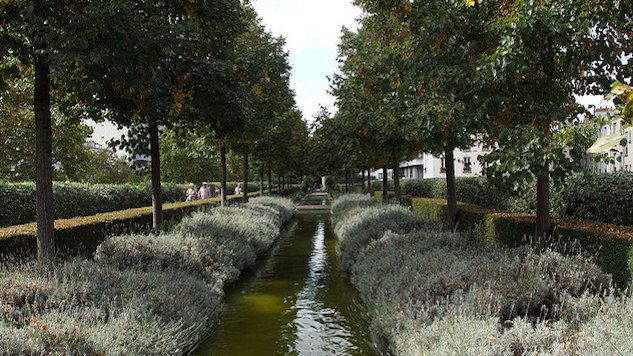 Photo courtesy of Guilhem Vellut, CC-BY
When it comes to running in Paris, the main concern seems to be dodging heavy traffic and the overwhelming crowds of tourists. With over 20 million visitors per year, is it possible to enjoy a leisurely run without (literally) bumping into thousands of them? The answer is, of course, yes. If you want to huff and puff through the coveted streets of Paris, though, you're going to have to fight for it. That means waking up early to avoid the masses of cars and people. Now, if you like being in the middle of all the action, then run whenever you'd like, and you'll be sure to catch it.
To avoid the heavy-crowd months (July and August), aim to visit in fall or spring, which will give you the most pleasant weather. Temperatures average to about 41 degrees in the winter and 68 degrees in the summer, so overall, Paris' climate is very temperate. May is the wettest month and February is the driest, so keep all of this in mind while packing your running gear.
Get Set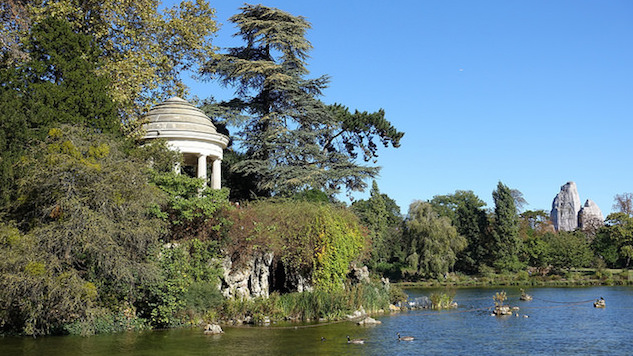 Photo courtesy of Guilhem Vellut, CC-BY
The number of options for running in Paris is a little daunting. Love parks and gardens? Try the Parc des Buttes Chaumont, Parc Monceau, the Luxembourg Gardens, or the Jardin des Tuileries. Need some shade in the woods? The Bois de Vincennes and Bois de Boulogne are the biggest in the city. For a campus run unlike any other, explore the Cité International Universitaire de Paris. Then, of course, there's the enchanting Seine.
In terms of running routes, that list is barely scratching the surface. Here are three to help you get started on your Parisian adventure.
The Promenade Plantée, Paris' version of New York City's High Line before it was cool, runs 2.4 miles from Bastille to Porte de Montempoivre. This route is great for interval or hill training, due to the short distance and sporadic hills. Not only will you have eye-catching views on top, but you can also enjoy seeing the shops, markets and studios below the elevated track.
The Bois de Vincennes, Paris' largest public park, sits on the outskirts of the 12th arrondissement. It includes heavily wooded areas, small lakes and even a Buddhist temple, called "la grande pagode." This relatively flat 4.2-mile loop will guide you through the heart of the park, showing you a glimpse of what it has to offer.
Finding lengthier routes for distance runners can be a challenge in Paris, especially in the smaller parks and gardens. Here's a 10.2-mile route that starts near the Palais Bourbon in the 7th arrondissement. You'll cross the Seine, work your way around and pass the Eiffel Tower, run along L'île aux Cygnes, go all the way down to the Parc de l'île Saint-Germain, and then turnaround. It's a mouthful, but this route will showcase some of Paris' best features in less than two hours.
Go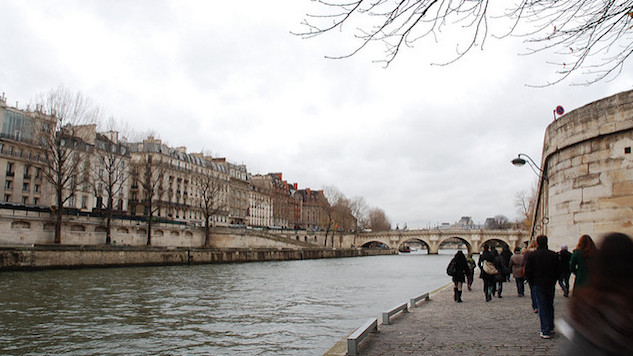 Photo courtesy of Lim Ashley, CC-BY-ND
Don't worry, you're not the only runner trying to navigate intricacies of Paris. Here are a few running groups you can join during your stay, however long that may be.
Let's Run Paris started in 2012, and with almost 3,000 members in their Meetup, I'd say the group is staying strong. They meet twice a week, on Monday nights and Saturday mornings, and offer different pace groups. They usually eat together after their Saturday morning runs, and love to have pre-race pasta parties. For a bonus, the registration fee is a big, fat zero.
The Paris Running Group, founded in 2006, is probably one of the most laid-back clubs you'll ever join. Members, even visitors just coming for the weekend, can suggest weekly runs for people to join. Keep an eye on their Meetup page for chances to catch the fun.
The Marais Running Club is a part of the Home Run Collective, where teams of independent runners have spread all over the world to discover a city's unique running culture. HRC, which started in 2015 and has chapters in Bergamo, Seoul, and more, also has a Paris group. This club offers three different sessions for varying levels of athletes, including the little stride, the big stride, and the special stride. Oh, and if they photograph you, you'll feel like a boss.
"Paris is always a good idea," said Audrey Hepburn. Though running isn't necessarily what Paris is known for, it sure gives people on foot a nice view. Don't be afraid to pound through the historical city and discover something new.
Beginner: Les 20K de Paris
Bold: Paris Marathon
Beast: The Eiffel Tower Vertical 80K
Can't Miss: Start with spending this kind of weekend, stay at this hotel, and visit these bookstores, and drink these cups of coffee. Then go from there. There's way too much to see.
Main image: Photo courtesy of Cristian Bortes, CC-BY; lead image: Photo courtesy of Kosala Bandara, CC-BY
---
McGee Nall is a freelance writer based out of Athens, Georgia. She was probably eating Nilla wafers and Nutella while writing this.