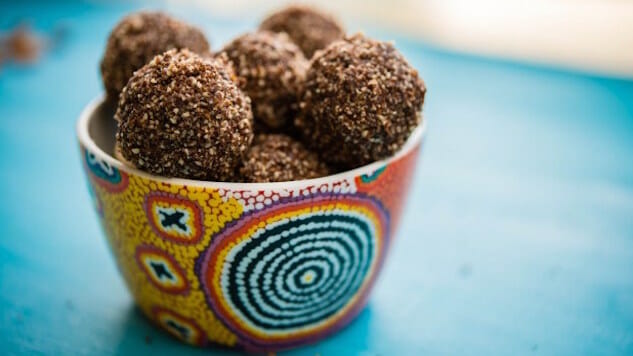 Nothing can ruin your plans to workout like an afternoon energy slump. We've all been there, likely too often. All motivation for the gym starts to fade as a foggy-headed malaise sets in. Suddenly you're mindlessly scrolling through Instagram, debating whether to make another cup of coffee, and questioning your life choices. The struggle is real.
If you find yourself losing the battle with mid-day fatigue, these energy bites are your answer. Not only are they convenient and portable, they're ideal for workout fuel, a pick-me-up snack, or when you just need something healthy to curb a chocolate craving. Unlike processed snack bars at the store, they're made with a few simple ingredients, so you know exactly what you're getting. And each one plays a role in making these a rich source of energy that won't leave you hanging.
The best part about making this yourself is that once you have a good base, you can customize with your favorite mix-ins and flavors. Dates—nature's answer to a sweet tooth—are sticky and perfect for binding together ingredients. Their high sugar load is offset by tons of fiber for slower absorption giving sustained energy, so you can avoid the crash from processed sugar. Known for promoting healthy digestion, they're also a great source of iron—essential for oxygen delivery—and supply the magnesium and potassium needed for optimal muscle function.
Add in chia seeds for protein and healthy fat to promote lasting endurance. Thought to be one of the most nutritious foods on the planet, their unique blend of nutrients makes them incredibly efficient at maintaining insulin levels to prevent cravings and overeating. A touch of coconut oil gives them even more staying power, and walnuts are the perfect crunch you crave from any treat.
Even with the world's most perfect snack, avoiding the mid-afternoon crash still takes some strategy. All of the energy bites in the world won't help if you skip breakfast (coffee doesn't count) and skimp on lunch. But arming yourself with these chewy, salty sweet bursts will go a long way in keeping you powered-up and motivated.
A binge-worthy, high protein, plant-based fuel source for long-term stamina all rolled in to a bite-sized ball … what more could you ask for? Did I mention they're no-bake? And just to prove how many variations are possible, here are twenty-five more.

Ingredients
-16 dates, pitted
-1 tsp cinnamon
-½ tsp cayenne pepper
-2 T unsweetened cocoa powder
-½ cup walnut pieces, finely chopped
-½ cup sliced almonds
-2 T chia seeds
-2 T cacao nibs
-1 T coconut oil
-½ tsp sea salt
Directions
-Food process dates into a paste consistency. (If you don't have a food processor, they can be chopped and then mashed with wet hands, as long as a paste forms.)
-In a bowl, mix dates with cinnamon, cayenne pepper, cocoa powder, and sea salt.
-Add chia seeds, walnuts, cacao nibs and use wet hands to work them into the date mixture.
-Melt coconut oil over low heat and pour into bowl, knead into all the ingredients.
-Process (or crush) almonds into powder. Then roll the date mixture into small balls, about 1 inch in diameter, and roll balls around in almonds to coat (could also use almond meal).
-Store in refrigerator up to 10 days.
Image: Amazing Almonds, CC-BY
Ashley Sigmund is a Denver-based RDN with ten years in the medical field helping patients and clients improve their health and fitness.