Chris Hemsworth Rides a Horse and Shoots the Taliban in 12 Strong Trailer
Images via Warner Bros.
Movies
Video
12 Strong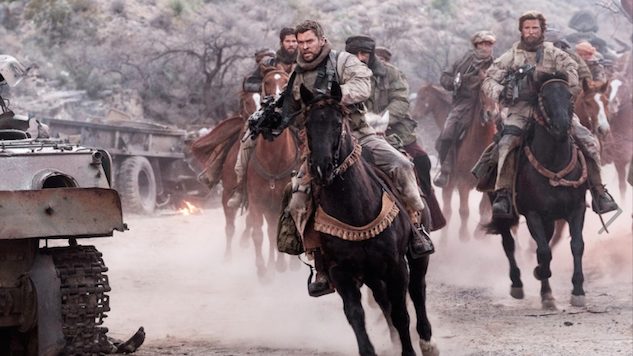 If you haven't tired of intense, militaristic 'Merican films like American Sniper, Lone Survivor or 13 Hours, we've found the next blockbuster that will surely tap into your patriotism. The extensively subtitled 12 Strong: The Declassified True Story of the Horse Soldiers (no, the horses themselves aren't soldiers—the soldiers ride the horses) comes from producer Jerry Bruckheimer, and sports an impressive cast.
Chris Hemsworth stars as Captain Mitch Nelson, who leads some of the first U.S. troops to enter Afghanistan after the Sept. 11 terrorist attacks in 2001. In the rugged mountains of the country, Nelson and company must convince Northern Alliance General Dostum (Navid Negahban) to join them in the fight against the Taliban and al-Qaeda, while also adopting the unfamiliar tactics of Afghani horse soldiers. The troops are outnumbered and outgunned, but they are still … twelve strong. Hemsworth is joined by Michael Shannon, Michael Peña, comedian Rob Riggle (himself a retired Marine) and Moonlight's Trevante Rhodes. Hemsworth's real-life wife Elsa Pataky portrays Nelson's wife in the film.
Directed by Nicolai Fuglsig (Exfil) and based on the non-fiction book Horse Soldiers by Doug Stanton, 12 Strong will gallop into theaters on Jan. 19, 2018. Watch the trailer above, and try not to pull something groaning at the minor-key Tom Petty cover that kicks in around 1:40.